Transportation
Walking is the best way to explore the city, with beautiful squares at every few blocks. If you are going a short distance, taking a pedi-cab is fun! Just be sure you tip well for their hard work. For further distances, there were plenty of Ubers in the area.
Stay
I found a historic home on the tree-lined Jones Street via Airbnb that we all stayed at and absolutely loved! It was a perfect location that was quiet and quaint while still being relatively central.
For Memorial Day Weekend, my friends and I reunited in Savannah for the long weekend (after a few of us stopped in Amelia Island first). Not only was the city a central location for us, but a charming Southern town perfect for a laidback trip. Keep reading for how to spend the weekend in Savannah and have a blast!
Day 1 in Savannah
In Vino Veritas Wine Bar
Once we all settled into our AirBnb, we walked over the this modern wine bar for an early happy hour. The name translates to, "in wine there is truth" haha. They offer 40+ wines on tap, allowing you to sample different wines at any time or order a flight, as well as cheese and charcuterie pairings. Their happy hour deal included half price bottles of wine. Such a steal!
Treylor Park Restaurant & Biergarten
For dinner, we walked over to this fun and quirky spot serving re-imagined Southern comfort food. Inside, there was a bit of vintage and eclectic decor with a large projector screen playing the movie Can't Buy Me Love (young Patrick Dempsey!), but there was also outdoor seating. The Grilled Apple Pie Sandwich, Grilled Cheese with yellow tomatoes and caramelized onion marmalade with a side of tomato soup, and tacos were all a hit. For drinks, we all got some version (with different liquors) of the Georgia Mule with peach bitters. When in Georgia!
Bohemian Hotel Rocks on the Roof
This chic hotel rooftop came highly recommended and didn't disappoint. We enjoyed Savannah Mules (see a theme here?), truffle fries and views of the Talmadge Memorial Bridge leading in to South Carolina. The sunset view over the river is gorgeous!
Day 2 in Savannah
J. Christopher's
The next morning, we wanted to find somewhere with a large menu fit for everyone's taste and that was on our way towards Downtown. We came across this bustling spot serving a wide variety of American classics, as well as indoor & outdoor seating. Expect a long wait on the weekends! We found this surprising given how many tables there were – but it was full. The food was good, but not great, and the service a little slow because of how busy they were.
Savannah Bee Company
My sister and I have known about Savannah Bee Company for many years due to their presence at the Fancy Food Show. We knew their flagship store on Broughton Street would be a must-see! I couldn't believe how much merchandise they had – after all, it's just honey! All six of us in the group, including men and women, walked out with a purchase.
We even came back later for the Mead tasting, which was something fun and different to do. Mead is the oldest fermented beverage, consisting primarily of honey, water and yeast. I've tried Mead a handful of times and can honestly say their offerings were great. If you don't want Mead, their energy drink was also amazing (and I never drink energy drinks). Any honey lover should check them out!
The Paris Market & Brocante
Across the street from Savannah Bee was this chic Parisian gift shop and bakery, selling a beautiful selection of home goods, high-end beauty products, jewelry and more. Highly recommend visiting if you enjoy shopping while traveling, or are looking for a gift to bring back to someone.
The Ordinary Pub
Down the road was this neighborhood basement pub serving a twist on classics. We didn't have any food there, but it looked incredible and was a popular spot for their unlimited mimosa deal. Instead, I ordered Gigi's G&T served Amsterdam Style with rose petals and others tried out their cold brew cocktails. Yum!
Wet Willie's
Savannah is one of the few places with no open container law, making fun bars like this chain, known for serving a rainbow of frozen daiquiris, very popular among tourists and locals. Per the recommendation of the bartender, I mixed the pina colada and peach for the perfectly refreshing and energizing frozen drink. Try it – you won't regret it!
Six Pence Pub
For lunch, we went to this classic Irish pub for some comfort food and refreshing Magners Irish Ciders. Their reuben sandwich was awesome but I could have passed on the scotch eggs, despite them usually being my favorite.
The Wyld
After a busy morning of walking and hopping around, we stopped at the Airbnb for a quick break and then took a 30-minute Uber XL ride to this waterfront hangout spot I randomly found in my research. It was one of those spots I didn't think we would realistically get to. I'm so glad we did! Although it was very hot outside on the dock surrounding the Bayou, the quintessential Memorial Day weekend atmosphere made it the highlight of our trip. Their peel-and-eat shrimp were messy but completely addicting – we ordered it twice! We also enjoyed their banana leaf mahi tacos, local Tybee Island blonde beer and their infamous "painkiller" frozen cocktail. We stayed for most of the afternoon, watching people play bocce ball, swinging on the hammocks and having a grand 'ol time!
Vic's On The River
We took an Uber back to the Airbnb and split up to do our own thing. My boyfriend and I went to Vic's On The River, a historic fine dining spot on our list we never made it to earlier when we were downtown. We sat at the bar, which surprisingly felt very local with the bartender knowing most of our seat mates despite being what I thought was a touristy place. We scored a spot right next to large windows overlooking the river, and ordered a delicious beef carpaccio with a soft boiled egg, black truffle oil, arugula, pecorino romano and capers.
Moon River Brewing Company
To end a very fun but long day, we met up at this brewery downtown for a nightcap in the outdoor beer garden. It's a huge property including indoor and outdoor seating, which was oddly very separate. Their craft beer on tap was tasty and they had a nice cocktail list as well. It's a perfect place for groups!
Day 3 in Savannah
Forsyth Park
My sister and her fiance left on Monday, while a few of us stayed behind. We had checked off most places on our list while they were here, so we enjoyed a more relaxing, slower-paced day beginning with a morning stroll through this large city park.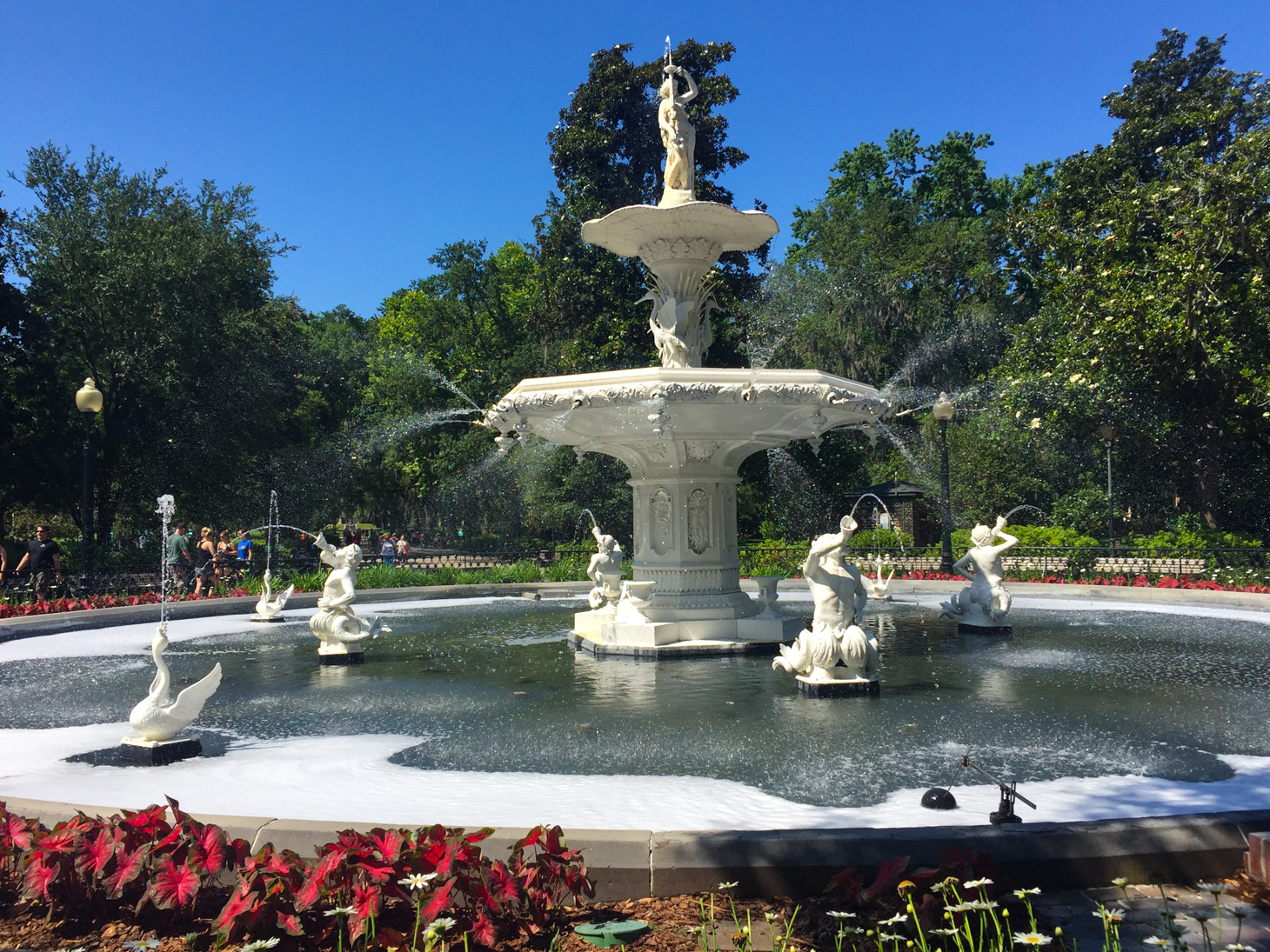 Sentient Bean
Just south of the park is this local, high-ceiling coffee shop serving vegetarian food, fair-trade coffee and interesting flavors of tea with plenty of seating. It's located on a quaint street perfect for strolling, adoring the houses and bed & breakfasts that surround the park.
Sorry Charlie's
With no plan in mind, we ended up at this casual seafood meets Southern restaurant in a different area of downtown than we had been in previously. Their fried green tomatoes with crab salad, oysters and frose hit the spot on another hot day in the city.
B. Matthew's Eatery
Since we were doing so much walking, we ordered light bites/drinks at various restaurants when we were ready for a break. Our next stop a few hours later was this vintage bistro recommended to me by a few friends. The location, service and food were fantastic! We ordered the duck wings and crab cake appetizers, duck entree and kale salad to share. At the time we were there in the mid-afternoon, they had $5 martinis! Can't beat it.
Savannah is a lovely place to visit year-round, though I will say it gets VERY hot in the summer months. Even in May, the temperatures were well into the 90s. We felt that a 3-day weekend was enough time to fully explore the city. Should you spend extra time, many people love taking a day trip out to Tybee Island, a 30-minute drive east.
What are your favorite places to visit in Savannah? Read more about Savannah here!