Since launching this blog in January 2017, I've become more well read on all things travel, especially destinations. Bruges has popped up time and time again in round-ups of the most idyllic cities in the world to visit. So, of course, I immediately put it on my travel bucket list. I never imagined that a year and a half later, I would be planning my day trip to Bruges! My boyfriend and I were staying for a week with our best friend in Rotterdam in the middle of our three-week Europe trip, which gave us the opportunity to explore the surrounding cities in both The Netherlands and Belgium. It was tough to decide between Brussels, Antwerp, Ghent and Bruges for our day trip together to Belgium, but I'm so happy where we ended up. There is undoubtedly charm, history, and beauty at every corner.
Instead of taking the train from Rotterdam Centraal to Bruges (with a connection in Brussels), we decided to drive via a rental car. Most of the time I prefer trains as a method of travel, but this case was different. It was an opportunity to see local towns, the countryside, and as it turned out, hundreds of windmills! The travel time was slightly more than by train, but only because we stopped a couple times and took the scenic route the way there. Although I wasn't the one behind the wheel, I think it was a pretty simple drive and easy to navigate.
First Stop: Belgian Waffles at Chez Albert
I'm not kidding when I say the number one reason I was excited to visit Belgium was for the waffles. For my readers who share the same sweet tooth I do, look no further than the top-rated waffle stand Chez Albert near Markt Square. I ordered the Belgian dark chocolate and strawberry waffle, and it did not disappoint one bit. It was by far the best waffle I've ever had, from the rich, delicious chocolate to the crunchy, crispy exterior and soft, fluffy interior of the waffle…YUM! I will warn you that it is very messy, made even worse by the fact that there is zero seating around. I can only suggest that you commit to the five to ten minutes of pure bliss, then have plenty of napkins handy! We were so amused by the "mouth cut-out" that you can see in the photo below. Like that is supposed to make it easier to eat?! P.S. The plastic fork was useless too, so good luck (ha)!
See Markt Square
After you demolish the best waffle of your life, begin walking it off around Markt Square. It is a must-see spot in Bruges! In every direction you will see the most beautiful architecture, making it an ideal place for photos. If you want a look at the city and square from above, you can also go to the top of the Belfry. We chose not to on such a grey, rainy day, but I've seen beautiful photos on Instagram/blogs from the top.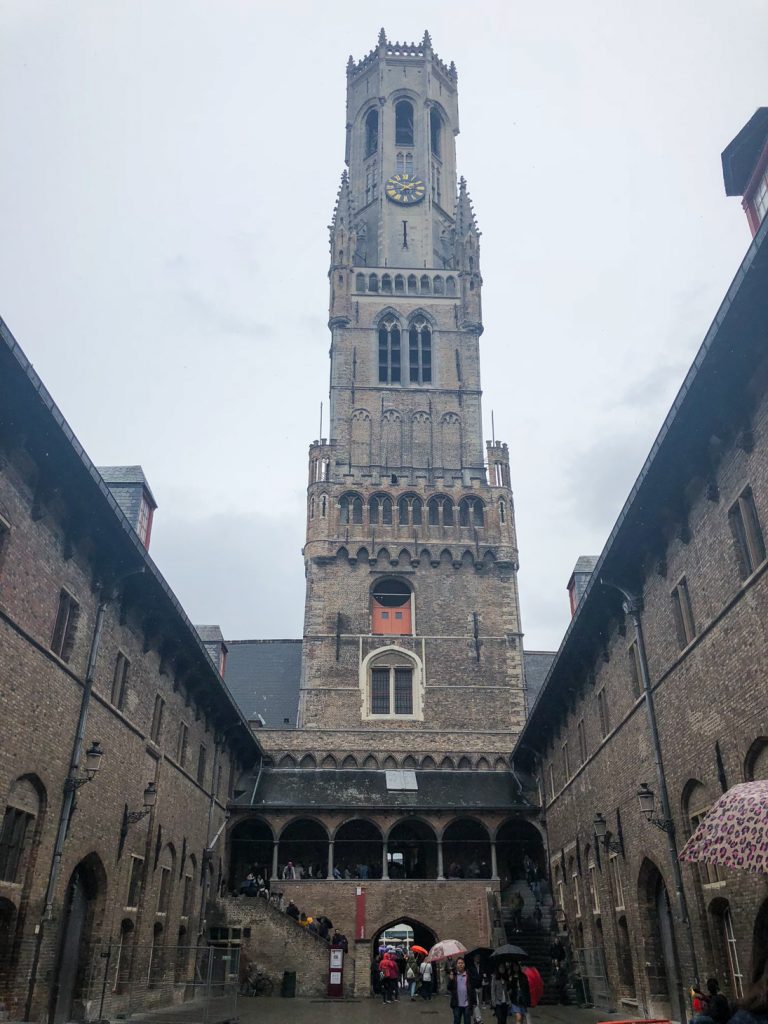 Sip Tea By The Fire at The Gulliver Tree
We escaped the bone-chilling wind at local, family-run cafe, The Gulliver Tree. It could not have been any more cozy for the occasion, with a sofa by the fire, a large coffee/tea list, and beautiful presentations. Consider making reservations because there are not many tables. From the photo below, I would say there are about four or five more two-top tables behind the photographer.
The Chocolate Line
The Chocolate Line is a chocolate factory and shop in one with filled with a sweet aroma and delectable treats everywhere you look. I already had my Belgian chocolate for the day on my waffle, but this was a cute shop to walk around and pick out gifts (if you have room in your suitcase), and watch them make chocolate behind the glass.
Brouwerij De Halve Maan
For beer drinkers, going to a Belgian brewery is another must. If you're with a large group or visiting Bruges at a busy time of year, I recommend Brouwerij De Halve Maan. It's a very large brewery that offers tours, has two floors of indoor seating, outdoor seating, and a wide variety of food options on their menu. We opted for the surprisingly filled-to-the-rim charcuterie plate and had one of their three draft beers available, the blonde ale. I don't usually reach for a blonde ale as my first choice, but this one was fantastic.
Brouwerij Bourgogne des Flandres
Another lively brewery worth visiting in Bruges is Brouwerij Bourgogne des Flandres. On a nice day, you can sit outside along the canal, which looked lovely. Unfortunately, we risked the weather with a pre-planned day trip and sat inside instead. They were very busy, so I would imagine the outside fills up fast too. I would suggest going early, especially as a larger group. They offer a tasting flight with every single one of their beers on tap, which was ideal to order for the whole table and prompt discussion on favorites and least favorites.

Rozenhoedkaai (Quay of the Rosary)
Near Brouwerij Bourgogne des Flandres is one of the most photographed spots in the city, if not Markt Square. Two canals meet at this corner with a backdrop of classic historial buildings, and therefore has become a picturesque, romantic area with engagements, photo shoots, and canal tours all over.
Since we had a two-and-a-half hour drive back to Rotterdam, we weren't able to have dinner in Bruges. If we did, I absolutely would have found somewhere for mussels! Another food recommendation for visiting anywhere in Belgium is frites, but we had our fix in The Netherlands already. I can't wait to share the rest of my three-week Europe trip city guides! In the meantime, check out Prague and Vienna.