My two-week Italian adventure began with a work trip to Milan. After our event was over, we had a day to spare before driving up to Lake Como, Italy. My colleague had studied abroad in Florence and I had visited for a day with my family about 15 years ago when we were staying in Tuscany, but it had been too long for both of us. We looked up train times and the next morning, we were off on our epic day trip to beautiful Florence!
We knew what train we wanted to take and bought our tickets at the Milano Centrale train station. Lesson learned: the price goes up quite a bit day-of. There was also not two seats next to each other, but we managed to at least be in the same car.
Once we arrived at Firenze Santa Maria Novella train station, our first stop was Piazza del Duomo. It's one of the most breathtaking and intricately designed cathedrals in Europe in my opinion.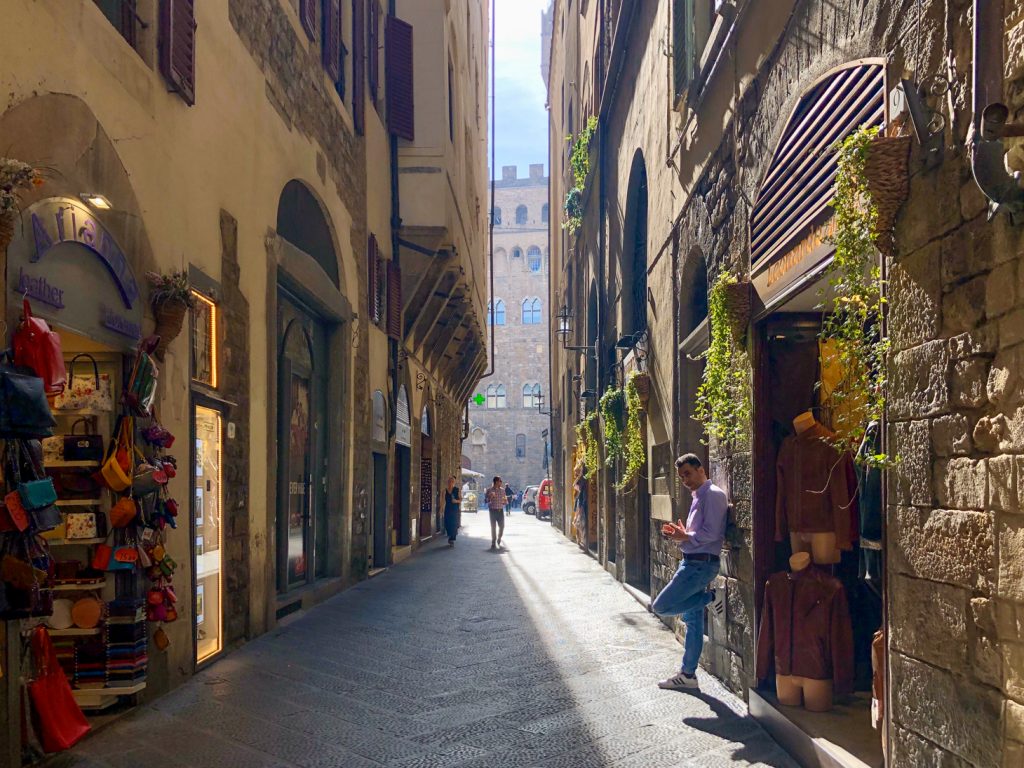 We ran around the neighborhood capturing as many pictures as we could and looking for a lunch spot. So many places had handwritten menus of the day, which I loved! We were specifically after two things: Florentine steak and pasta carbonara. We landed at Il Barroccio for it's cute street away from the crowds of the Duomo, available outdoor seating in the shade, and those two menu items we were at this point dying for. I will admit, it was good but not as good as we could have probably found if we planned it in advance.
When in Italy, of course you have to get cannolis or gelato after every meal! I ended up with an amazing cannoli (above) from La Loggia degli Albizi.
My colleague miraculously remembered how to get to some of her favorite spots even though she didn't know the names. One of which was this incredible stationary/paper goods shop, which from Google Maps is called Deposito Di Catta-e-cartoni. I got the most beautiful and special things that I don't even want to write on or use! Blank notecards by Kartos with a gorgeous blue floral design, postcards by Ballerini E Fratini, a recipe book with lemons all over it, gold pens with that same floral print and more. Back to school shopping vibes but so much better! We later saw restaurant menus and immediately recognized that they were made by that shop. It was nice to feel like locals after being there for less than 8 hours.
We wandered through Piazza della Repubblica to see the carousel, then to one of the large leather markets filled with stands of jackets, bags and a whole lot of haggling. I was really tempted to get a jacket or backpack, but you really need to know what to looking for to make sure you get one that is good quality and a fair price. With limited time, we carried on to our next spot.
Another must see in Florence is Piazza della Signoria and Palazzo Vecchio, where the Statue of David, Perseus with the head of Medusa, and many more famous sculptures can be found.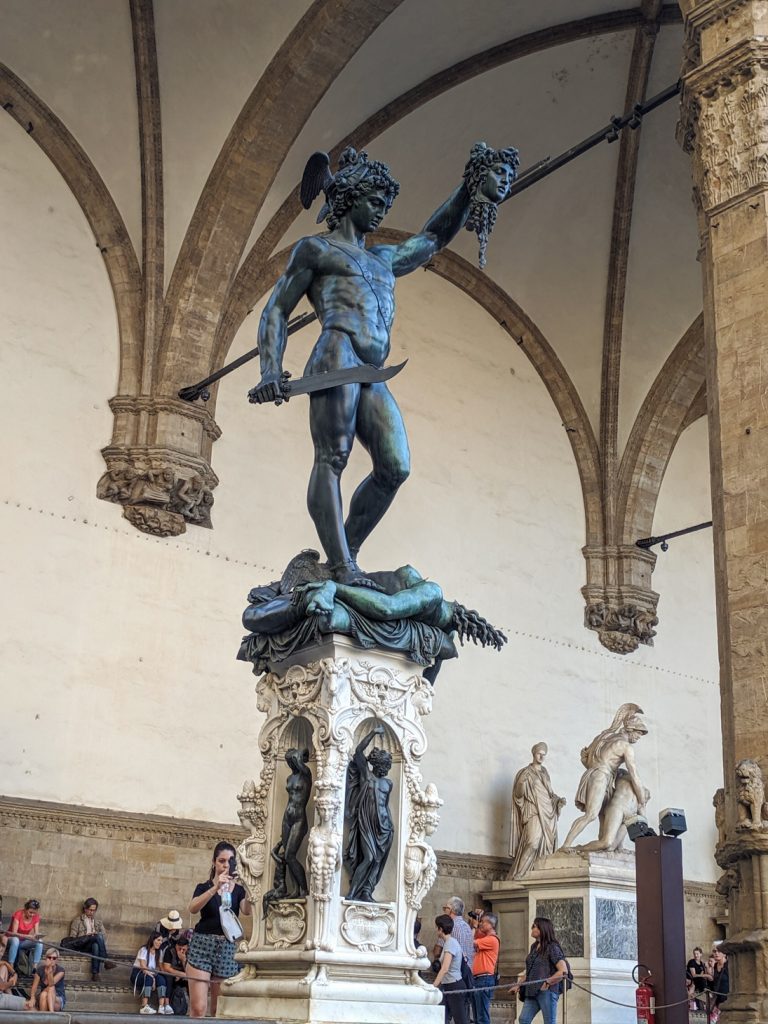 After bearing the crowds of these popular tourist spots, we did some truffle shopping at Sabatino and took a walking break at Amblé to practice the Italian tradition of Apertivo! This café, bar and sustainable design shop was another new discovery that I would totally go back to. It's completely tucked away between buildings and therefore nice and quiet. They also had the best drink menu, particularly the Spritzeria section!
With only a few hours left before our train back to Milan, we continued our journey over the iconic Ponte Vecchio, which translates to "Old Bridge." It's a medieval stone bridge most famous for its shops built along it. In present day, you will find jewelers, art dealers and souvenir sellers here. Nothing that's worth stopping for, honestly. At sunset however, the view is spectacular. We lucked out with such a beautiful day!
Our amazing day took a sad turn when we arrived at Boboli Gardens. Due to their seasonal hours, they were closing in 30 minutes and wouldn't let anyone in. We were so bummed! Instead, we popped into some nice boutiques in the area until it was time for dinner.
For dinner, we really wanted to go to Gusta Pizza, an old favorite of my colleague's. She raved about it literally all day long. Once we arrived (as soon as they opened), there was a line of 30+ people out the door. We were devastated because we knew it would be too risky to wait and have enough time to make our way back to the train station. There was a cafe by day/bar by night around the corner called Volume Bar where we took a moment to figure out our new plan. After walking miles upon miles, we kept it simple and went to a trattoria a few doors down. It turned out to be some of the best pasta I had during my entire Italy trip!
As someone who wants to plan everything in advance, I look back on this spontaneous day trip and remember the fun and hilarious moments first. Yes, we could have had better meals and explored Boboli Gardens. Yes, we could have been more relaxed between places without having to be glued to our phones to figure out our next stop. Yes, we could have mapped out our route to be less exhausted by the end of the day. But in the end, it was so worth it — an amazing, memorable adventure. And what better place to experience that than in Florence? I feel so lucky!
Other City Guides To Check Out