When I moved from Turtle Bay in Midtown East to the Financial District, I was excited to explore the rarely visited neighborhoods of Battery Park City and the Financial District. To be honest, if I ever went downtown before, it was to the Brooklyn Bridge and it's surrounding area. This new apartment of mine was located two blocks south of the 9/11 Memorial on West Street, so I was on the border of Tribeca and Battery Park City too. I soon learned that it was incredibly up-and-coming, at a rapid pace! In the year and a half I lived in this apartment, so many new places had opened that my friends actually wanted to come downtown sometimes (yay!).
Financial District
One of the most spacious and fun places for groups to hang out is this waterfront beauty on Pier A. The sunsets over the Hudson River are absolutely unreal, with plenty of outdoor picnic tables to sit around. I also attended for sporting events here, such as the Kentucky Derby. They serve craft beer, oysters, and casual pub grub such as giant pretzels (my fav).
For Cuban-style Prohibition cocktails –  Blacktail
Located on the second floor of Pier A Harbor House, this Cuban-themed cocktail bar and restaurant was opened by the same couple that founded and brought to fame Dead Rabbit (see below). It has a much different vibe, perfect for transitioning into the night from Pier A downstairs.
For an award-winning bar experience –  The Dead Rabbit
Named 'The World's Best Bar' in 2015 and 2016, this two-story bar is not to be overlooked. The casual ground floor pub has a traditional Irish feel, and serves an awesome Irish Coffee and brunch items like Scotch Eggs and corn-flake crusted french toast. However, their cocktail list is what truly makes them so special. They have books and books of options to choose from, and they're all impeccably made. The Parlour upstairs  feels much more exclusive. I enjoyed going when they had a special on Absinthe cocktails and $1 oysters!
Most known for the impressive architectural "Oculus" design, this World Trade Center transportation hub also incorporates 78,000 square feet of multi level state-of-the-art retail and dining. It's worth visiting to see the incredible design of the Oculus itself, and shopping if you can bare the crowds. It feels more like a suburban mall than anywhere else in the city.
I could see part of the memorial from my bedroom window, and walked through/visited the memorial many times. It really is very special. I never went to the museum, which was a personal choice, and have honestly heard very mixed things. Everyone's experience with the 9/11 tragedy was different, but I thought it would be worth including should you wish to see it once. I also never went to the top of the One World Trade Center Observatory, but can encourage you to get tickets in advance because there were always so many tourists outside as I'd try to walk home with heavy Whole Foods grocery bags! True New York City living…
Stone Street and South Street Seaport are popular tourist destinations, but I honestly rarely spent time there even though I lived within walking distance. I do believe both have revived themselves a bit since I moved back to Florida, so they're still worth looking into!
Battery Park City
Known for their Prosecco & Ice Pop cocktails, this "rooftop" bar in the CONRAD Hotel in Battery Park City is surprisingly small in size (and technically not at a "rooftop" on the top of the building with 360 degree views like you'd expect), but comfortable if you go at the right time. It has obstructed views so you can only see a little bit of the water in between buildings. To be honest, I only recommend this bar to try the famous cocktail once (if you never have before somewhere else). It is delicious, refreshing and an experience. When I went for the first time, I spent too much time taking pictures with my friend that the popsicle melted into my cocktail and got quite messy. I sipped it and got tiny chunks of berry around my lips, haha.
For a satisfying treat when are OFF your diet – Shake Shack
Oh, Shake Shack. Home to the best milkshake I've ever had, and some indulgent, juicy burgers. If you've never been, it really is a classic bucket list place to check out! They have multiple locations around the city, and have since expanded around the country. 
For some of the best BBQ in the city –  Blue Smoke
This Southern BBQ joint in Battery Park City and Flatiron is under the Danny Meyer group of restaurants. It's hard to find good BBQ in the city, in my experience, but this was probably my favorite! Now that I've tried Texas BBQ, it's hard to compare, but this is a nice elevated twist on the staples.
For a bottle of wine you're going to sip and savor –  Vintry Fine Wines
Whether you're looking to pick up a nice wine for a dinner party host or to expand your own palate, this wine shop is one of the most beautiful I've ever seen! They have tastings regularly, which is a fun opportunity to try out different kinds (for free!) and flex your wannabe-Sommelier muscles. Their selection is outstanding.
Where there is food for everyone –  Le District
My favorite place in this entire post, of course. I consider Le District to be the French food hall version of Eataly. There is a beautiful market, oysters & wine bar, food stations, a bakery counter and sweets shop downstairs, and a large food hall upstairs. The building is also home to restaurants and upscale shops. It's a wonderful spot for a rainy or very hot day, or to casually meet up with someone. They have ice skating available during the winter, and various pop-ups/events that occur throughout the year. Overall, it's a modern but laid back place to hang out, browse, shop, eat and drink. What more could you want?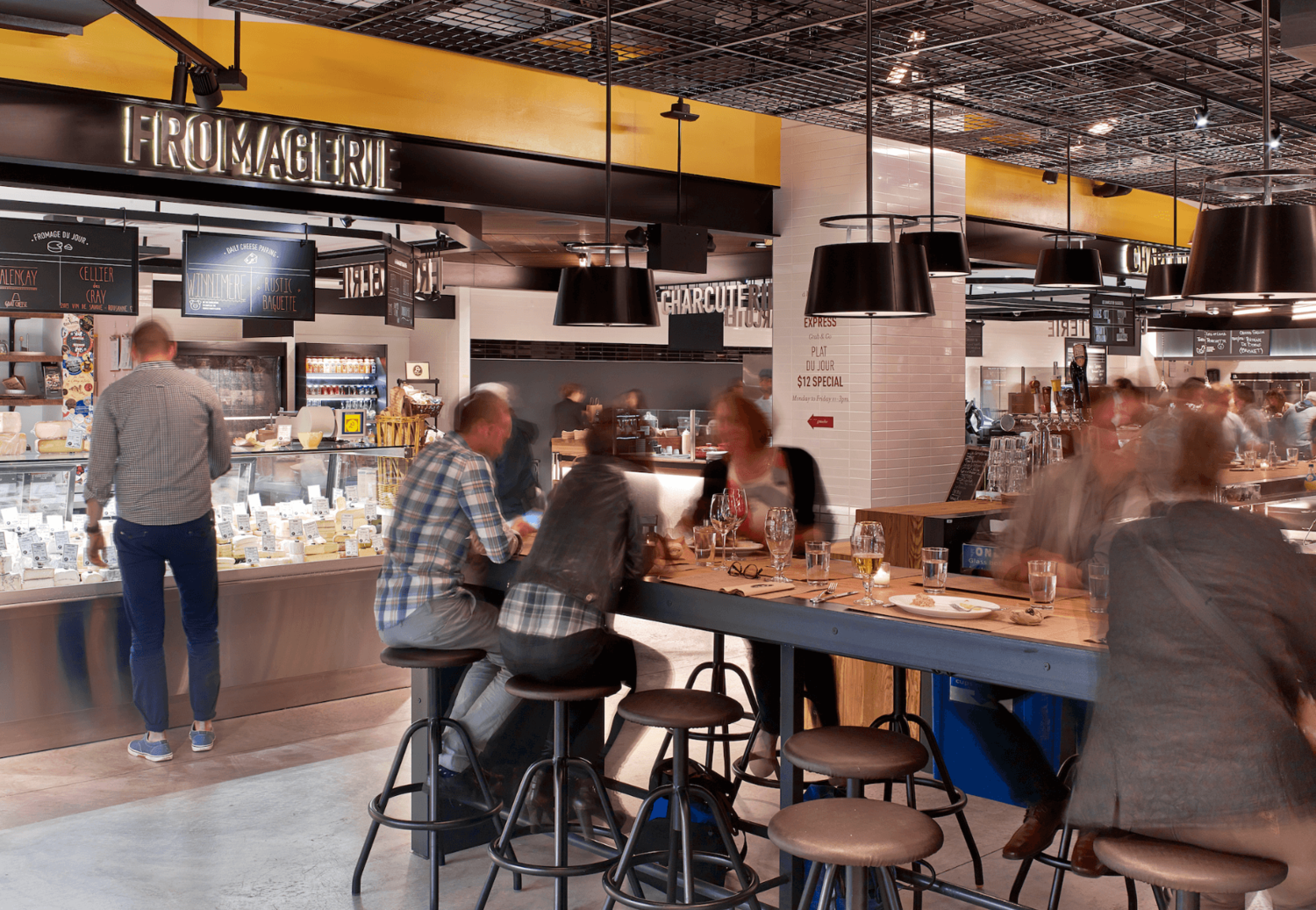 For enjoying the outdoors– Battery Park
Perhaps my most visited spot in the neighborhood, Battery Park offers a primarily local and dare I say somewhat quiet vibe compared to the rest of Manhattan. It's lovely. I recommend picking up food at Le District for a picnic, laying out in the park on a sunny day, going for a run at sunset, picking up a Citi bike for a ride along the esplanade, bringing kids or dogs to the park, or playing games like volleyball or ping pong. It's very safe, relaxed and easy to get to. It spans from Tribeca to the north and Pier A Harbor House to the south.
I hope you enjoyed my downtown NYC guide! Only a few more left… Lower East Side, Chelsea, Midtown, Uptown and Brooklyn coming soon!