Earlier this week, I returned from a very exciting trip to Jacksonville for my one and only sister's wedding! Since she lives locally, she was able to organize outings and recommend some great places in the area that we stayed in. Keep reading for an easy beginners guide to Ponte Vedra Beach, FL and a comprehensive review of our stay at the Sawgrass Marriott Resort.
Where To Stay in Ponte Vedra Beach
Sawgrass Marriott Golf Resort & Spa
The majority of wedding guests, including my family, stayed at this beautiful resort due to the special group (block) rate. I was blown away by the vast array of amenities, making it the perfect place for a group gathering of primarily tourists! The resort is huge, mind you, but everything felt very central and convenient. (Note: the wedding did not take place here, but rather at Epping Forest Yacht Club – stunning!)
Location
As I mentioned previously, the hotel is located in Ponte Vedra Beach, which is a newer, more upscale town within the Jacksonville area. It is about 45 minutes south of the Jacksonville airport, and 30 minutes north of St. Augustine. It's quite a bit east off the highway, but the main roads are pretty quick as long as you avoid rush hour. You'll see how much is being developed in the area as well! I loved how there were two plazas directly outside of the hotel property, possibly walking distance, that housed great restaurants and shops, as well as a Publix grocery store. I will go into more detail about some of these restaurants below, as there are plenty of options for dining close by.
Accommodations
The hotel is made up of villas and guest rooms in the main tower. There are at least 8-10 buildings of villas with 2 floors of about 10-15 rooms each… a LOT! They include standard single rooms with two double beds, or 1 bedroom suites with king beds. (NOTE: You cannot get a standard room with a queen/king bed, only two doubles). All villas have a patio (1st floor) or balcony (2nd floor), with the view varying by the building. We were told the villas were very recently renovated, but from the outside they look a bit dated. I would recommend the 1400 or 1500 building for a great view and convenient location towards the center of the property. These two buildings also have the walking bridge between them, leading over the lagoon to the pools and lobby.
The king suites were impressive in size, leading us to believe they were once condos. There is a small foyer, large family/living room, large bedroom with a king bed, large bathroom with a glass shower and vanity with double sinks, a small dining table and a decent-sized kitchen compared to most of it's kind. There's a full-size refrigerator and a microwave, but no stove, oven or toaster. The two downfalls of this king suite were the pull out couch, which was very thin and uncomfortable, and the closet, which was a small linen closet located in the bathroom that had two racks making it nearly impossible to hang a dress. Again, I'm sure it used to be a condo, because I confirmed the standard villa rooms had normal closets.
The rooms within the main tower of 7 floors had a fairly different, more modern vibe. They are available in either two double beds or a king bed. I enjoyed staying here, and ended up with a beautiful room on the 6th floor overlooking the lagoon and pools. Unlike the villas, we were fortunate to have a large closet! I was surprised to see that the bathrooms also had double sinks, and that the room itself had a couch area too. Quite a large room!
My Recommendation: For both the villas or main tower, request a room on the top floor. We found it to be noisy at night in the first floor villa with people moving around up above. In the main tower, we found it to be surprisingly loud on weekend nights from guests at the lobby bar downstairs since it is an open floor plan. The hotel does eventually does ask people to leave the lobby bar area around 11pm-12am or so, which we experienced after the wedding, for reference.
Food & Drink at Sawgrass Marriott
Inside the main tower, there is a Starbucks, upscale restaurant (Vernon's), casual pub (Alice & Pete's), wine bar (Vines) and lobby bar, all very close to each other. Surprisingly, I only went to the pub due to it's large size, indoor/outdoor seating, and casual, quick, come-and-go vibe. They have a small food menu, full bar and some games like shuffleboard and a pool table. Note that for breakfast, the only options (besides room service) are Vernon's or Starbucks.
On the ground floor of the lobby, there is an expansive outdoor deck with lounge chairs and fire pits, where you can bring your food/drink to enjoy. Near the pools, there is a bar called the American Gator Club that has a great outdoor deck surrounded by the lagoon. Yes, there are gators in the lagoon, as well as snakes, ducks and turtles. Fortunately, I only saw ducks and turtles!
Activities at Sawgrass Marriott
One amenity I learned about that I will definitely take advantage of if I go again is the $25 day pass for the spa, which allows you to use their private pools, hot tub (it's the only one on the property), sauna, and more. Some of the wedding guests received spa treatments, such as couples massages, and raved about the experience. They also have a famous golf course, home to The Players Championship, and a miniature golf course if that's more your speed.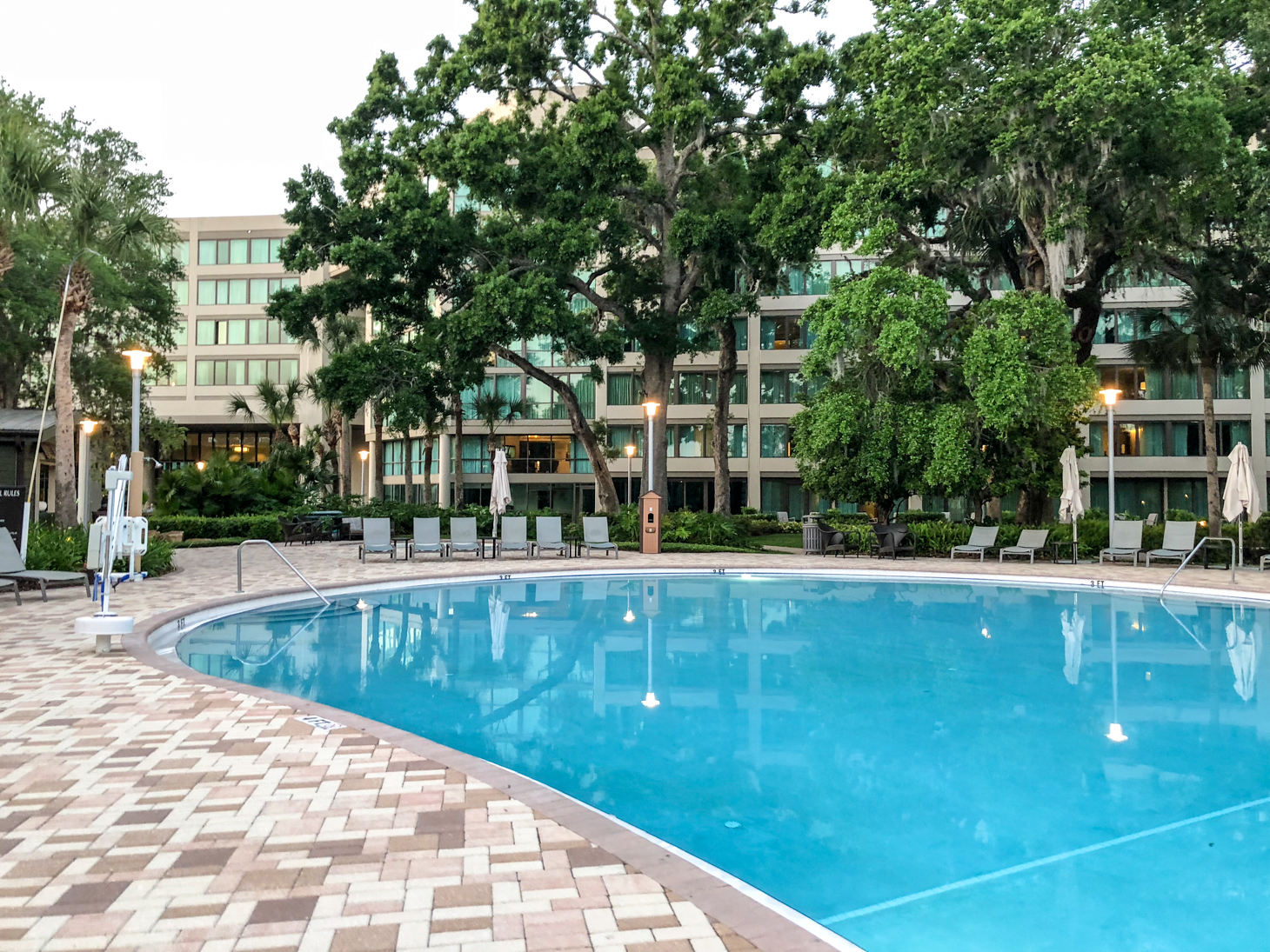 The shuttle service is phenomenal and quick, which everyone seemed to utilize at some point during the weekend given they go within a 2-mile radius outside of the Sawgrass property, which expands far beyond the hotel itself. We also learned that the Bellman will take you/pick you up from wherever you need in the area should it be out of reach for the shuttle. My sister and her fiance used this on one occasion and were picked up promptly in an escalade, free of charge.
Given the hotel is not located on the beach, they have a separate beach club within a short distance in the shuttle. Many wedding guests enjoyed this amenity despite the unpredictable weather. They have a restaurant, pool, fire pits and of course beach umbrellas, towels, etc. I did not end up going due to another outing that afternoon and because I'm spoiled by having an incredible, free beach within 10 minutes from my house at home.
Where To Eat & Drink in Ponte Vedra Beach
TPC Sawgrass Clubhouse
For lunch the day before the wedding, a group of us went to the clubhouse after hearing rave reviews about the atmosphere, food, and golf memorabilia. It is within the Sawgrass development but is open to the public. The restaurant itself is called Nineteen, and serves breakfast, lunch and dinner. They also have a fine dining restaurant called Traditions, but it looked a bit stuffy. We were very pleased with our experience at Nineteen, from the food, surprisingly reasonable menu prices and selections, service and expansive view of the 9th and 18th holes from the outdoor covered patio.
I ordered the Superfood Bowl, which I would love to recreate at home as it is my perfect lunch – satisfying, filling, and healthy! The men at our table all seemed to order the Club Sandwich, which turned out to be absolutely gigantic with three pieces of bread vertically stacked with the ingredients in between. If you want leftovers, or want to share with someone, this is a great option.
While we were eating, our waiter informed us that the clubhouse offers professional tours for free. For anyone who plays, watches or appreciates the game of golf, you will enjoy the in-depth history, trivia, and tour around the galleries and property.
Restaurant Medure
While my family was in town previously for the wedding tasting and bridal shower, we went here for a nice dinner to celebrate her birthday and to be able to give suggestions to family coming in town. It exceeded expectations, with a nearly flawless meal from start to finish. The service was fantastic, and we took advantage of the on-site sommelier. She was wonderful, giving us suggestions from their expansive wine list, and pin pointed the notes in the wine that we were tossing around after a single sip (#goals).
We started with the Hudson Valley Foie Gras with onion marmalade and vanilla truffle oil, which was a beyond delicious, melt-in-your-mouth experience. We ordered two plates of it, and it was a generous portion (especially for the price). We preferred it to the Grilled Octopus, which we also ordered. For entrees, we ordered the Ricotta and Kale Gnocchi, Seafood Taglierini, Short Ribs, and Maple Leaf Farms Duck Breast with Stone Fruit Chutney. All amazing! For dessert – when a meal is this good you don't skip dessert – the Chocolate Mousse Cake with raspberry filling, caramel popcorn and cocoa nib coulis was out of this world, as was their Grand Marnier Soufflé special!
Overall, I would highly recommend this to anyone in the area who is looking for an upscale dinner and interesting menu. The one downside was there is no outdoor seating, so save it for a gloomy or cold day.
Pusser's
If you're looking for a tropical drink, casual environment and live music, Pusser's is the place to go. It is located within the same plaza as Restaurant Medure and covers two floors overlooking a lake. Beware of the Painkiller cocktail however, which are available in various strengths.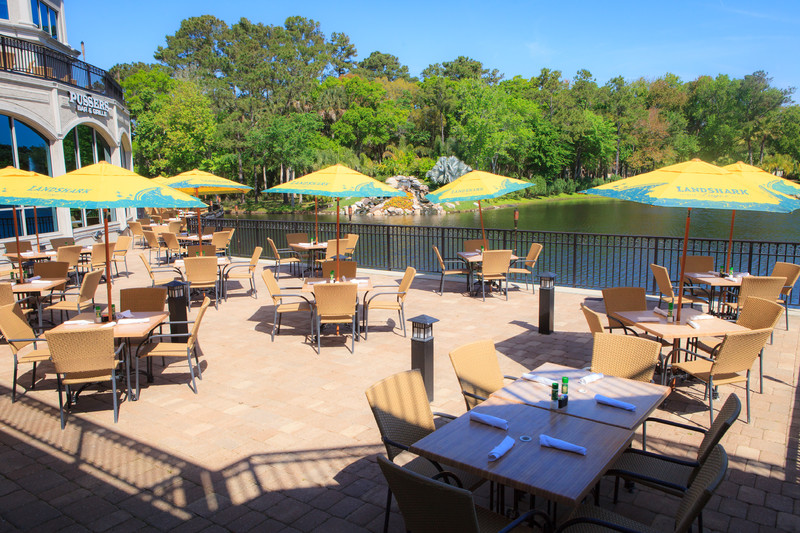 3 Palms Grille
For the Rehearsal Dinner, we went to this restaurant located within the Sawgrass gates that is also open to the public. I was so impressed by the space that they provided to us for a private event, which included the entire outdoor patio and fire pits – a beautiful, very comfortable setting!
We were provided with options for a 3-course plated meal, pulled from their regular menu. I ordered the Minorcan Seafood Chowder, Diver Scallops, and Flourless Dark Chocolate Cake. To be honest, I wasn't sure what Minorcan really meant. Upon researching it at dinner, I learned that Menorca is an island in Spain and many of the people from this country settled in St. Augustine in the 1800s. Feeling like it was a local recipe, I was excited for my choice. Unfortunately, I was disappointed to find that it was very tomato heavy and only included very small, shredded bits of fish rather than chunks of seafood. I'm always bummed when a first course is a let down, because often times you end up eating more than you should not knowing what is coming next. Does this happen to anyone else??
Once the Diver Scallops arrived, my dining experience made a 180. They were U10 (very large and substantial) size, and the best scallops I've ever had. There were three on the plate over a bed of thyme risotto with wild mushrooms, pea puree, charred tomato beurre blanc and organic pea shoots. Everyone who ordered it was as pleased as I was. I would definitely return to order this dish again! By the time the Warm Flourless Dark Chocolate Cake arrived, I was pretty stuffed. However, it was very good dunking the warm gooey cake into the vanilla ice cream for a couple bites.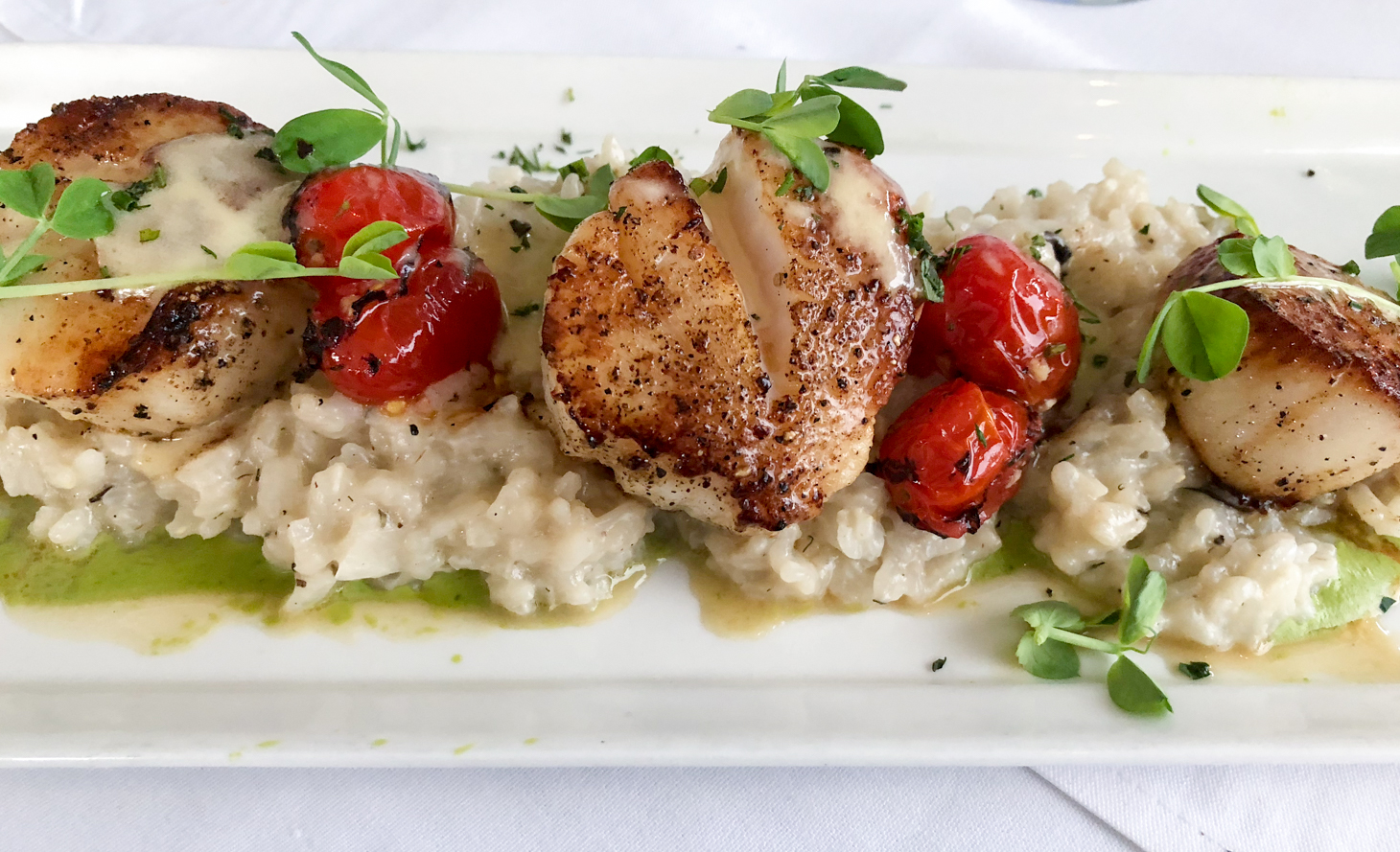 Aqua Grill
I will preface by saying that my family has been here twice, and I have missed out on both opportunities. However, they have consistently raved about the delicious food, accommodating service and nice atmosphere sitting outside by the lake. Maybe next time! I will be sure to provide an update once I have been myself. In the meantime, I knew I had to include it for it's convenient location and impressive review by my picky family with high standards.
Nona Blue
Within the same Sawgrass Village plaza as Aqua Grill is this modern American tavern. I went here twice during this trip, once for lunch and once for dinner. While it is nice and open inside with a variety of booth, table and bar seating, the food was so-so. For lunch, I ordered the Nona Blue Burger, which was good but nothing exciting. For dinner, I ordered the Roasted Vegetable Flatbread, which again was okay but could have been done better. Others at the table ordered the Prosciutto Flatbread, The "BLT" Grilled Cheese with Lobster, French Quarter Penne Pasta Bowl and Paneed North Atlantic Sea Scallops, all of which were underwhelming and over salted. My dad ordered the scallops dish since missing out and ordering something else at the rehearsal dinner a couple days prior, and there was no comparison. There were three tiny scallops, two spears of asparagus and a ton of couscous. Honestly embarrassing. Even more shocking is that the dish here costs $29, which is more than the incredible scallops dish at 3 Palms Grille for $27.
Two places I didn't make it to in the same Sawgrass Village plaza but have heard positive reviews about are Metro Diner and Trasca & Co Eatery. Seems I need to do a hop in this plaza next trip, and stop into Scout & Molly's Boutique and Pineapple Post too!
Overall, my trips to visit my sister and her now husband (!!!) have been eye-opening compared to how I envisioned Jacksonville previously. I've come to particularly enjoy the Ponte Vedra Beach neighborhood most of all, and look forward to continue exploring in the near future. After all, Jacksonville is the largest city by area in the United States!