Home to the rich and famous, top models and artists, the expensive TriBeCa neighborhood felt pretty exclusive to me for a while. It stands for the "triangle below Canal Street," in case you were wondering. Its cobblestone streets are lined with high-end boutiques and trendy restaurants, as well as old industrial buildings that have since been turned into fancy lofts. When I moved downtown to an apartment on West & Rector Streets, I made it my mission to explore this otherwise untouched area of the city that was now within walking distance. I soon learned it is home to some of my go-to, favorite upscale restaurants. Locals and tourists alike should not miss this area now that I've provided you with an approachable guide to Tribeca.
To Eat
For homestyle American comfort food – Bubby's
Since 1990, Bubby's has been a staple in the community serving made-from-scratch classic dishes with local, fresh ingredients. These upgraded ingredients cause higher prices, but in my experience, it's always worth it. Indulge in pancakes, homemade granola, or biscuit sandwiches in the morning. Come lunch or dinner time, they have great fried chicken dishes and burgers. For something healthier, I love their Kale and Farro Salad made with ricotta salata, currants, grapefruit, radishes and pine nuts. It's super fresh and perfectly balanced with a cider vinaigrette. Last but not least, you must try their pie! They're famous for it.
*Note, there is another location near the High Line in Chelsea. Another favorite chain in TriBeCa is Sarabeth's, with locations in Union Square, Central Park South, the Upper East Side (coming soon!) and Upper West Side (coming soon!).
This bi-level townhouse dates back to 1810 and is decorated with antique touches. From the original tin ceilings, salvaged wood paneling, custom banquettes and hand-made tiles, you're brought back in time from the moment you walk in. The warm-hearted atmosphere is accompanied by a fresh, healthy and diverse menu. Everything I ever ordered was delicious – from a hearty Egg Bowl to start off the day to a cocktail at the cozy bar upstairs at night. Point being, you're not going just for the atmosphere.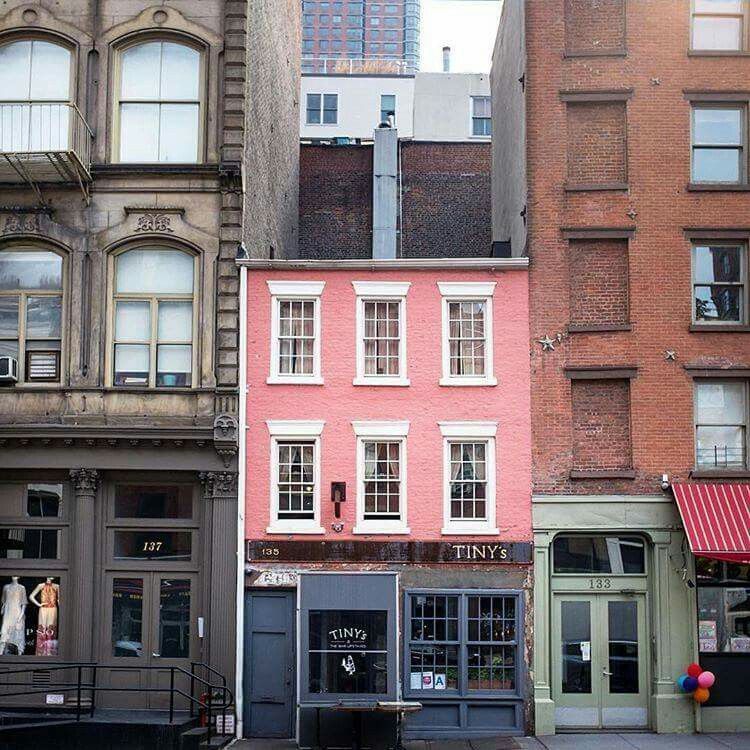 For one of the best meals in the city – Locanda Verde
When someone asks for NYC restaurant recommendations, Locanda Verde always comes top of mind. It's memorable and very likable, perfect if you're looking to impress someone. I've been on business meetings here, a date, and with my parents when they came to town. In fact, I don't think I've ever heard of someone having a bad experience here. Because of this, it's a lively atmosphere and is safest planned with a reservation. Raving aside, they serve seasonal and urban Italian menu. For breakfast or brunch, I love their Zucchini Frittata or Lemon Ricotta Pancakes. For lunch or dinner, you can't go wrong with any of their pastas. They also have a beautiful bar for a Bellini in the morning or glass of wine at night.
*Did you know this restaurant is within the same NoHo Hospitality Group by Chef Andrew Carmellini as The Dutch and Little Park?
For a seasonal, healthy meal – Little Park (NOW CLOSED)
This seasonal restaurant highlights the best ingredients from Chef and owner Andrew Carmellini's longtime partnerships with local farmers, anglers, vintners, ranchers and foragers. Peak ingredients like organic vegetables, free-range poultry, grass-fed meats, line-caught fish and heirloom grains are sourced for their level of quality, sustainability and nutrition. It's a place you'll always walk out feeling good – isn't that what every restaurant dreams of?!
To Drink
For a winery experience in Manhattan – City Vineyard
Located on Pier 26, this City Winery spin-off facing the Hudson River offers city views alongside live grape vines. Open rain or shine all year long, I favor this spot during the afternoon when I can sit outside, enjoy the breeze, and sip on a glass of wine.
For rosé and oysters on the Hudson – Grand Banks
This seasonal oyster bar on the deck of a historic fishing boat can be found at Pier 25. It's the perfect place to enjoy the sunset over the Hudson River with a glass of wine in one hand and an oyster in the other.
For a craft cocktail and good music – Ward III (NOW CLOSED)
My favorite out of the few late-night cocktail bars in Tribeca, Ward III is unpretentious and fun. The music gets louder as the crowd rapidly grows. They serve a limited menu of small bites, as well as craft and custom cocktails. Their spirits list is rather expansive, especially in the whiskey category.
This strict and luxurious bar in Tribeca is not somewhere to "pop" in for a drink. It's an experience better suited for a special occasion. They specialize in rare spirits and serve an eclectic variety of small bites such as foie gras, gruyere puffs, steak tartare, prosciutto wrapped figs, and more. In the earlier hours, it's men in suits coming after work from their finance or law offices. Later on, the crowd picks up.
Where are your favorite places to go in Tribeca? More NYC Neighborhood Guides here!