Although I am East Coast (of Florida) born and raised, I enjoy venturing over to the west coast of the state for their laidback beach vibes and incredible sunset views. On what turned out to be a rather cool spring weekend, my sister, her two friends and I chose Clearwater Beach for a girl's weekend getaway due to its convenient location and famous white sandy beaches. It was a bachelorette party, but you could certainly apply the same itinerary to a weekend getaway. Considering we did not put on our bathing suits once, or even step foot in the sand, we had a wonderful, relaxing weekend. Keep reading for the ultimate relaxing girls weekend in Clearwater Beach for your to replicate.
Day 1
We drove over from Orlando on a Friday afternoon, and were surprised how bad the traffic on I-4 West was. With not a single cloud in the sky, we were anxious to arrive and enjoy the outdoors!
Columbia Restaurant
We started off with lunch at Columbia Restaurant in Sand Key Beach. Having been to their St. Augustine location, I can attest to the 1805 salad and sangria being worth the hype! We sat outside along the intracoastal and decided to try new-to-us items on the menu, including the Mojito, Empanada de Picadillo and Mahi Mahi Cubana sandwich. Besides the empanadas, where you can't really go wrong, we weren't impressed by the mojitos or sandwich. You always run the risk when you try something new, but now we know for next time!
Edge Hotel
After lunch, we went to check-in at our hotel. Fortunately, it was ready a couple hours before their standard check-in time of 4pm. In case it wasn't, the hotel allows you to park in the garage and utilize all of the amenities. We were impressed by the modern lobby and large pool deck, with an additional infinity pool overlooking the Gulf from the 8th floor.
As it was peak season and spring break, the hotels in the entire area were expensive – I'm talking $500+ for a standard room in a standard hotel. Being a new hotel, we were lucky to score a standard room about $100 cheaper. It was absolutely worth it! The rooms were very spacious, with two queen beds, a large sink/vanity area and a toilet/shower that were separate, perfect for a group of four girls like us. We had the City/Harbor view room, which was still just as beautiful. All the rooms had balconies too. View is pictured below! The best part of the hotel was the location – everything was within walking distance. We didn't move our cars once!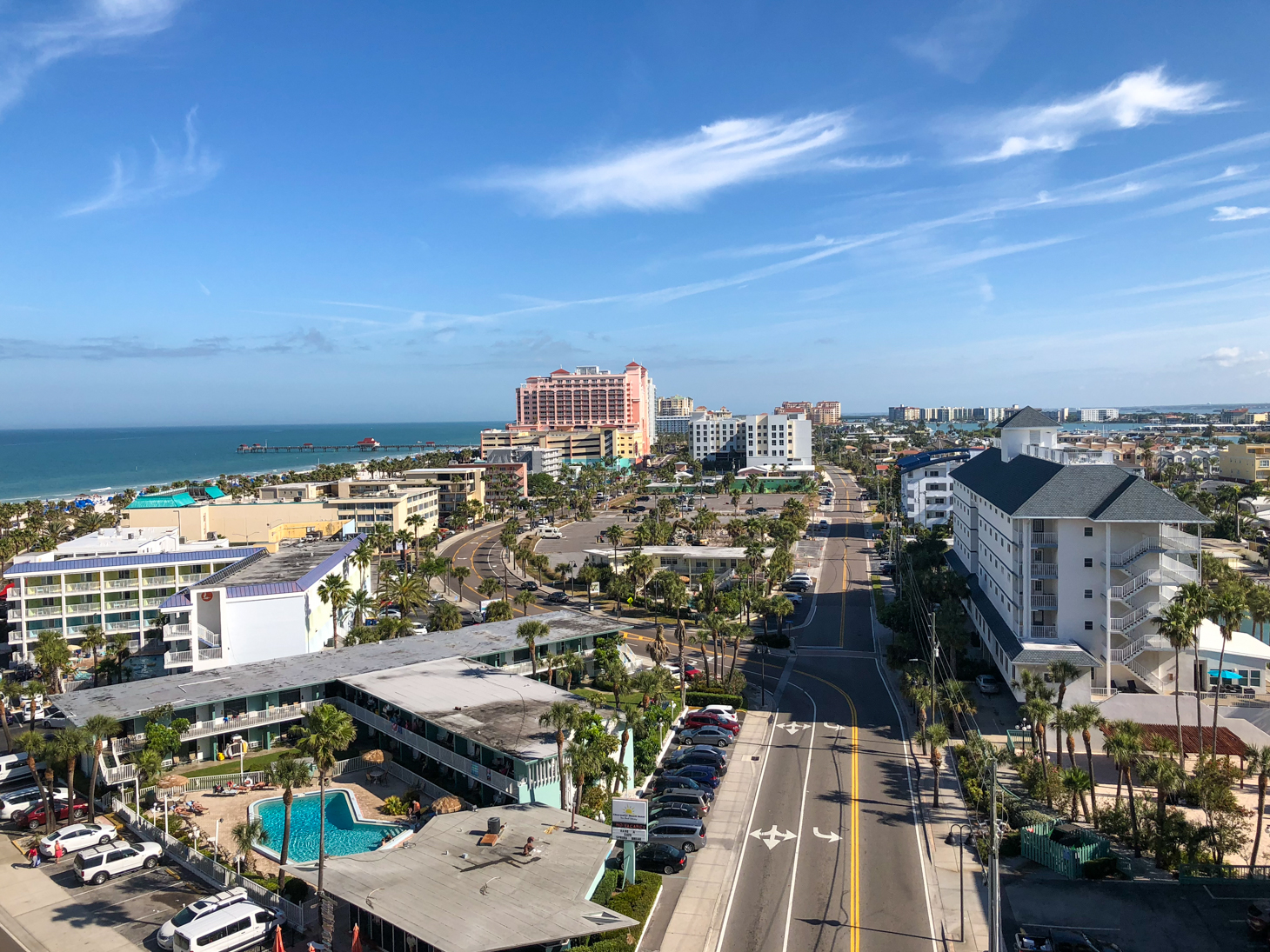 Salty's Island Bar & Grille
To explore the area, we decided to hop around the main street instead of making dinner reservations. We started at Salty's, which had very cheap happy hour deals. I enjoyed the Cigar City Florida Cracker wit beer. Unfortunately, the Omni hotel blocked any views of the water, so we moved on to the next bar.
Sharky's Beach Bar
Next up was Sharky's bar, which had an uninterrupted view of the water and our first glimpse of a beautiful Gulf sunset! We sat out on the front deck and drank the Kona Longboard Beer, which my sister recommended me to. It was very light and easy to drink, perfect for beachside bar hopping. We also ordered the Baked Pretzel Buns with Beer Cheese. I've had pretzel and beer cheese varieties more often than I should admit, and this one was stellar.
Frenchy's South Beach Cafe
For dinner, we walked a little further down the road to one of the many Frenchy's locations in the area. They are "famous" for their Grouper Sandwich, and it was SO overrated! We couldn't believe it. Anyway, skip that and order the Coconut Shrimp Tacos with Mango Salsa instead. Should you fancy a beer along with it, the Mango Hefeweizen is a natural fit.
Day 2
Barefoot Beach House
For chai tea lattes and morning coffees to-go, we went to the Barefoot Beach House. It was very casual and convenient for beach-goers throughout the day. We strolled along the boardwalk with our beverages before the crowds swarmed the beach. There were many joggers and cyclists – it's the perfect setting for it!
Palm Pavilion Beachside Grill & Bar
Surprisingly, very few restaurants and beach bars are actually on the beach. Palm Pavilion is but tucked back enough that you're not too close to the water. It had a huge outdoor covered patio, bar area, and large dining room. The patio was so popular that they had signs throughout noting a 2-hour maximum!
Hyatt Regency Clearwater Beach Resort
Before our scheduled spa appointments, we decided to explore the Hyatt hotel. The upper floor pool deck was amazing, with uninterrupted views of the Gulf across the street! Should it have been warmer, we would have enjoyed laying out in the sun with a poolside cocktail.
SHOR American Seafood Grill
Located in the lobby of the Hyatt Regency, this recently renovated, modern restaurant surprisingly had a nearly identical menu to the rooftop food shack (and in a much nicer setting)! We enjoyed their Cuban Sandwich.
Sandava Spa
To treat ourselves to some well-deserved pampering, we booked facials and massages at the hotel spa. Those of us with combination/oily skin opted for the Energy Cleanse facial, while those with dry skin were recommended the Coco Luscious Facial. What's very unique about this spa is that they offer 30-minute and 60-minute sessions for almost every treatment, including facials and massages. For first-timers, the 30-minute facial is a perfect introduction. The difference between the 30-and-60-minute facials is that the 60-minute includes extractions. The technicians did a wonderful job, and the relaxing common area was very comfortable and accommodating. There was a Keurig machine for coffee and tea, infused waters, freshly baked chocolate chip cookies, DIY trail mix jars, and more. After our treatments, we were offered a glass of wine and chocolate truffles – how indulgent! I greatly appreciated how the technicians wrote down what products they used on us and would recommend for our skin type. They sell them at the spa, but it wasn't not pushy at all compared to most places. The brands used on me were Eminence (sold on Dermstore.com) and Osea (sold at Blue Mercury), so they are accessible to purchase on your own.
Sunset Movie at Pier 60
Instead of hopping to more of the same beach bars, we decided to take in the gorgeous sunset and cool breeze for a free outdoor movie on the lawn at Pier 60, conveniently located within walking distance of our hotel. They post the movies being shown on their website calendar so you can plan ahead. We were surprised that it was not very busy, which made for a more comfortable experience.
Surfside Taphouse
A commercial for Surfside Taphouse prior to the movie aired (multiple times) saying that you can place a take-out order from the restaurant across the street and they'll text you when your order is ready. Sounds perfect, right? We decided to take advantage of this for our dinners, but they seemed to not provide takeout orders very often. While they did take our order, they had no idea what I was talking about when I said, "you'll text me when the food is ready, right?" Instead, they said to walk over in about 15 minutes. We arrived 20 minutes later, just in case, and the restaurant was swamped! We ended up waiting another 20 minutes, feeling in the way of the servers and bartenders. Long story short, I would eat before the movie or bring something with you. There's a pizza place a little farther north that others brought with them to the movie.
Where do you like to visit for a relaxing weekend?
In Case You Missed It