After much anticipation, I am excited to finally begin my coverage of New York City here on the blog! Despite many ups and downs, it will forever be one of my favorite places in the world. There is no where quite like NYC.
I grew up traveling to the city many times with my parents who lived there when they were in their 20s/30s. In fact, it is where they met! They took my sister and I to all the touristy spots, pointed out restaurants they went to on dates, and told endless stories of their experiences – unforgettable experiences. Majority of the time, we went to the city because of the Fancy Food Show summer conference they attended for their gourmet food store/catering business. Once my sister and I were old enough, we went too! But before that, we were designated a specific neighborhood to stay in and would take a cab there and back from the hotel. We would meet my parents in the evening and go to dinner together at night.
My best memories of the city when I was younger include shopping on Canal Street, where my parents insisted they both take us because it was "unsafe." Looking back, yeah it was pretty sketchy what we got ourselves into just for a fake bag (LOL)! I also remember perfectly the day we were walking around SoHo and I saw Keira Knightley! This was right around the time of Pirates of the Caribbean. I wanted to go up to her to say hello, but my Dad had hailed a cab and was waving me over to get in. But…Keira Knightly!!! I did not get to meet her. I remember the time we got upgraded at the Waldorf Astoria, which was and still is a beautiful place. I was fortunate to have visited the World Trade Center the summer before 9/11. I remember some guy's hat flying off his head in the wind and watching it sway down and down for what seemed like forever. Even though I was fairly young, the memory I have is something I will cherish forever. We also went to see a few Broadway Shows including Saturday Night Fever and Hairspray. They were incredible! We went home with both soundtracks. Of course, not all of my NYC memories are perfect. There were many nauseating cab rides, HOT summer days, and that time a piece of broccoli at Peking Duck House broke the wire of my braces and we went through the Yellow Book (remember those?) in the hotel room to find an orthodontist… taking up hours of crucial shopping time with my sister. I share these stories for any parents out there. I encourage you to take your children to the city if you can! I know I will one day.
Skip ahead to high school when I went on a school trip to the city. We went to the Martha Stewart Show, People's Court and saw Chicago on Broadway. In college, I visited for a long weekend with a few friends, and interned for 10 weeks the summer between my Junior and Senior year. My sorority sisters had interned there, and I said, I want to do that! I convinced my parents it would be the "trial-run" to see if I could actually live in the city. It is very different visiting there versus living there. I stayed in the NYU dorms in Union Square and walked through the Greenmarket to my social media marketing office on Park Avenue South. I had it sooo good (my internship, my roommates, my dorm location) and absolutely loved it. My senior year was dedicated to more internships and planning my move and job application process in the city.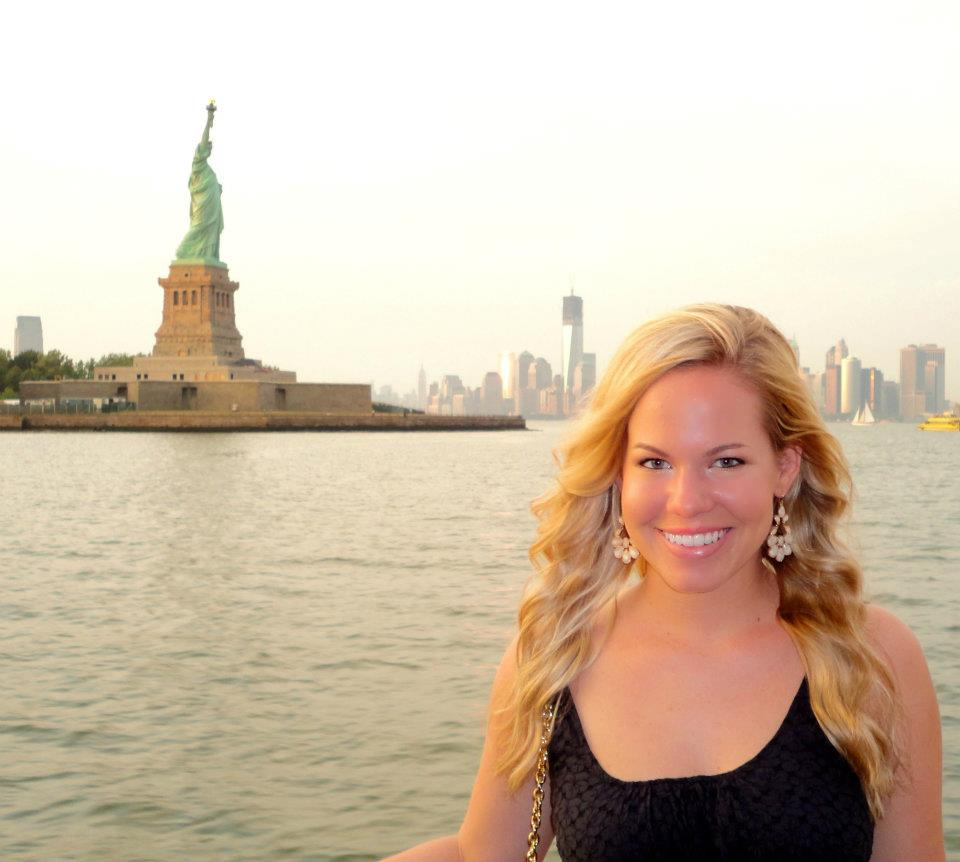 I moved to the city within weeks of graduating college to start a job in Public Relations for Stila Cosmetics at an agency. Dream come true! I lived in Manhattan for 3.5 years, with two apartments and two jobs. Exploring the neighborhoods and it's restaurants and bars was my favorite hobby, and an expensive one! I got such a thrill from the interesting menu offerings, extravagant plating, celebrity-sightings and sharing my restaurant/bar finds with friends and vice versus. When I first moved to the city, I created a Google Drive Excel sheet for my roommates and I to add restaurants on our wishlist to. It had columns for neighborhood, cuisine and everything. We added reviews to it for a while, too! It was a perfect reference for our weekly roommate dinner, which later turned into monthly, etc. Most of my friends thought we were crazy, but I loved it and was so proud of it. I quickly became the go-to for recommendations from friends and family.
Once my new roommate Spencer moved in, I was so excited to show him around to all the best places. He was a foodie, which I appreciated. He reintroduced me to Foursquare lists for finding/saving/reviewing places, which I still utilize today. Little did I know all of this fun restaurant and bar hopping would make me fall for him. The night before he moved out, we went to the places we loved/never got to go to together. It was one of the most fun yet saddest nights for me in the city. Luckily, he came back to visit me time and time again so we could continue our hops. It only made me fall more and more in love with him. Now, here we are! Over two years later and he is still my favorite restaurant, bar and traveling buddy who inspired me to start this blog and developed/designed it for me.
Here's what you can expect to see on the blog (in terms of NYC coverage):
Neighborhood Guides – Short and sweet lists. I will only recommend places I've been to, and will clearly mention any places I never made it to that you might still be interested in.
Top Spots – The best of…anything from a cuisine to an occasion to a season. Maybe even an "all-time favorites" list if I can attempt to narrow it down. I will go into more detail with these places.
Day Trip Itineraries – I went on quite a few day trips that were really easy to get to for a (much needed) escape from the city.
Bucket Lists – Activities by season, the places EVERYONE must try.
Visitor Guides – First time visiting the city? Friends coming to visit you in the city? I had a LOT of visitors, and have created some awesome itineraries.
Guest Posts – I have some friends who still live in the city, or moved away recently, who I know would have some different and interesting perspectives on the best places. From steakhouses to vegetarian/vegan, etc.
I hope you enjoyed reading this introduction to New York City, and learning a bit more about my background. Let me know if there's anything NYC-related you want to see, or if you have ANY questions!