As I approached my 28th birthday, I was preparing for my second work trip with the new job — to Greece. Of all places, right?! Fun fact: I'm half Greek from my dad's side. I grew up hearing stories about the Greek culture, eating pastitsio, dolmades and keftedes for Greek Easter, and hearing my uncle speak Greek. It's been a destination at the top of my bucket list for years and I was thrilled for the opportunity to go!
It's a good thing I was so excited because I had the worst travel experience getting there. My flight itinerary was Orlando to Atlanta, Atlanta to JFK, JFK to Athens, all flying by myself. Two connections isn't fun for anyone, but because of weather delays I ended up missing both connections. Surprisingly, I've never missed one before! Not only that, but I was sitting in the second to back row of the plane and had someone behind me get sick as we were landing. I won't go into details, but the sounds and smells were intolerable. Then, you know how long it takes to get out of the plane.
Most airlines like Delta will rebook you on another flight automatically if you miss a connection because of delays. I was rebooked on a flight to Paris then to Athens, and yet still had very little time to make the connection. Since this had never happened to me, I realized I'd need a new boarding ticket since it wouldn't show up on my Delta app. I had to run to another terminal to the Air France counter, only to find out that they didn't see my name on that flight. Then I go to the Delta counter, and they said only the Air France counter will have it. So frustrating! I finally go back to the Air France counter and made a dramatic plea to get me some sort of ticket to get to Athens. It was already too late for me to make the one I was originally rebooked on, so they booked me on the next flight.
At this point, I was so over it and just wanted to relax on the overnight flight to Paris. With my luck, I ended up sitting next to this very nice but very chatty man. Every time I would appear like I was looking for something in my backpack, he would say, "Are you okay? Can I get you something?" Or after every flight attendant announcement, he'd want to say something to me after it. Even though I had my over-ear headphones on this whole time and gave up on sleeping, I figured it might work to appear especially focused and interested in the movie I was watching and order a glass of free champagne. I needed it! I landed in Paris for my third layover, and was off to Athens.
I arrived in Athens more than 12 hours later, and guess what? My checked bag was missing. I'm waiting at the carousel and see in my Delta app that my bag had gone to Amsterdam, which I assumed was because there were KLM flights from JFK to Amsterdam, Amsterdam to Athens. I went to the baggage help counter, they look up my luggage number, and they say it's in the Athens airport! But where? I went to every carousel waiting as each went around slowly, but still no bag. After hours of being in the airport looking for my bag that was apparently there but was no where to be found, I left for the hotel and prayed it would show up by the next day.
I stayed at the Hilton Athens in the Kolonaki neighborhood. It was quite possibly the best hotel experience I've ever had — much needed after that travel journey! I know that in part I had a special treatment because of the nature of my role on this trip, managing a rooming list for over 400 of our guests staying there. But even for the bellman who didn't know who I was, or the servers at the restaurant, I was so impressed with how friendly, welcoming and accommodating they were. Truly going above and beyond, from local recommendations and booking reservations to one of the bellmen teaching me a new Greek word every time he saw me. I stayed on the executive floor with complimentary access to the lounge, and treated to the most amazing daily amenities in my room. From an entire birthday cake to a bottle of wine and fresh fruit everyday to pistachio baklava, chocolates, and more. Take me back!
Byzantino Restaurant in the hotel lobby serves free breakfast every morning. There were multiple buffets with everything you can imagine from yogurts, granola, muesli, cereal, fresh and dried fruit, to oatmeal, eggs, bacon, sausages, potatoes, omelette station, salads, and so much more. I went to that same restaurant for dinner and enjoyed an artichoke salad with burrata, and a seafood risotto. Clearly they do not skimp on portion sizes!
The Galaxy Bar & Restaurant on the hotel's rooftop is among the best in the city, which comes as no surprise due to its unobstructed, sweeping views of the city and unbelievably gorgeous sunsets. I had a unique cocktail with Mastic Tears, a mastiha spirit that's made by distilling only the tears (droplets of resin) of the mastic tree. It's dry yet aromatic character makes it perfect for cocktails, but is also delicious neat and well chilled as an after dinner digestif. The restaurant served a creative, modern twist on Greek classics, like pastitso (one of my favorites from growing up).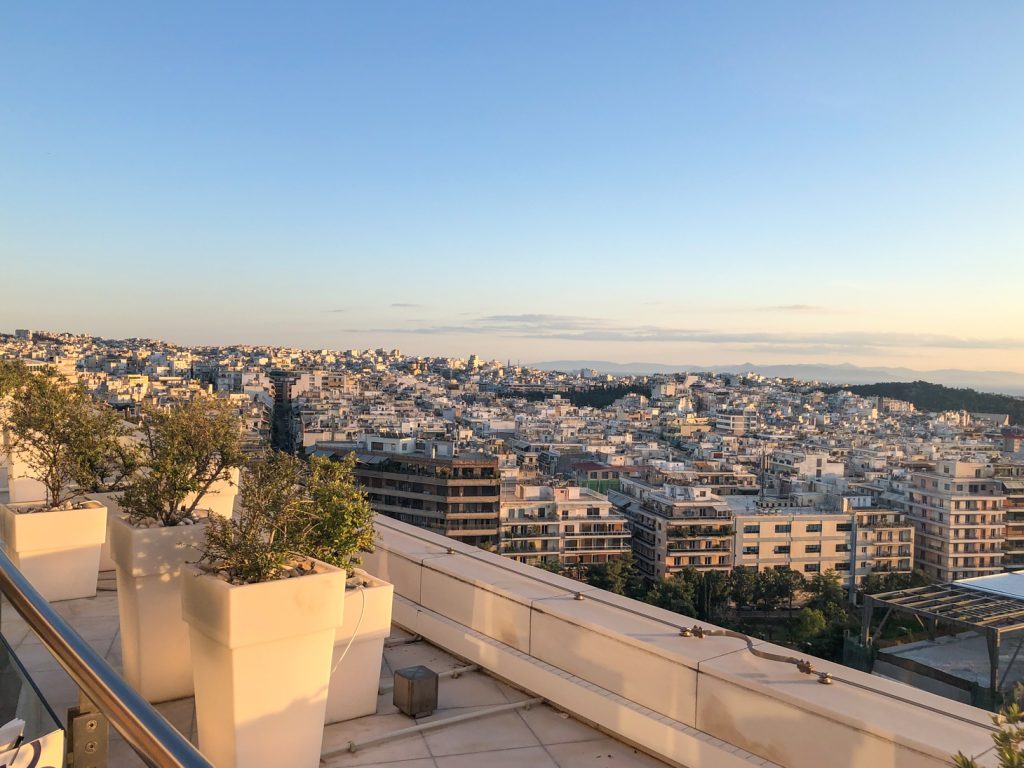 My first adventure out in the city was for dinner at The Old Tavern of Psarras in the Plaka neighborhood. My colleague and I shared a variety of small plates – moussaka, calamari, dolmades, feta rolls, and more. I loved the scenic atmosphere with tables on the stone steps leading to the restaurant.
The next night we went to The Zillers Roof Garden Restaurant for my birthday dinner. The views of the Acropolis cannot be beat! It's located on the rooftop of a small boutique hotel that blew us away with their delicious, creative menu and stunning plate presentation. I would highly recommend this hidden gem!
Morning Food Tour
If you've been following my blog for a while, you know I don't like tours. I'd much rather explore at my own pace and do the research myself to find local spots. Since our team and the Destination Management Company we were working with planned the tour and vetted through various options, I felt more inclined to join our guests on the food tour in the Psyrri neighborhood. I have to say, it wasn't so bad! We started at a traditional Greek coffee shop called Kafeneio. For those of you who don't know, Greek coffee is served with the grounds that settle to the bottom of the cup, but you don't want to drink that part! It is the roasting not the beans that makes it Greek.
We then proceeded to a koulouri bakery. Koulouri is a popular Greek sesame bread that closely resembles a bagel, except it's more crunchy on the outside and soft on the inside. It can be filled with cheese, jam, or tahini. There's nothing not to like about it!
The next stop was this quaint shop Elixir Spices and Herbs that had an incredible selection to choose from. I found it to be quite overwhelming as a "quick stop" on a tour and would've loved to gone back.
Luckily, we had more time to spend at our next stop, Varvakios Market. There were incredible olive stands, ripe produce, pita, nuts, cheeses and more. The Central Meat and Fish market is where it started and then expanded outside later on with growing popularity. Most of us were turned off by the meat and fish market with the strong smells and graphic animal displays, so we escaped to a small diner in the market that served a great variety of Greek dips such as taramasalata, parsley dip, a naturally sweet fava bean dip, and of course, tzatziki.
I was excited to try some authentic pork souvlaki when we arrived at the bustling corner of family-run Bairaktaris Tavern. It may not look like anything special but the pita was way better than any pita I've ever had before. Game changer.
Our tour ended at Krinos with loukoumades, a sweet and fluffy fried doughnut made with flour, water and yeast that's served with honey and cinnamon.
Day Trip to Hydra & Aegina
The next day, we took over an entire Evermore Cruise boat for a two-island day cruise to the Greek islands of Hydra and Aegina. These were chosen for having things to do, but also because of their close proximity to Athens. Did you know Greece has over 225 islands?
The boat had multiple decks outside as well as a bar, little coffee shop/cafe, and live music inside. Even for our large group, the boat was very comfortable. We preferred the top deck, even though it felt quite cool in the shade with the sea breeze.
When we arrived at our first stop, Hydra, we only had one hour to explore. The farther up the hill you go, the more residential it was, so the majority of things to do were around the port. One hour turned out to be not nearly enough time. Every shop was amazing! I could have spent days here…popping in and out of the local boutiques, and stopping at the quaint cafes. The vibe of the island was so laidback and relaxing, so we didn't want to rush.
It's a car-free island, which only added to its charm. They use donkeys to help transport items, such as luggage or shipments for the shops.
Most of the boutiques were pretty expensive, but I love the curated selections and appreciated how it all got there. I ended up buying some gifts, such as scarves, Turkish towels, beach totes, and jewelry.
After a short hour in Hydra, we made our way to Aegina only to have another hour to explore this island. Out of the two, I definitely preferred Hydra but still managed to find some cool spots in Aegina. One of those was this incredible gourmet shop where I may or may not have spent the majority of time. They had a great selection of Greek wines and spirits, baked goods, teas, spices, gifts and more. I wanted it all, but only walked away with some smaller items I could fit in my suitcase.
If you go to Aegina, you have to visit the pistachio stands by the port. It's what they're famous for! They seem touristy, but after sampling nearly every possible pistachio item possible, I understood its popularity. Pistachio butter (my personal favorite), plain pistachios, pistachio chocolate bars, pistachio ice cream, pistachio liqueur…you name it!
I can't wait to go back to Hydra some day and explore more Greek islands.
Classical Tour of Athens
The third day was a tour of the Acropolis, which means the highest point of the city (Acro = high, like acrobats. Polis means city). The main attraction within the Acropolis is of course, the Parthenon. It was a bucket list item of mine to see and it did not disappoint.
The columns are made out of marble, and the grounds are mostly Limestone. It was off and on raining, so it became a little slippery in spots as we walked around. Parts of the Parthenon are currently under construction, so you can find your best view from the east side.
Despite the overcast weather, the views of the city were pretty spectacular. I would recommend an hour to visit the Acropolis, though you could do it in more or less time depending on how many photos you want to take!
After walking around the Acropolis and taking pictures at the Parthenon, we visited the Acropolis Museum nearby. It was a beautiful and very modern museum, however the crowds were as you'd expect, especially on such a rainy and overcast day.
I enjoyed learning more about the history of what we just saw. It definitely makes you appreciate the time, skill, and craftsmanship of these ancient Greek monuments.
Exploring The City
We did a LOT of walking, which is the best way to see any city in my opinion.
I loved finding these local restaurants deep within the neighborhoods where cars could not go.
Athens has some great rooftop bars that give you a view of the illuminated monuments at night. We especially loved the A for Athens bar near Monastiraki Square. The area is a bit more touristy, but has some great shops for finding gift items or souvenirs for a reasonable price.
On my last day, I had a few hours to walk around the Kolonaki neighborhood. I found Yoleni's Greek Gastronomy Center that features a restaurant/cafe, wine cellar, cooking courses and a gourmet products shop. Heaven! I bought one too many goodies here to bring back home. They had an amazing selection and was very authentic. In fact, they were even featured in The New York Times last year!
Athens and it's surrounding islands exceeded my expectations! You hear negative things about it's poor economy and that the city is having problems, but you don't notice or feel it's impact. I think it's an underrated, under visited place that more people should be adding to the top of their bucket list.