I'm fortunate to have been traveling since I was young, but it wasn't until I had to figure out how to pack for 3 weeks in Europe with a carry-on that I started to fall into a packing routine that truly worked. Here's everything you need to know about the international-friendly Away carry-on suitcase, a note about the Away Bigger carry-on, and my favorite travel backpack – the two key pieces of luggage I purchased and have since used on countless trips around the world. Yes, that's it! Coming from an over-packer, no less. 
Away Carry-On
I spent hours upon hours researching travel gear that would allow me to fit as much as possible, as organized and efficient as possible, in as small of luggage as possible. I really don't like to check a bag unless I have to. There's the risk something will be damaged or lost, and the extra time it takes to check the bag upon arrival and retrieve the bag in baggage claim. It comes as no surprise that the Away brand kept popping up, which started as an Instagram advertising success. I watched packing videos on YouTube, read luggage round-ups on trusted travel sites, and scrolled through review after review on some of my favorite blogs. I knew the in's and out's of their Carry-On, and nothing else on the market compared. I gave in and purchased it without fear knowing that their return policy is extremely fair, to the point of actually being quite generous, and they have a Lifetime Limited Warranty. Essentially, I could take this suitcase around Europe for three weeks and return it afterwards if I didn't like it. INSANE!
"Every Away suitcase comes with a 100-day trial and lifetime warranty. Take it on the road and try it out—we'll take it back in any condition within your first 100 days, no questions asked. After 100 days, if any part of your bag ever breaks, we'll fix or replace it—guaranteed."
The TravelPro carry-on suitcase I always used before was a domestic carry-on size, but slightly too large and too heavy for international flight regulations. It is also a "soft" shell, which allowed for too much wiggle room. I knew I had to purchase something for this trip specifically. However, if you are looking for a domestic carry-on, their Bigger Carry-On does meet most US airline regulations (see more below) When the box from Away arrived at my front door step, I tore it open in my foyer and was scared by how small it looked. There's no way this will work. I was so excited for it to arrive, did so much research, read all those reviews… I had to figure it out! I practiced packing over and over, slowly removing more and more items I intended to bring with me, repeatedly telling myself it would be for the best. I'm pleased to say that I did make it work, and it worked like a dream!
The Specs:
Price: $225
Size: 21.7" x 13.7" x 9" (exterior including wheels)
Weight: 7.6 lbs.
Color: Black (currently available in 9 colors, not including limited edition collections)
Battery: Without Battery (also available is an ejectable battery)
The Away suitcases are by no means budget-friendly, but I consider quality luggage to be a worthwhile investment that can last you a lifetime. In my research, I found that comparable carry-on luggage and features from other brands cost at least double. In addition to the outstanding warranty, they also offer free shipping and a $20 off referral code! Click the link, add item(s) to your cart, then after you've entered your information at check out, the $20 referral promotion should appear. Every little bit helps. If you have any trouble with my link, feel free to send me a message @adventuresingourmet or via email adventuresingourmet@gmail.com.
I chose the black color because I found in reviews that some of the lighter colors can show scuffs more easily, and I personally prefer the sleek look of a darker suitcase. If you do have your eyes on a lighter color, they say that you can clean the exterior shell and interior nylon lining using a soft, damp cloth, warm water, and mild soap. If that doesn't work, they also recommend using a Mr. Clean Magic Eraser to buff it away. The Eraser is amazing for so many things and good to have at home anyway!
The luggage is known for having an ejectable battery to charge your phone on-the-go. I decided to choose the option without the battery for a tiny bit more room inside the suitcase. I knew I would have a portable charger on me anyways, so I didn't feel the need for one attached to my suitcase. They are both the same price.
The Features:
Unbreakable polycarbonate shell
TSA-approved combination lock (only you and TSA can open it)
360° Hinomoto wheels (double wheels!)
Interior compression system
Hidden laundry bag
Luggage Tag
Canvas bag for storage (it arrives in this)
I had never owned luggage with a hard shell, a lock, or 360° wheels before – but I may never go back! I love how the shell on the Away Carry-On has a little give without being noticeable from the outside, whereas in a soft case like my TravelPro, it looks like it's bulging and going to explode sometimes! This gave me the confidence that even if I bought some things on my trip or didn't pack it as well the morning before a flight, it wouldn't be detectable and the size of the luggage would remain the same. The lock was very easy and quick to use. Since we stayed in all Airbnbs on our trip, we would store our laptops/iPads and passports in my locked suitcase while we were out and about exploring the city. Of course a safe is better, but without the option, this felt more secure.
Hands down my favorite feature of the Away Carry-On is the 360° wheels. From airports to trains to subways to escalators to cobble stones, the wheels held up and made my suitcase effortless to maneuver. For stairs, the suitcase has two rubber handles, one at the top and one at the side, to hold on to. I was so happy to have a smaller and lightweight suitcase to make this more bearable because I carried it up and down a LOT of stairs.
Inside of the luggage there are two main compartments. On the left is where they suggest you put items that cannot compress, such as toiletries, hair tools, and shoes. On the right, they have an Interior Compression System with a sleeve pocket for any papers or flat items. I didn't utilize the sleeve pocket to store anything, but I did use and love the compression system. Unlike other luggage I've owned with just the buckles to tighten, this sleeve combined with the buckles pushed everything down evenly – no ridges in your clothes, no unevenness. They also have a hidden laundry bag and little spot to store it when it's not being used. I personally did not use the laundry bag, but might consider it in the future for shorter trips where I don't have such a strict packing method within my packing cubes. I also didn't use the Luggage Tag because I gave it to my boyfriend. I preferred to use a brightly colored Lilly Pulitzer one I had so it'd be easier to spot at baggage claim when I did have to check my bag.
The Away Bigger Carry-On Flex
My most recent Away purchase was the Bigger Carry-On Flex in Coast. I had been debating the Bigger Carry-On for a while to use for domestic trips or as a checked bag. Previously, I would bring my Carry-On on the plane and use an old TravelPro soft domestic carry-on as my checked bag. I liked it except for it toppling over all the time –you know how annoying that is! Having two Away suitcases is much easier to manage through the airport. They never topple over, thank goodness.
You can see the size difference between the two suitcases below. I can definitely tell the difference when I am packing and appreciate the extra room, plus the flex portion itself makes all the difference. Going to a destination, I pack it without using the flex extension. Then, on the way back home, I know that I have some wiggle room for any shopping purchases or rushed (and less space-efficient) packing. I love using it as a checked bag for this reason!
I've only carried on my Bigger Carry-On Flex suitcase once on a JetBlue domestic flight from MCO to LGA. Although it was your standard domestic plane, I was surprised that even with the "flex" portion zipped up and unused that it would not fit into the overhead compartment with the wheels/top handle facing out into the aisle like it's supposed to. I ended up having to turn it horizontally, taking up more room, and feeling very uncomfortable for the sake of my fellow passengers looking for available overhead space. Once I try it out on other airlines, I'll be sure to update you here. However, I would be warned that it may not fit properly as a carry-on if you buy the Flex version. The Bigger Carry-On (without the flex) should be fine since that's what it was made for. Or, it's just JetBlue…ha! To be determined...
My Overall Thoughts
As I'm sure many people do, I saved the box at home knowing that I could return my Away Carry-On after my trip for free if I didn't love it. While it would be nice to have $205 back in my pocket and without any international trips on the books, I have decided to keep my Away Carry-On (and later purchased the Away Bigger Carry-On Flex). I was so impressed by how much it was able to fit (read: how to pack for 3 weeks in Europe with a carry-on), how easy it was maneuver, and despite the elements it endured, it still looks almost brand new. After being carried on to two flights, checked on another two flights, and brought on five trains, the little scuffs you see in these pictures are the only markings of wear, and since these photos, were very easy to remove.
2023 Update: I have brought my Away suitcases around the world – from Europe to Asia to Latin America and all over the U.S. I haven't had a single issue with its functionality or its appearance. Years later, I continue to be so impressed!
P.S. Did you know that some Away suitcases nest within each other if you buy multiple sizes? So awesome for storing at home between trips if you'd like to buy bigger sizes too! This does not apply to the Carry-On and Bigger Carry-On however since they are similar in size.
Reminder: In addition to the outstanding warranty, they also offer free shipping and a $20 off referral code! Click the link, add item(s) to your cart, then after you've entered your information at check out, the $20 referral promotion should appear. Every little bit helps. If you have any trouble with my link, feel free to send me a message @adventuresingourmet or via email adventuresingourmet@gmail.com.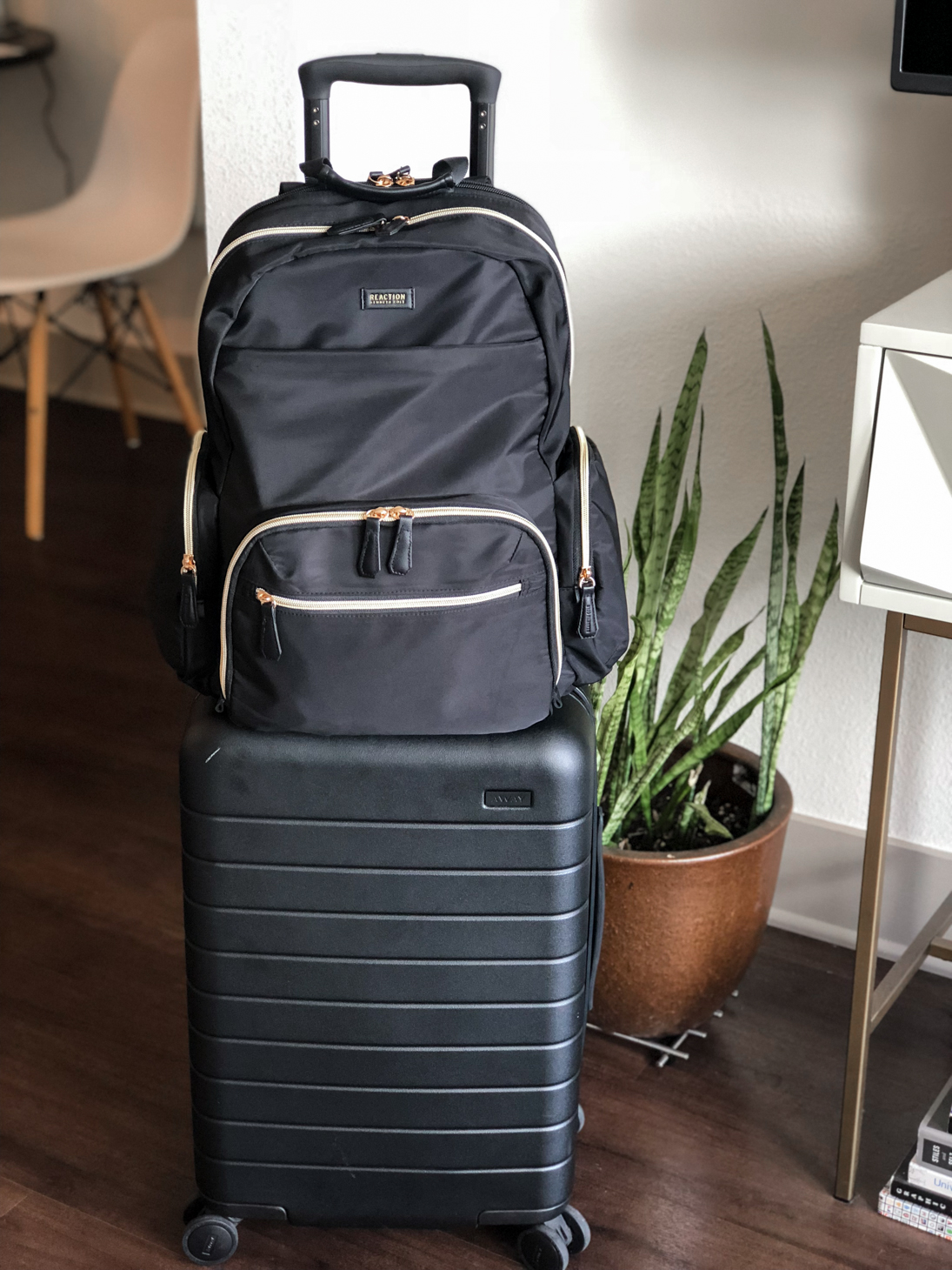 Travel Backpack
In the past, I've always used a big open tote as my personal item for travel. While it was spacious and worked fine, I didn't like the idea that there were very few pockets for organization and quick/easy access, and that there was no zipper at the top to keep my items secure while traveling abroad. I also was always bothered by how heavy it got, and therefore uncomfortably weighing down my shoulder on travel days. I looked at totes with a zipper, but couldn't quite decide on that seemed worthwhile. Some were a little too expensive, didn't have enough pockets to keep me organized, or weren't quite my style. I decided to look at backpacks, even though I haven't worn a backpack since I was in school. I liked the idea of not having something weighing on my shoulder, and also something that I could put on top of my suitcase while wheeling around the airport for easier access to the compartments.
When I saw the Kenneth Cole Reaction Women's Sophie 15.6″ Laptop Business Backpack, I knew it would be perfect! The style and coloring is almost identical to the TUMI one I had my eye on but was way too expensive for me to purchase. Compared to $375 for the TUMI backpack, I only spent $60 (on sale; regularly $80-$100)!
I chose the Black with Gold Hardware to match my Away Carry-On. I loved all the pockets it had (including some hidden), the padded laptop sleeve, and the trolley tunnel to fit over most luggage (including my Away Carry-On) when upright for hands free carrying when needed. It's extremely comfortable to wear, with adjustable and padded shoulder straps. It is high quality and durable, which has held up very well on all my trips. Most importantly, it fit under the plane seat in front of me without any issues. Not to mention you can still fit so much in it, which helped ease the anxiety about my small Away Carry-On. I highly recommend it if you're looking for a travel backpack!
*In case you missed my note about it above, all of these photos except the Away suitcase in the canvas bag and the open/empty Away suitcase were taken AFTER my trip. You can see how well both pieces of luggage held up over my 3-week trip around Europe. I didn't touch them up or anything!
I hope this detailed (& updated) review of my new and trusty travel gear was helpful. What luggage do you love to travel with? Comment below and let me know!