If you are familiar with the neighborhoods of New York City, you will understand that Capitol Hill is the "East Village" of Seattle. It's trendy, young, and in some parts, a little hipster/grungy. That said, it's home to so many incredible restaurants and bars that I'm surprised I only have four spots to share with you. More to explore next trip!
Starbucks Reserve Roastery in Seattle
Coffee-lover or not, this 15,000 square foot famed roastery is a worthy destination for anyone visiting Seattle. It's instantly impressive to the eye with high ceilings, an open floor plan to watch all the action of the working roastery, and beautifully designed copper containers housing freshly roasted beans for the baristas to ground, brew and serve at the wrap-around tasting bar. There's also a large section packed with simple to luxurious kitchen/home merchandise and a classic cafe area with seating. You can easily spend 20 minutes wandering around or hours enjoying a specialty flight or coffee pairings at the bar.
Terra Plata
My boyfriend and I were recently asked what our favorite restaurant was in Seattle. We stood still for a moment in deep thought and I said, "I think Terra Plata." Turns out, that was the same place he was going to say. Everything from the atmosphere to the service to the food was memorable. It's a great date spot, a place to take the parents or to go with a group after work.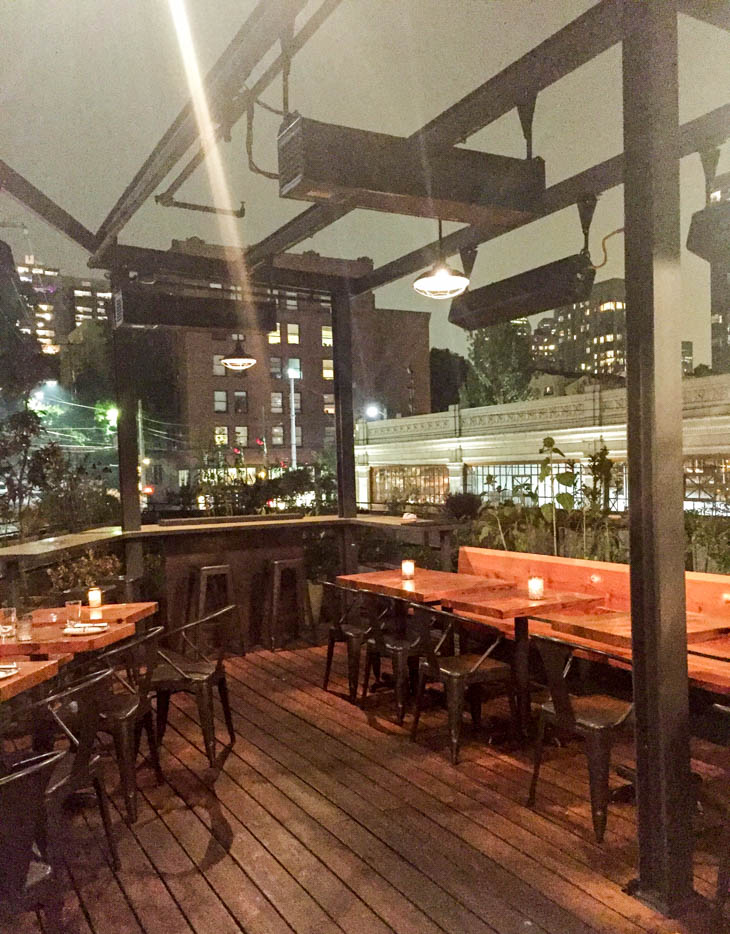 Their concept is "earth to plate," which I am honestly amused by as it means the same thing as "farm to table"…I digress. The menu changes daily based on what is available and in season from the local growers and artisan producers. We sat on their candlelit rooftop for our meal, which is surrounded by an edible garden. There were tomatoes growing right behind me! That "fresh" atmosphere made the food taste equally as fresh. We started out with an albacore crudo with nectarines and a cucumber, corn and red onion salad. Both very light and refreshing but well-seasoned with spices and fresh herbs. As an entree, we split the roast pig and clams for two. It was incredibly rich and bursting with flavor! Since we loved everything so far, we decided to go with the only gluten-free dessert on the menu: macarons. There were 4 flavors – lemon rose, orange blossom, strawberry and mint chocolate. Delicioso!
Stateside in Capitol Hill
On another high culinary note was this modern Asian-fusion restaurant filled with a (rather noisy) crowd of young professionals and "instagram-able" decor and drinks, like "The Coconut." It's a rum, lime leaf and galangal cocktail poured into a freshly cracked coconut and topped with an umbrella, that surprisingly had no coconut flavor at all. It was one of those drinks with an experience – there was a spoon to scoop out the coconut and eat once you finished the drink! Surprisingly, it wasn't very sweet like I'm used to, but the drink was fun and refreshing.
The menu is great for sharing, with small, medium and large plates, but can also be split. We always opt for sharing when possible! We ordered the Amberjack Crudo with orange ice, lime leaf powder and fresh chili while the rest of my family enjoyed the Crispy Duck Fresh Rolls, one of their most popular items. I'm not sure I've ever eaten a raw seafood dish plated in a way that you're supposed to eat the ice! Our favorite dish of the meal was the Goat Curry, which was grilled and braised into a curry, coconut milk and yogurt sauce and a side of jasmine rice to soak up all the sauce. It was a unique dish with flavors unlike any curry I've had before that we kept taking seconds and thirds of.
Needle & Thread
This sophisticated, reservations-only speakeasy is located inside Tavern Law and accessed by a bank vault next to an old fashioned telephone on the wall. Despite how it may sound, it's not a confusing place to find like many other speakeasies. Upon entering, there is a narrow stairwell that opens into a dim, candlelit space with plush velvet couches, ornate chairs and a small bar, all separated into their own sections. Given they are so strict with capacity, the atmosphere is very cozy and intimate.
What we didn't realize until we were seated is that there is no drink menu, just a small food menu. A mixologist came to our table, greeting us with a glass of Cava on the house, and asked about our likes/dislikes in a drink and what we were in the mood for. Things to think about are your preferred liquors, sweet/spicy/sour/savory, specific flavors you love, or you can ask them to make a more interesting version of a classic cocktail you already know you love. They don't make ordinary drinks unless you specifically insist upon it, but this isn't the place for that. We were even told, "I want to create something I've never made before." It's that customized and truly qualifies them as experts! The results were outstanding. Without a doubt some of the best cocktails I've ever had. Why? Because it was tailored to exactly how I wanted it. They used niche liquors I've never heard of from all over the world, fresh herbs, local shrubs, crazy bitters and even essential oils! The servers were very personable – one of which even sat down next to us and told us the story of how he became a mixologist after I asked the question. So fascinating!
Although I didn't have a chance to try them out this trip, I've also heard great things about Canon, Foreign National, The Hideout and Rumba for cocktails, Capitol Cider for a gluten-free kitchen and ciders, Redhook Brewlab for beer, Oddfellows Cafe and General Porpoise Coffee & Donuts for day time, and Spinasse (Italian), Ba Bar (Vietnamese) and Bar Melusine (French) for restaurants.
Don't miss my other Seattle guides here!