My boyfriend and I had been talking about taking a trip to Charleston for a couple years now and we finally made it happen! After a busy spring with moving in together and starting new jobs, we were overdue for a long weekend away from it all. We realized that we hadn't traveled together since our month-long Europe trip last fall. It's amazing how quickly time flies by! We liked the idea of traveling somewhere we could drive to, have previously enjoyed visiting Savannah for its Southern charm, and have heard rave reviews about the up-and-coming restaurant scene in the city. Fortunately, it exceeded expectations and we can't wait to go back! Keep reading to see how you can have a successful long weekend trip to Charleston.
We began our 6-hour drive to Charleston on a Thursday morning. On a drive longer than four hours, I always think it's nice to stop for a break; ideally a meal somewhere. I found Skippers' Fish Camp Oyster Bar & Grill in Darien, GA, which was close off the highway and highly rated for it's seafood and Southern menu. Between the two of us, we got the crab cake appetizer, sweet potato souffle side, fresh catch mahi mahi blackened sandwich, mac & cheese, and sweet tea. How predictable?!
Where To Stay in Charleston
Once again, we chose to stay at an Airbnb. When do we not?! It's by far our favorite choice for accommodations regardless of the location. The Cozy Art Villa was located a few blocks away from Upper King Street. It was quiet, had local spots steps away on Spring and Cannon Streets, and yet was only a 5-minute walk to King Street. In fact, most of our favorite spots were located on the upper end of King Street anyway.
I would rate this unit a 7.5/10. It was clean, bright, had a super simple self check-in, a parking spot in the driveway, modern bathroom, nightstands on both sides of the bed, a full length mirror, a fan in bedroom, and thoughtful touches like snacks, beach towels, an umbrella, and an iron & ironing board. Our complaints were that it was noisy in the unit above us (the stomping/walking sound more than anything), the bed was very firm, and the street itself was a teeny bit sketchy. We didn't feel unsafe, but maybe I would have if the neighbors were out in the street and I was alone at night. A few things you should also note are that it is definitely a small unit that I would recommend for no more than two people. The kitchen is also very minimalistic – a mini fridge, a small sink, and a microwave. A perfect size for us though given we are hardly in the unit. We're always out exploring!
Where To Eat & Drink in Charleston
The main reason we travel and probably the main reason you visited this blog — to experience the city and the local culture through great restaurants and bars. From casual to upscale, beer to cocktails, downtown to the suburbs…the places we loved, want to try more from, and felt disappointed by are all detailed below.
For the first time possibly ever, we didn't make a single reservation or have any set plans. It was just the two of us, exploring and loosely following my list of research in Google My Maps to match whatever we were in the mood for or intrigued by in that moment. It's much more relaxing to travel in pairs because we can always seem to find two seats together at the bar no matter how big or small, popular or unpopular the place is, so that is exactly what we did. We sure met some characters and fun bartenders along the way, too!
The Perfect Way to Wake Up
For Fellow Oyster Lovers
My favorite section! All of these places were amazing in their own way.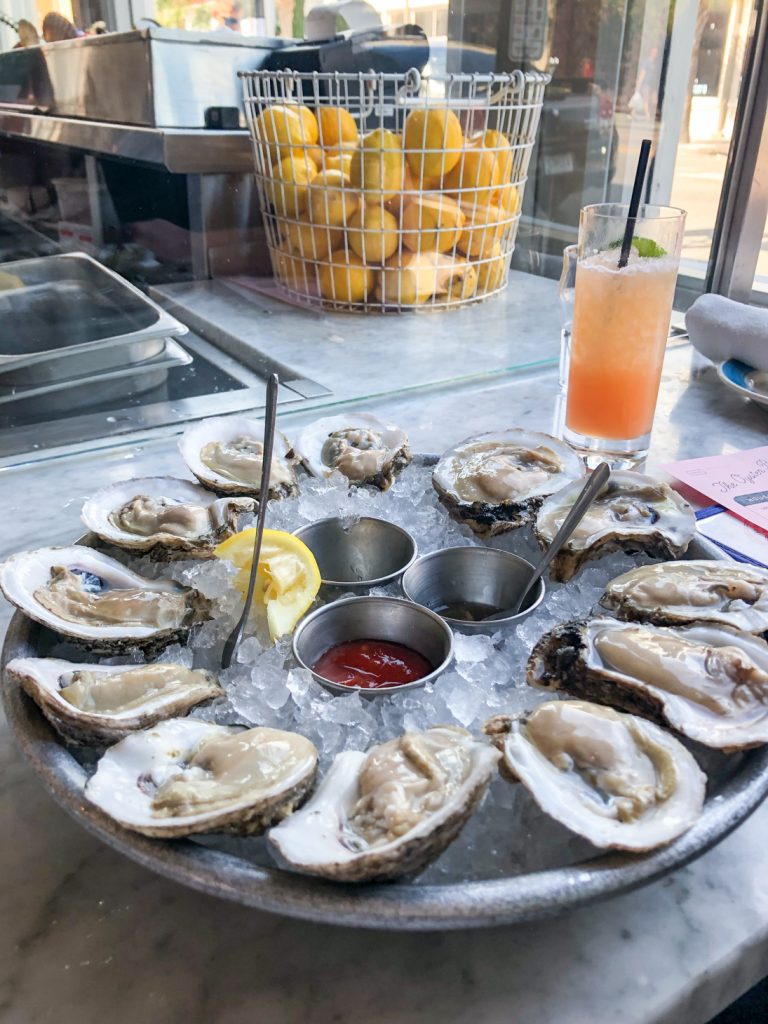 Needless to say, we each had at least a dozen oysters per day!
Superior (and Less Superior) Sips
To make things interesting, I've put these in order from my favorite to my least favorite. Well, maybe the first two are tied. I can't decide! They're just so different…
Classic & Fresh Bites
Charleston Southern & Steak Staples
Sweet Tooth, Always…
Activities & Places To See in Charleston
Exploring Outside of Downtown Charleston
North Charleston
Mount Pleasant & Sullivan's Island
Other Places To Consider in Charleston
See why I can't wait to go back? So many more places to explore!
Since you made it this far, I thought I'd share the trip highlights. I loved becoming a Chandler at Candlefish, the Wagyu beef at Burwell's, the biscuit sandwich at Callie's, the oysters at The Ordinary, and the cocktails at Felix Cocktails et Cuisine. Enjoy your trip!