Stay
We loved the options on Airbnb, which were offered for very reasonable prices in great locations.
Transportation
Walking and Uber were our preferred methods of transportation.
Language
We found that while the primary language in Montreal is French, the majority of people had good English as well. When we would walk into a store or restaurant, our greeting initiated the language that was used in their response. If we said "Bonjour!," they would respond in French. If we said "Hello!," they would respond in English. It was as simple as that!
For my birthday in late April, my boyfriend and I flew from New York to Montreal for a long weekend. I grew up with family friends who lived in Montreal for many years and had visited them with my family when I was young. Sadly, I hardly could remember any specifics and was excited for the opportunity to go again and bring someone who had never been.
Where We Stayed in Montreal
We stayed at an artsy loft apartment through Airbnb on Saint Laurent street, which turned out to be the perfect location! The host was great and the loft very modern and clean. There were three large windows that overlooked the street and provided a bright, sunny feel by day and nice breeze by night. We've since recommended it to friends visiting the city!
Day 1 in Montreal
Schwartz's Montreal Hebrew Delicatessen
Our first stop upon arriving was this famous deli a couple blocks down the road. They're famous for their smoked meat sandwich, paired with a black cherry coke and half pickled pickle. It's a small place with a diner feel, and notorious for long lines of tourists at peak times. It has been around since 1928! We sat at the bar, lucky to snag two seats, and chatted with the server. I told him I was living in NYC and he was immediately proud to share that New York Magazine rated Schwartz the #1 deli in North America, with Katz Deli in NYC #2! I will admit, it was quite indulgently delicious.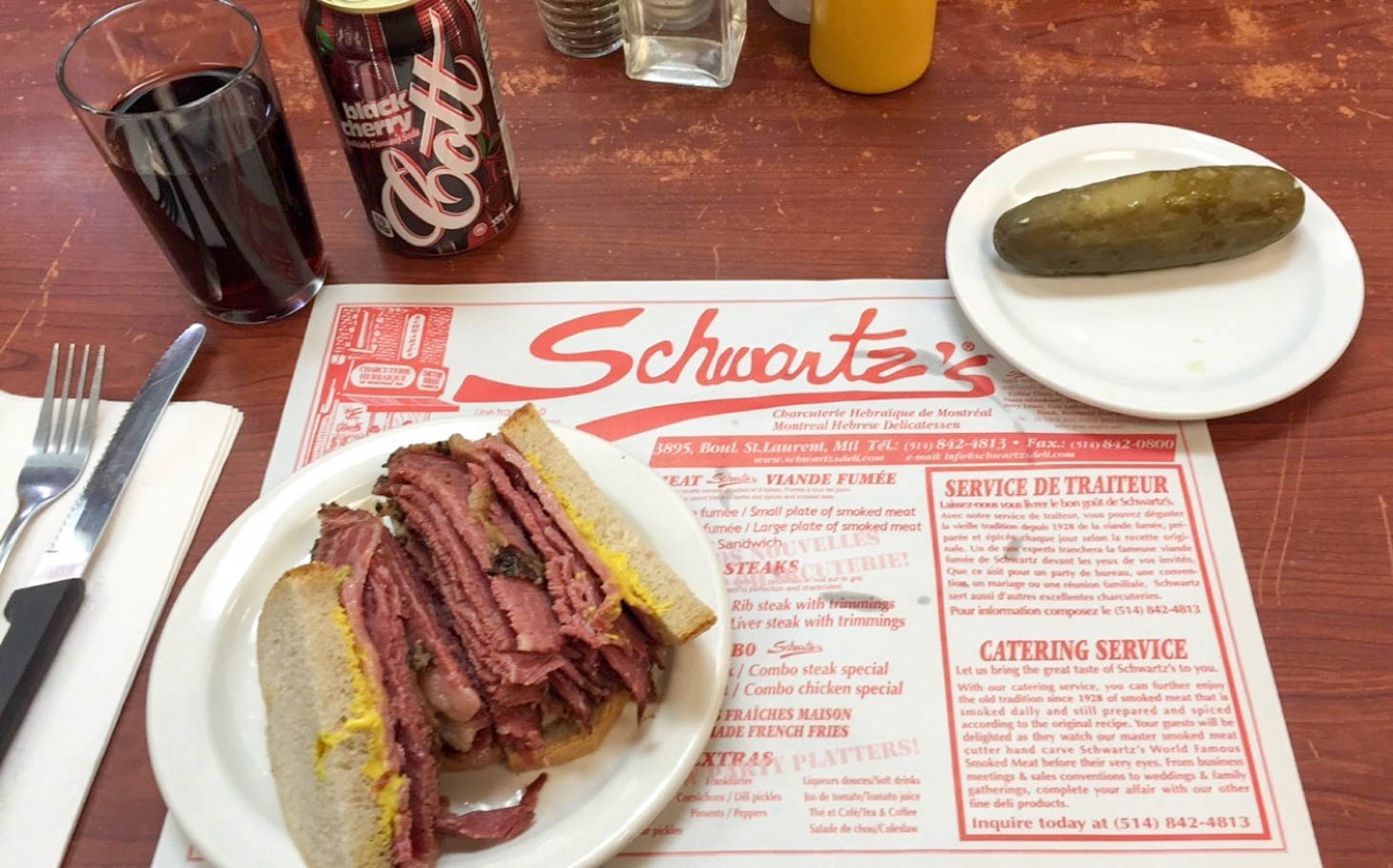 Reservoir
Our local connections raved about the microbrewery scene in Montreal, which led us to this popular yet cozy brewpub serving draft microbrews and small plates. Although we did not try the food, the beer was very good! They also have a rooftop patio, if you visit at a time when it's not puffer-jacket weather.
3643 St. Laurent Apt. 200
When we were looking for one last bar before heading in for the night, we came across this speakeasy/lounge/arcade bar on Foursquare. It is located inside an apartment building, so it truly appears as nothing from the outside. Once you open the door to Apt. 200, it's a large open space filled with velvet couches, antique decor, a candle-lit bar, pool tables and arcade games. I think we were speechless for a moment! It's honestly the coolest spot and a must-go on my Montreal list!
We had also wanted to go to Big in Japan Bar but never made it there during our trip since we stayed longer than anticipated at Apt. 200.
Day 2 in Montreal
Pikolo Espresso Bar
The next morning, we started with a croissants and coffee/tea at this retro-industrial style coffee shop serving single origin coffee, latte art and homemade baked goods. We stayed warm inside and watched the locals bustle in and out before heading out on an outdoor adventure.
Fou D'ici
A few blocks away, we spotted this modern gourmet market selling local meats, fish, cheese and prepared foods in a small cafe. They also had a large selection of shelf items. We had so many restaurants on the list and decided we wouldn't cook in the apartment, so we simply browsed their offerings and were on our way.
Chalet du Mont Royal
We walked along Rue St. Catherine street, home to most of the big stores and hotels, and through a very hilly McGill University before reaching the bottom of Mont Royal. The Belvedere Kondiaronk viewpoint is a walk in the woods up 46 flights of stairs! In my research, I read that it can either be accessed via a 40-minute hike or a bus. It was a beautiful sunny day and we are young people, so I didn't think twice about the hike. Halfway through those stairs with burning thighs, sore feet in my wood-soled booties and carrying my large scarf and down jacket, I questioned my prior judgement! Once we made it to the top, the view of Montreal was absolutely worth it and I felt rather accomplished.
Espace Nomad
Without even realizing the physical activity we would endure hiking up to Chalet du Mont Royal, I booked a couples massage mid-afternoon just north of the park on Saint Laurent Blvd. Perhaps one of my best travel planning moves ever. Any soreness or tightness was relieved over an hour-long massage in this eco-friendly and zen spa. I worried about the possibility of giggling, but our two masseuses made it very comfortable and relaxing except for a few times they would say things to us in French forgetting it was not a language we spoke! At the end, we were given a hot cup of tea and invited to enjoy as much time as we needed in their lounge with blankets, couches, zen music and dim lighting. Overall, it was such a treat and something I would definitely to consider in your travel planning. I have also heard good things about Bota Bota, a floating spa on a boat.
Marche Jean-Talon
After our lovely massages, we felt refreshed enough to walk to this open-air farmers market located in the Little Italy district. There was a beautiful variety of fresh produce, meats, fish, cheese and baked goods throughout the long isles of the market. We had a few snacks, like a hot empanada, before heading to lunch nearby.
Le Pourvoyeur
We didn't have a specific place in mind for lunch, so we kept it simple and went across the street from the market to this tavern with a large list of local gins. Once we walked in, we found out there was an event going on in the city called Ginapalooza – Canada's Annual Gin-centric Celebration! This sparked so much excitement in my boyfriend, a gin-lover, and me, a newer lover of gin and planner, because of the list of participating bars all over the city – with stamp slots in a booklet and everything. I ordered the smoked salmon tartine with fresh greens and he got a panini. Everything was fresh and the service was friendly.
After lunch, we slowly made our way back towards the apartment, making stops along the way. We explored the Mile End neighborhood, also known as Le Plateau-Mont-Royal, famous for its incredible street art and hip boutiques.
Shopping in Montreal
Atelier B. – a chic boutique selling locally designed and made men and women casual clothing
Style Labo – a home store selling vintage furniture, light fixtures, antique mirrors and more
Boucle & Papier – a local stationary and art store
Bar Kabinet
Eager to check off as many spots as possible on the Ginapalooza list, we went to this intimate bar that serves as a coffee shop by day and cocktail bar by night. It is a bright, long and narrow room inspired by Imperial Russia of the 19th and early 20th centuries. The cocktails were fabulous!
Bishop & Bagg
Our next stop was this British-style pub where we watched the locals and ordered the Ploughman's lunch to share, which was similar to a cheese and charcuterie board.
Saint Sushi Bar
We were tired from a long day all over the city and decided to stay local for dinner. We found this Japanese restaurant serving creative rolls in a homey setting, and later realized that all the servers were total jokesters, which made for a relaxing and fun night! Like many other restaurants in Montreal, they are BYOB, which explained why we saw so many people walking around with brown bags of wine to bring out to eat.
Day 3 in Montreal
Fairmount Bagel
We started off our last full day in the city at another iconic tourist spot to try Montreal-style bagels – hand rolled, boiled in honey water and cooked in a wood-fired oven. We chose this bagel shop over St. Viateur Bagel, but I believe they are pretty on par with each other. They were a very different taste than the classic NY bagel, which I admittedly still prefer. We were surprised there was no seating, so we found a bench down the street to eat our bagels on before heading into Old Montreal for the day.
Notre-Dame Basilica of Montreal
We took an Uber to Old Montreal to explore a few other must-sees on the list, beginning with this absolutely stunning church in Place d'Armes square. It is considered to be one of the crown jewels of in Quebec's rich religious heritage. As soon as you walk in, the detail, bright blue colors and very high ceilings take your breath away it's so beautiful. Fun fact: Celine Dion married her late husband here!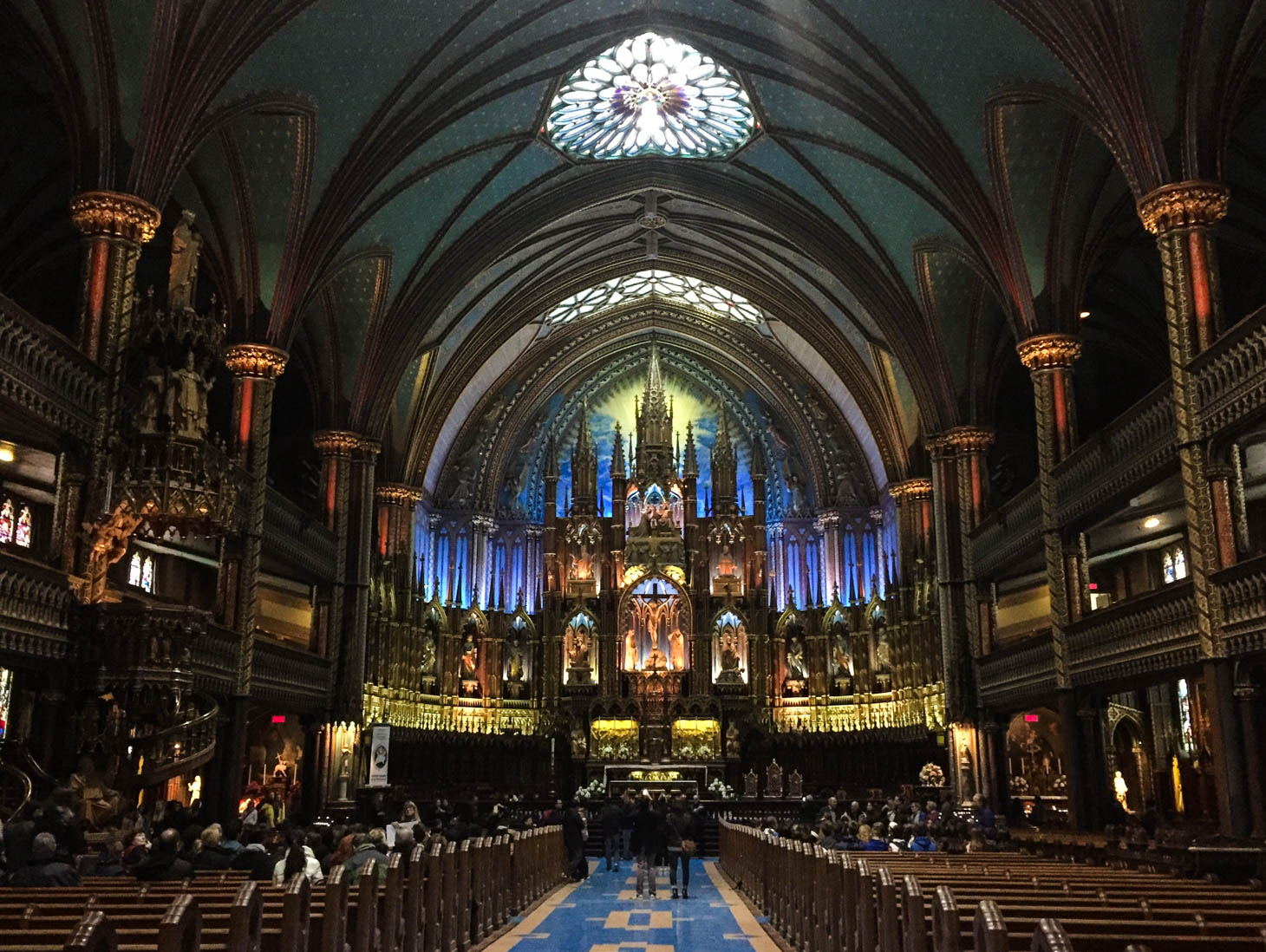 Ming Tao Xuan
Around the corner from the church was this authentic Chinese tea parlor, with ornate tea pots and specialty teas for sale, as well as traditional Chinese tea service. We welcomed a break from the walking and a warm drink, so we opted for the tea service. It was very quiet and a nice escape from all the tourists in the nearby square.
Marche Bonsecours
After a relaxing tea break, we wandered over to this two-story domed public market that has been serving Montreal for more than 100 years. It is filled with shops and restaurants that you can quickly browse through like we did or spend hours looking through.
Olive et Gourmando
For lunch, we almost ate at a touristy restaurant near the market but quickly changed our minds to find somewhere with more of a local feel. This bustling lunch spot turned out to be perfect! It's a rustic space serving artisan breads, salads and sweets. We ordered their (amazing) paninis and were delighted to have found a spot at a bar table facing the street. Many of the locals on their lunch breaks had a glass of wine with their meal too! After lunch, we walked along the streets nearby including gallery alley, showcasing beautiful local art.
Modavie
We stopped in for a glass of wine at this welcoming bistro with live jazz music. We didn't end up eating here, but the food looked very good. It's a charming restaurant to dine with a group at or to go on a date.
L'Assommoir
Our desire to complete the Ginapalooza list continued as we stopped into this large bar on the list that was a chill pub by day, and apparently quite the club scene by night. I'm not sure if I'd go here for the food, but they did have a massive cocktail list and knowledgable bartenders.
Bar-Tini W Hotel
We tried to go to Wunderbar at the W Hotel, but they weren't open yet. Instead, we were directed to go to Bar-Tini across the hall, Montreal's smallest bar with only 4 stools. I love talking to locals, including bartenders and servers, so we thought we'd give it a shot. The intimate ambiance and personalized experience made us stay for hours – chatting the entire time with the bartender who was creating amazing cocktails for us.
Maison Boulud
For my birthday dinner, I allowed my boyfriend to pick somewhere as a surprise. All I needed to know is what neighborhood it was in so I could plan our day around it. Never did I ever imagine he would treat me to what is considered to be the best restaurant in the city! It's an elegant French restaurant in the Ritz Carlton with a few different rooms offering various vibes. We were in the back room with large open windows bringing in light and facing their outdoor garden. We did the pre-fixe menu with wine pairings – truly splurging for the occasion and celebrating the last night of our trip in style. We were blown away by the impeccable service, plate presentation and food. It was definitely a special night to remember. Bravo, boo!
Like my trips to Chicago and Toronto, I think visiting Montreal during the warm summer months would be a completely different experience. Summer is also considered to be more of their busy season, attracting more tourists as well as lively music festivals and ev
list that we didn't make it to this trip were The Cold Room, Velvet Speakeasy, The Sparrow, Vices & Versa, and HELM Microbrasserie for drinks/small bites, L'Auberge Saint-Gabriel, Dominion Square Tavern and Joe Beef for food, Patati Patata and La Banquise for poutine. Anywhere else I should add to my list for the next trip?
In Case You Missed It