To break up the drive from Orlando to Savannah for Memorial Day Weekend, we stopped in Amelia Island to explore the town for a day. Amelia Island was one of the first destinations I ever went on vacation with my family, so my memories involve more boogie boarding than gourmet food and cocktails.
Seaside Amelia Inn
We chose to stay at this beachfront hotel because of its prime location, casual/comfortable feel and price. Our oceanview room had a bed in the living room and a private bedroom, which perfectly suited our group of 3. We woke up to a bright sunrise and free breakfast downstairs, followed by umbrellas and chairs down on the beach.
As an alternative, next door is Elizabeth Pointe Lodge – a picturesque oceanfront lodge with Southern hospitality such as a wraparound porch with rocking chairs and sweet tea. My parents stayed here and really enjoyed it!
Timoti Seafood Shack in Amelia Island
Once we were checked in to the hotel, we drove over to the heart of Fernandina Beach for lunch. We ended up at this simple seafood shack with a covered outdoor patio. I got the poke bowl and Natalie's fresh lemonade. It's the perfect spot for a casual, quick meal. On the same block was Sabbia Mediterranean Street Food, Nana Teresa's Bake Shop and Cafe Karibo, which had a nice garden patio and longer wait!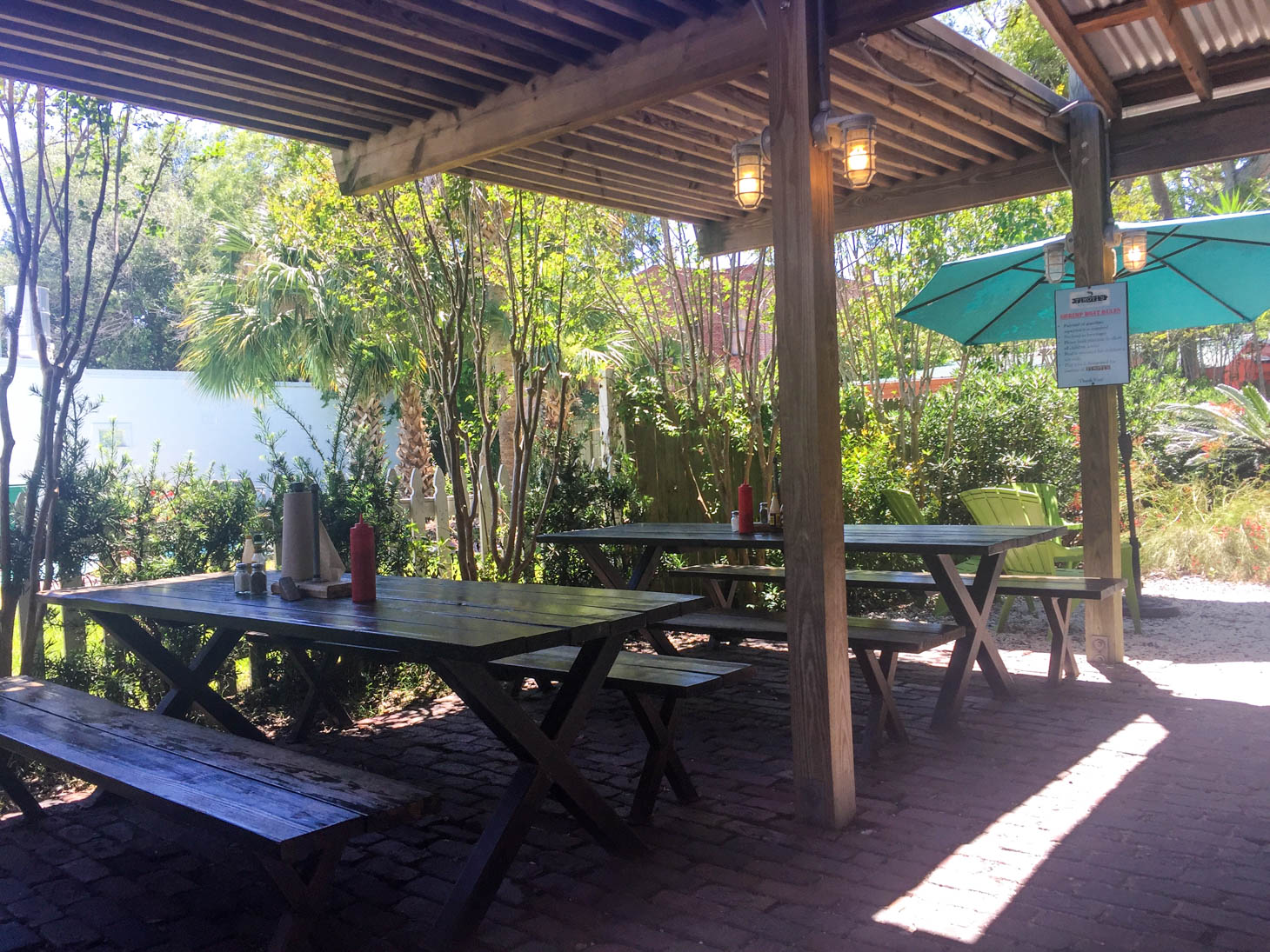 The weather was sunny and warm, so we went straight to the beach after lunch!
Espana in Amelia Island
For dinner, we went to this Spanish restaurant that came highly recommend to us for their sangria pitchers, paella and tapas. We sat outside in a quaint back garden and loved the portobello mushrooms, escargot and shrimp the most. My friend also ordered the vegetarian paella, which she claimed was the best she's ever had!
Green Turtle Tavern
After dinner, we walked around the downtown area, popping into shops and admiring the gorgeous sunset. The live band led us to this laid-back bar with a large outdoor patio, ping pong tables and people eating pizza from Pi Infinite Combinations from across the street, which has quaint courtyard seating and plenty of menu options (note: they are working on a gluten-free crust).
Fernandina's Fantastic Fudge
Should you fancy an ice cream instead of (or in addition to, I won't judge) a drink, this sweet shop has been satisfying the sweet tooth of locals since 1988 and offers many creative flavors sure to accommodate anyone's taste. My friend loved her ice cream cone and the whole shop smelled incredible!
I think Amelia Island is the perfect destination for couples, young families and casual bachelorette/bachelor parties looking for a relaxed weekend getaway. Everything is close by and accessible, allowing for less/last-minute planning.
In Case You Missed It