I know what you're thinking… How did I manage to pack for three weeks around Europe in only my Away Carry-On and a travel backpack?! Thrilling. Even before my trip, that was always one of the top questions I received from my girlfriends; most guys don't have this issue and therefore wouldn't even consider this a dilemma. "Sounds amazing… but how are you going to pack for that?" Trust me, I was panicking. I am usually an over-packer and by no means a minimalist in my daily life (though somewhere in the back of my mind I do strive to be). After I purchased and received my new travel gear (reviews here!), I literally practiced packing. I know it sounds silly, months out from departure packing my suitcase to make sure it all fits. It took trial and error, folding vs. rolling clothes, this jacket or that jacket…so tricky! The other challenge is that traveling just about anywhere (except South Florida, of course) in September means fluctuating temperatures approaching the beginning of fall. I looked at weather averages in each city… but they had such an unusually hot summer! If you share these same anxieties as me, read on for the perfectly packed suitcase for a stress-free and unforgettable European adventure.
Before I get into my exact packing list, I will note that I knew I would be able to do laundry in the middle of my trip while staying with a friend in Rotterdam in The Netherlands. While this worked out very well, I knew I would still need to pack for about 7-8 days worth of clothes. As it turned out, all of our Airbnbs had at least a washing machine, but since I packed so well I didn't really need to wash anything again until I got home to Florida.
Our Itinerary to Pack For
We were in Europe for a total of 22 nights and 23 days. The weather ranged from the 40s to the 70s (in fahrenheit), with some windy and/or rainy days. Despite a few lousy days, I would say that we had fantastic weather. We were lucky it wasn't too warm given only one of our Airbnbs had air conditioning. Stay tuned for in-depth guides for every city we went to!
9/10 – 9/11: Overnight flight to London
9/11 – 9/16: London
9/16 – 9/24: The Netherlands
9/24 – 9/27: Prague
9/27 – 9/29: Vienna
9/29 – 10/2: Budapest
10/2 – 10/3: London
10/3: Fly home to Florida
Plane Outfit
For my two long-haul flights between Orlando and London, I wanted to wear an outfit that was comfortable to sleep in on the way there, but also something I could wear out and about during the day. It also needed to incorporate my bulkiest items – my boots and leather jacket. I usually do not get cold on planes, but in the past I have found that night flights and long flights (over 4 hours) do tend to get cold at some point. Alas, layers!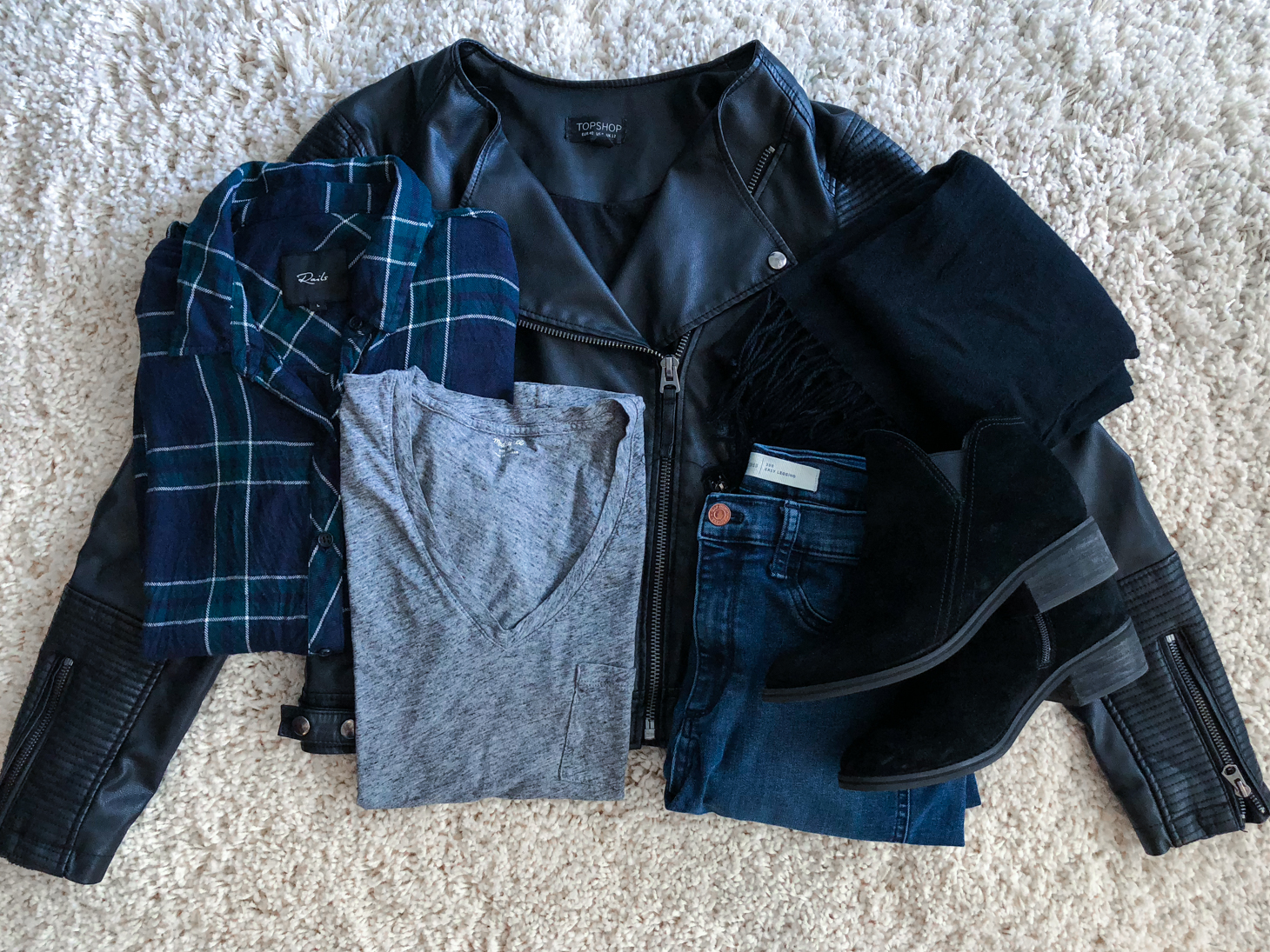 I love wearing button down shirts on planes because you can wear it closed for maximum warmth, open for minimal warmth, or tie it around your waist if you're walking around a hot airport. Denim chambray tops with black jeans is another one of my go-to's. I also love wearing booties on planes (when appropriate) because they are easy to take on and off for security or on the plane.
In my backpack, I also brought a pair of sweatpants and fuzzy socks of course (for the cozy factor). More on that below!
What I Packed In My Suitcase
If you read my Away Carry-On review, you would see how the suitcase is designed to compress soft items on one side. I also follow my Top 6 Packing Tips, especially #3! With one medium packing cube and one compression cube, I fit the following items as shown:
I found that folding the clothes in the compression packing cube worked the best, and rolling the clothes in the regular packing cube. I could have gotten away (no pun intended) without packing cubes thanks to the compression system in the Away suitcase, but I like the packing cubes as a way to stay better organized and tidy. Rolling allows you to see everything more easily, and helps to prevent wrinkles.
3 Tank Tops: 1 purple, 1 army green, 1 black lace

3 Long Sleeve Shirts: 1 black button down, 1 black heat-tech, 1 black open cardigan
4 Sweaters: 1 grey cashmere (my warmest), 1 grey v-neck, 1 purple crewneck, 1 black scoop neck
2 Jackets: 1 army green jacket, 1 waterproof and windproof jacket
2 Pairs of Jeans: 1 black, 1 dark denim
2 Sets of Pajamas/Loungewear: 1 warm weather: shorts & a tank top, and 1 cool weather: sweatpants (brought in my backpack to change into on the plane; obviously washed before wearing to bed!) and a long sleeve shirt
On the other side of my suitcase, I packed the following items that could not be compressed:
1 Crossbody Bag: Grey camera bag zip around style
Undergarments: Packed these in a small compression cube in my crossbody bag to keep it's shape.
1 Bathing Suit
1 Scarf: Made of wool and cashmere, it's my warmest scarf without being bulky
1 Pair of Shoes: White Keds sneakers (stuffed with socks; in my red shoe bag)
1 Nume Flat Iron: It was my only hair tool that was dual voltage!
1 Hair Brush: The Wet Brush of course!
1 Shower Cap
1 Medicine Pouch: Zicam, cold medicine, cough drops, band-aids, sleep aid, stomach medicine, Advil, Aleve, Claritin, probiotics, multi-vitamins
1 Makeup Bag: It Cosmetics CC Cream, Laura Mercier Flawless Fusion Concealer, Laura Mercier Translucent Setting Powder, Too Faced Sweetie Pie Radiant Matte Bronzer, Benefit face palette, Becca Moonstone Mini Highlighter, Laura Geller Gilded Gold Baked Gelato Swirl Highlighter (also used as eyeshadow), Burberry Eye Colour, Bobbi Brown Gel Eyeliner in Brown, Bobbi Brown Long-Wear Cream Shadow Stick in Golden Bronze and Dusty Mauve, The Estee Edit mascara (old), Benefit Precisely My Brow Pencil, MAC Mehr and Velvet Teddy Little Lipsticks, Dior Berry Addict Lip Glow, Beautycounter Terra Sheer Lipstick, MAC 239 Brush, MAC 217 Brush, MAC 219 Brush, Mini Charlotte Tilbury Brush, Mini Bobbi Brown Brush, Smashbox Fan Brush, ELF Large Stipple Brush
1 Toiletries/Miscellaneous Pouch: Foreo mini, razor, grooming scissors, tweezers, nail clipper, nail file, floss, eye mask, exfoliating pads, nail polish remover wipes, Q-tips, cotton pads
1 Feminine Products Pouch
What I Packed In My Backpack
If you saw my review of my new travel backpack, you'd see how it eliminated some of the stress of using a small carry-on – it's so spacious! The pockets helped me to stay organized to fit all my in-flight essentials and most valuable items.
Laptop – Mine is the 12-inch Macbook, but the backpack is designed to fit a 15-inch laptop.
Travel confirmations/documents
Bose Noise-Canceling Headphones – These headphones are a must! It was my first time traveling with them after purchasing them on Amazon Prime Day and it was such a worthwhile investment. I also brought an extra battery (which I did end up needing!) and a cord converter to plug into my iPhone
Travel Wallet – I loved that this one was cheap and had a wristlet! Passport, boarding passes, cards, local currencies, a pen (for customs paperwork – they'll hand out the card to fill out on the plane, but they don't give you a pen!) all fit well inside.
Magazine – purchased at the airport
Eye Mask
Fuzzy Socks – These are SO soft…anything from this brand is.
Inflatable Neck Pillow – I loved how soft this neck pillow is, and how it takes up much less room than a traditional neck pillow
Sweatpants/sweater (not pictured) – for the flight there, I brought sweatpants to change into in attempts to sleep on the plane.
Pashmina Scarf – pictured above in my plane outfit. I had to allow room for it in my backpack for when it was too hot to wear.

Quip Toothbrush – I loved my new Quip Toothbrush I bought before the trip in the pretty metallic copper shade. It's extremely travel-friendly and portable with a hygienic case. Highly recommend!
Retainer – Yes, I still wear mine 🙂
Liquids pouch – for security when I am not in the US (thanks TSA pre-check!) – Aerin Evening Rose Perfume, Caudalie Vinoperfect Radiance Serum, Glossier Milky Jelly Cleanser, It's A 10! Miracle Leave-In plus Keratin, Ouai Wave Spray, DryBar Detox Dry Shampoo, Garnier Micellar Water, Summer Fridays Jet Lag Mask, Laneige Water Sleeping Mask, Supergoop Unseen SPF 40, Sunday Riley Luna Oil, IS Clinical Active Serum, Fresh Rose Deep Hydration Face Cream, Pureology Hydrate Shampoo & Conditioner (not pictured), Dove Body Wash (not pictured), Kate Somerville Exfolikate (not pictured), toothpaste (not pictured)
In-flight essentials pouch – Anti-bacterial wipes, face cleansing wipe, chapstick, Aleve, Advil, stomach medicine, daily medication, sleep aid/melatonin, mints/gum, tissues, cough drops
Jewelry – I brought VERY little, but since it's more valuable I wanted to carry it in my backpack
Snacks – Flackers (my latest healthy snacking obsession), almonds, etc.
Deodorant – This is the best deodorant I've ever used, hands down! It's not natural, but I just bought this one to try.
Portable Charger (w/cord to plug into phone and cord to charge)
Travel Adapter – this one was the perfect size and works everywhere in Europe (and beyond)
Laptop Charger
Phone Charger – this one is really long and durable, I've been using it for years!
Basic Headphones (as a back-up)
Travel-size WetBrush – I love a good mini!
What I Forgot To Pack & What I Bought There
Well… I wouldn't say forgot completely. I went to Orlando five days before flying out and left one item there accidentally – sunglasses! I ended up buying a cheap pair from Vero Moda while I was in Rotterdam and I now love them. Also in The Netherlands, I bought a beautiful gold necklace made by a Dutch designer at a local boutique in Delft, and a fun pair of earrings from a vintage shop in Rotterdam. I wanted to shop and buy more, but ultimately I didn't have too much extra room in my bag and I was worried I might see something else at the next destination.
Whew! Can you believe I was able to pack all of the above in a carry-on suitcase and backpack?! So crazy.
*All items linked are exact, except some beauty products are linked in full-size but of course I brought a travel-size/sample version I had. Only some are affiliate links. Anything not linked is old or I couldn't find it online.
Related Posts
Comment below with your must-have packing essentials!