It's hard to imagine a place like Lake Como at a time like this, as I sit at home writing this at the height of the pandemic. When my two friends and I visited last fall, we loved returning to a local waterfront restaurant in Lezzeno where the server greeted us with excitement that we were back a second time. We couldn't help ourselves but pop into as many local shops in Bellagio as possible in search of the perfect silk scarf. Our sweet tooth led us to a gelato shop located along a picturesque esplanade in the charming town of Lenno where we pet some cute dogs while we devoured our afternoon treat. The friendly people on the ferry didn't seem to mind taking a million pictures of us at golden hour. Fellow tourists gave us dinner recommendations for our last night in Varenna, and they were not wrong – that place was delicious! Who knew six months later we would have gained new appreciation for these simple pleasures in life, especially those made memorable through traveling. 
Lake Como is located in Northern Italy's Lombardy region. It's an upscale resort area known for its scenery, set against the foothills of the Alps. Many iconic movies were filmed in Lake Como, such as Star Wars, Ocean's Twelve, and James Bond: Casino Royale. George Clooney also famously has a house here in the town of Laglio, located between Cernobbio and Lenno on the west side of the lake.
When To Go To Lake Como
While I'm pretty sure Lake Como will be as dreamy in one season as it will in the next, we enjoyed visiting in the fall. Late October to be exact. The temperature did drop at night and the ferries were a bit chilly, but it didn't bother us much. If you are someone who tends to get cold easily, I'd recommend a windbreaker in addition to your sweaters and jackets for that cool breeze off the water.
October was considered their off season, which was nice in that we didn't find it to be very crowded anywhere. I also think that's why we got such a good rate on our Airbnb and maybe our car rental too. The only downsides were that it gets darker earlier that time of year and some places that are seasonal were closed or had limited openings. Did I mention that there were fall leaves? That certainly made up for it in my Floridian eyes!
We were there for 4 days and 3 nights. I would say that is the minimum amount of time you should spend visiting Lake Como. We certainly covered some ground, but we could have stayed a week easily. Especially considering how stunning our Airbnb view was, I wish we had time to pick up some groceries from a local market to enjoy out on the terrace.
How To Get To Lake Como
The best way to get to Lake Como is to first fly into Milan Malpensa Airport (MXP). It's the largest international airport in the Milan metropolitan area in northern Italy. Then, rent a car from the airport and start driving! It's about an hour and a half away – not too far at all. My friend who is currently living in The Netherlands did all the driving, so if you're not from the EU, you may want to look into what is required to drive in terms of any extra paperwork, insurance or licensing.
How To Get Around Lake Como
As previously mentioned, we rented a car from the airport for our trip. More specifically, we got a white Audi A6 Hatchback! It was a good deal, so why not book the luxury option? The car was smooth, quiet and very comfortable, but way too wide for the roads around Lake Como. We managed, but cut it close a few too many times on the very narrow, twisting and turning roads along the mountain. I think we would all agree that if we returned to Lake Como, we would get a smaller, more narrow car for our daily adventures. A car is, in my opinion, very necessary for a trip to Lake Como. I very rarely saw taxis or Ubers or anything of the sort. I think the only way you could get around this is if you're staying at a hotel that can arrange transportation for you, though I'm pretty sure that would be more expensive than renting a car. Up to you, of course!
In addition to driving, another mode of transportation we used a lot during our trip was the ferry.
We also spotted water taxis and kayak rentals in Bellagio.
Where We Stayed in Lake Como
We stayed at an Airbnb in Lezzeno, which is a small village about a 15-minute drive (5 km) south of Bellagio. There wasn't much to do in Lezzeno that was actually open (most restaurants were seasonal), but its location close in proximity to Bellagio proved to be very convenient for getting wherever we wanted to go.
The property and views were ABSOLUTELY INCREDIBLE for the reasonable cost we paid. It seemed too good to be true. I honestly think we just lucked out! I will let the pictures below speak for themselves.
The superhosts, per Airbnb standards, Monica and Paolo were wonderful. Monica provided us with a ton of instructions, maps, and recommendations before our trip, and Paolo came to check in on us after we arrived to see if there was anything else we needed. We were grateful for their detail and quick responses, as it was a few awkward turns to go up the mountain to find it. They also let us know that there is a short walk between where you park and where the apartment is. It was basically a small lot of about 5 parking spaces, then we crossed a stone bridge over a waterfall, next to an old farm, through a winding path until we landed at the gate to the home. From the car to the gate was probably a 5 minute walk or so. Not far, but not great for transporting rolling suitcases, getting home after dark, or in the rain. My only negative comment about this apartment was that the walkway was not well lit at night. We ended up all using the flashlights on our phones and walking with locked arms. Haha! It was scary.
Lezzeno, Lake Como
Although I have everywhere we went mapped out at the bottom of this post, I did want to show you where Lezzeno is, pinned below. You will also notice the wishbone or upside-down Y shape of Lake Como, with Bellagio at the center. In order to get across, you take the ferry or drive all the way around the lake, which can take over an hour from Lezzeno to Lenno for example.
Crotto dei Pescatori
The waterfront restaurant Crotto dei Pescatori in Lezzeno was the only place open in town operating at their normal business hours in the off-season, likely due to their six hotel rooms upstairs. Fortunately for us, it had a welcoming atmosphere, plenty of seating, a large menu, and an impressive wine list. We ordered a few of their pizzas, their local fish ravioli and other pastas, pistachio gelato, and of course some recommended Italian wine to pair with it all. During season, Ristorante Aurora is also worth checking out.
Bellagio, Lake Como
Located a short 15-minute drive away and offering the nearest ferry terminal to our Airbnb, we found ourselves going to Bellagio almost every day. It is the most touristy town on the Lake – you've probably heard of it too – but that didn't turn us away. If anything, the fact that it was touristy allowed for more places to be open in their off-season. There's a lot to explore especially if you like shopping, making it worthy of a day trip if you aren't staying as close by as we were. Make sure you wear comfortable shoes! There are a lot of little stairs here.
For the photographers or those of you who want to take pretty pictures for your Instagram, Bellagio is the place to do it! Every corner you turn, there's a view worthy of a picture.
Shopping in Bellagio on Lake Como
The best town for shopping in Lake Como is definitely Bellagio. Everywhere you turn, there's a shop selling silk scarves or leather goods. We also spotted some upscale women's boutiques, an ornament shop, and gift shops.
Eating and Drinking in Bellagio
By day, we stopped for pizza and paninis at Vecchio Borgo, but there are plenty of nice options with outdoor seating. There are no chains here, which is always a bonus!
In the evening, we grabbed drinks at Ristorante Splendide. The setting is majestic!
Aperitivo Et Al
By night, we went to the popular wine bar, Aperitivo Et Al. In my research prior to the trip, this was the only place that stood out that we planned to go to beforehand. It's nestled into what feels like a cave, serving wine tasting menus, local cheeses, raviolis, chocolate flourless cakes and more – that's just what we ordered. I would it to any wine lovers and to those visiting Bellagio. It's great for a light bite too.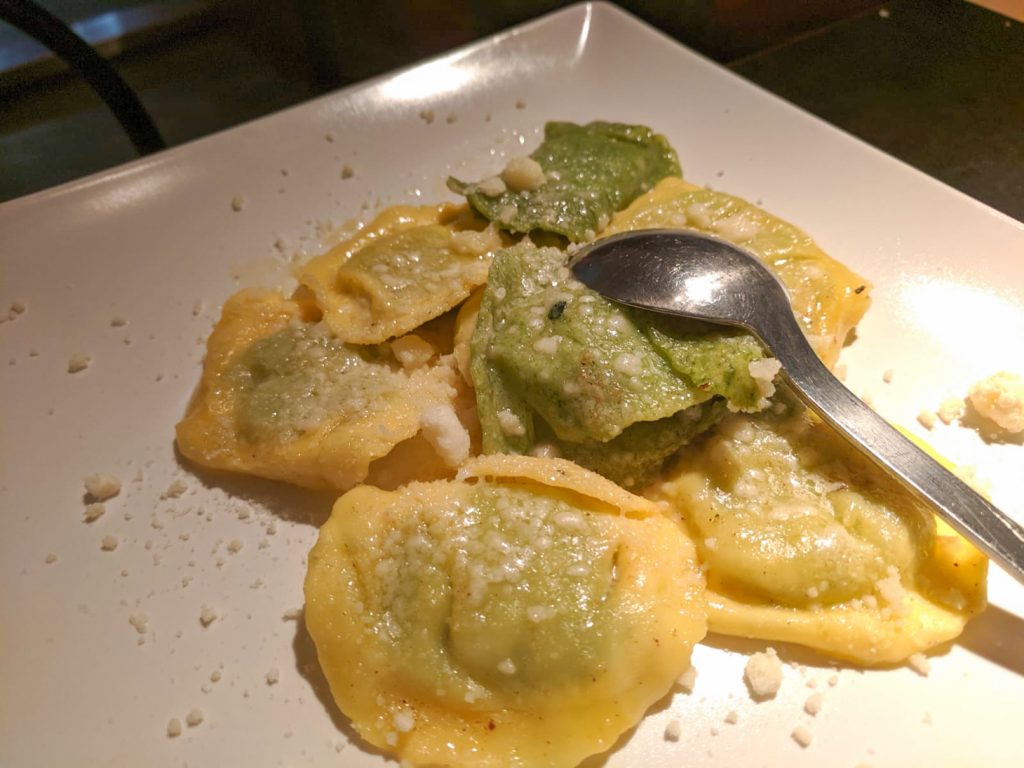 Day Trips by Ferry from Bellagio
The best way to take day trips from Bellagio is by the car ferry, also known as traghetto. It only runs between four ports: Bellagio, Varenna, Cadennabia and Menaggio. The ferries take between 10 and 15 minutes and run at least every hour. Make sure you have the right schedule – you can find them if you scroll down here. It is very easy to use and the views are outstanding! I would recommend it even if you don't need to get somewhere. Is that silly? I'm telling you, those views!
Since it is a car ferry, we drove on almost every time we used it. This allowed us to explore the town where the ferry terminal was located and beyond if we wanted to. I would note that I think in the peak season of summer you might want to allow extra time if you plan to drive on as there weren't that many cars that could fit on the ferry at one time. The ferry is not free. It's charged by the person and it's a little bit more if you have a car, understandably so. The line for tickets might also be worth allowing extra time for in peak season.
It's also worth mentioning that it's a pretty smooth ride, for any of my motion sickness friends or followers out there. They also do have bathrooms on board, which is convenient. I don't think you'll notice either because you'll be so busy taking pictures (or at least mental pictures) the whole time. I promise you, it wasn't just us!
These are some of the mansions and famous villas we drove by. Wow, is right!
We also made some quick stops in cute towns that we drove through.
Como, Italy
Our second day in Lake Como was sadly a grey and rainy one. We stuck to our plans and made the most of it – rain jackets, umbrellas, waterproof boots and all! We wanted to explore and drive around, so we started in the city of Como. It lies at the bottom of the southwest branch of the lake. It's known for its scenic funicular railway that travels up to the mountain town of Brunate, its gothic-style cathedral, and a waterfront promenade. If you drive towards Bellagio from Milan, you will likely drive through Como on your way there.
Just Art Cafe
We found Just Art Cafe, a really cozy local spot in Como for breakfast, where we ordered yummy pastries, coffee and tea. They had a nice little nook in the window that we were lucky enough to snag on such a dreary day.
Funicular cable car
Even though a clear, sunny day with blue skies is ideal for views from the funicular, we didn't mind the break. It was all indoors and covered unless you wanted to get out at the top to explore the mountain town of Brunate. If you've never been on a funicular, they're quite cool! I had seen one before on my trip to Budapest that takes you up to Buda Castle.
Mystic Burger
For lunch in Como after some shopping in town, we landed at Mystic Burger. It was a nice break from all the Italian food we had been eating, paired with some great local craft beers and Italian sodas too. I'd recommend it! There were interesting menu options to customize your burger, and everything we ordered was delicious.
Roman Catholic Cathedral
This gothic-style Roman Catholic cathedral in Como was beautiful with it's aqua-colored domes.
Villa d'Este in Cernobbio
From Como, we made the drive up west side of the lake to one of Italy's finest 5-star resorts, Villa d'Este in Cernobbio. Even if you can't afford to stay somewhere, it's still fine and perfectly acceptable to visit! In this case, the property was gorgeous and well worth our drive. On a nicer day I would have maybe liked to stop in their restaurant for a bite, but we kept on moving to our next stop so we could stay on track to be back to Lezzeno before dark.
Menaggio
We ended the day in the popular town of Mennagio, known for its promenade along the lake and ferry terminal. The clouds were low in the mountains as you can see pictured below, so we quickly made our way into Caffe Centrale for affogatos. They had a lot of different flavors to choose from. The chocolate almond one I ordered was fantastic! I've been craving it ever since! The cafe is on the bottom floor of a hotel and open all day long.
Villa del Balbianello
In planning our trip to Lake Como, Villa del Balbianello was on my "must visit" list. If you check out the reviews and ratings online, you'll see why. It's famous for its elaborate terrace gardens and as a popular filming location. To be honest, it exceeded my already very high expectations. It's one of those experiences I'll remember forever as being one of the most beautiful places I've had the opportunity to travel to and see with my own two eyes.
Before you go, there's a few things you should know:
It's best to visit on a day with nice, clear weather. We actually tried to visit after Villa d'Este on our way to Mennagio the day prior, but were turned away on-site because they close earlier in their off-season. I'm so glad we were because the views would not have been quite the same.
Double check their hours before you go. It's actually a 25-minute walk, mostly on an uphill incline, between where you park and where you enter the villa grounds to buy your ticket. You should take that into consideration in your planning. Also, bring comfortable shoes! If you don't want to go by car then by foot, the only other way to get there is by boat.
It's not free. Tickets cost €22 for adults.
Lenno
After our long walk at Villa del Balbianello, we were ready for some gelato. We found La Fabbrica del Gelato nearby in the town of Lenno. It was hidden back in the most quaint square along an esplanade. In a way, it reminded me of Battery Park in NYC, but Italian-style with mountains and colorful villas all around.
Varenna
I never have regrets about my travels because the best part is the adventure and exploring the unknown. However, I do admittedly wish we spent more time in Varenna! We took the ferry there (sans car) on our last night in Italy, so we made the most of it while we could. It was not touristy, not crowded, and absolutely gorgeous!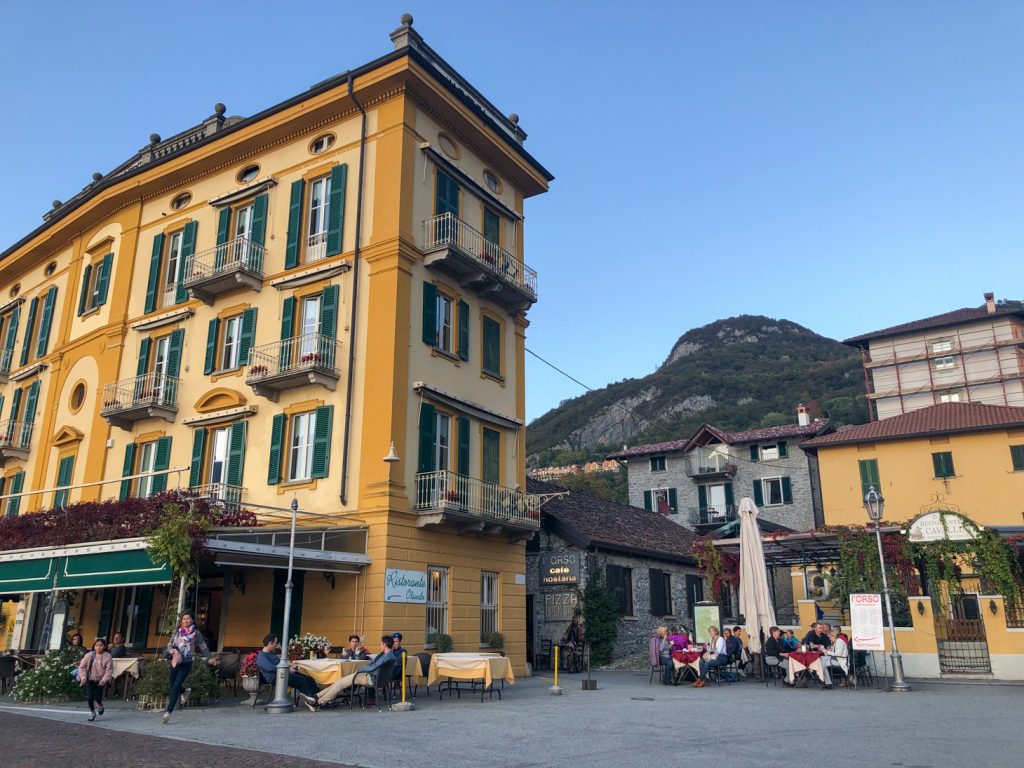 Ristorante Du Lac, Varenna
Although many photo opportunity stops along the way, our first place on the list was Ristorante Du Lac. We sat outside by the water and ordered the classic Italian Aperol Spritz followed by an Italian red wine tasting and a cheese & charcuterie board.
I bought a postcard in Varenna that, I kid you not, is an exact replica of this photo we took below! The sunset views from Varenna were so magical.
Al Prato was recommended to us by fellow tourists that had been in Lake Como for a few weeks. Unfortunately, they were fully booked for dinner so we weren't able to get a table. Next time: make reservations in advance in Varenna!
We followed another recommendation for dinner at Il Cavatappi, but not before our new friend at the liquor & wine shop across the way confirmed the recommendation to be true. A delicious last meal in Italy, until our next trip of course!
Trust me when I say you'll want to save this guide for later. It'll be worth it! With more time visiting Lake Como, check out boat tours, hikes, and more villas. Oh, and if you follow our itinerary, save your walking for Bellagio and Villa del Balbianello!
More Italy Guides to Check Out: