London is one of those cities that should be on everyone's travel bucket list. I know for me, it has always been on the list. My dad and uncle lived in the city for a few years after serving in the Army, so I've grown up with them telling me stories of the "good 'ol days." I also have second cousins who live there now that I wanted to visit since meeting them at a wedding nearly ten years ago! In case I needed more reasons to want to visit London, it's probably the most affordable European city to fly into from the East Coast of the U.S. I also had many friends tell me, "YOU would love London!" Needless to say, London was at the top of the list.
In This Guide:
When To Go To London
London was the first destination on our three-week European adventure, which began in the middle of September. As previously noted, it was the most affordable city to fly into. It was also a great transition city for an American traveler — everyone speaks fluent English (but it sounds way better with their accents, of course)! It's clean, it's safe, and it feels familiar. Having lived in New York City for 3.5 years, I was surprised how similar it felt to London. Large neighborhoods all jam-packed with amazing places while still having their own vibe and character, and having to rely on public transportation to get around.
The weather was gloomy and grey some days, which is very common there, and beautiful blue skies and sunny other days. I think we got very lucky with the forecast, averaging in the 60s most days.
What To Pack for London
If you're traveling to London in September, I would plan on wearing a light to medium-weight jacket every day. My go-to outfit was a black faux leather or military green jacket, any top/light sweater, jeans, and either sneakers or short booties. Keep in mind that you'll inevitably be walking a lot, so comfortable shoes is a must. The style of the locals is very on-trend and fashionable — don't be afraid to pack your coolest online shopping finds! Read about how I packed for 3 weeks in Europe.
Getting To London
In planning our trip, I was incredibly torn and confused as to the best time to book our flights. We ended up booking them in mid-June for a departure in mid-September, and I would not recommend booking any later than that. Prices started to jump $20-$50 in early June, and I never really saw them go back down. Fortunately, I still think we got a great deal of $670 round-trip per person given both ways were direct, Orlando to London Gatwick, and it was on Virgin Atlantic instead of a budget airline.
I had flown Virgin America three times before to Las Vegas once and Los Angeles twice, but it was my first time flying Virgin Atlantic. Maybe it was an older plane, but I found it to feel a bit more standard than the ultra-cool and modern Virgin America planes. On the way there, my boyfriend and I were able to snag the row of two seats instead of three in the very back of the plane. While it was nice not to have to worry about sitting next to a stranger for 9 hours, there was a large space to the side of the seat by the window so you couldn't lean on the window to sleep as many people like to do.
Unlike some other international flights I've been on, they gave us a menu of three dinner choices to choose from with descriptions. The food was okay, but very alarming if you looked at the nutritional facts for anything in a package. For example, the sweet "granola bar" they gave us as part of the breakfast had OVER 60 GRAMS OF SUGAR and it was no larger than the size of the palm of my hand. Yikes!
I was also unsure about the use of TSA Pre-Check for international flights, and at what point we would go through customs. In recent years, I had only flown to Canada. We were able to use our TSA Pre-Check on the way there in Orlando, and went through customs upon arriving in London. On the return, we went through customs in Orlando, where I learned something that has held true in my experiences traveling internationally for work since. If you fly on an American airline, the customs line returning to the U.S. will likely be longer. However, if you fly on an international carrier, the customs line will most likely be longer for non-U.S. passport holders. I kid you not, there must have been 5 people in the U.S. line and 200 in the non-U.S. line!
Once we arrived in London Gatwick airport and went through customs, we took the Gatwick Express train into Victoria Station in the city. We bought the train ticket in advance, which I recommend. It was very quick and easy at about 30 minutes.
Getting Around London
After too many hours of travel and not enough sleep, we made it into London! At Victoria Station in Chelsea, we bought pay-as-you-go Oyster cards, which are easy to re-fill as needed and never expire like a NYC Metrocard. They feel more like a gift card than a piece of paper. We learned you can also use Apple Pay on your iPhone, but we never tested it.
Some basic but useful information I learned about the tube is that you swipe your card as you enter AND as you leave the station. This is because the tube map is broken up into zones, and traveling to or from the farther away zones costs more. Some tube stations are underground, after the longest escalators I've ever seen, and some are at ground-level and outside. Speaking of escalators, it is proper practice to stand on the right or walk on the left. This should be followed more strictly everywhere like it is in London.
Did you know the first tube line went from Paddington and Farringdon and started in 1863, which makes it the oldest rapid transit system in the world?
Compared to NYC, there are no local and express trains. Instead, find out which line you need to take and in what direction, then look at one of the many maps on/before the platform to make sure that line doesn't split before your stop. On the platform, it shows how far away the trains are, but like NYC, each train is labeled by its LAST stop. We figured this out early on by getting on a train that split and never went to our desired stop. After that, we didn't make the simple mistake again. In general, I found the tube to be faster, more reliable, and easier to figure out than the subway. We used Google Maps to figure out what station to get on or off at. Just make sure you check before you go underground where you likely will not have any signal!
Our second most used mode of transportation were the bright red double-decker buses because sometimes it was easier to get to/faster than taking the tube, especially for short distances or areas away from the station. We used Google Maps again to determine which method of transportation was best. When you enter the bus, you swipe your Oyster card at the entrance at the front of the bus, and then you depart the bus from the middle doors. We had fun going upstairs, hoping to get those front row seats in front of the big windows for a free scenic tour of the city.
The most popular alternatives to the tube, bus or walking are cabs or Uber. We learned that most locals avoid cabs, which are more expensive than Ubers. We found the tube so easy, and walking so lovely, that we only took an Uber once late at night.
The currency in London is the Pound, which has a higher exchange rate to the U.S. Dollar than the Euro. It's quite expensive! For the best rate, I recommend going to an ATM machine in the airport or once you've made it into the city versus going to one of those touristy currency exchange desks or getting it at your local bank before you leave for your trip.
Where We Stayed in London
While booking our flight was the first big commitment in planning our trip, the accommodations were up next. We stayed in all Airbnbs throughout our trip (except Rotterdam), which you will see in my Prague, Vienna, and Budapest travel guides. The cost was more affordable than hotels and the homes were in just as good of locations within each city. However, in London most of all, we struggled to find the right one. Our favorite places were suddenly gone by the time we went to book, over and over again, leading us to constantly re-think our preferred neighborhoods to stay in. We ended up in Notting Hill staying at this Airbnb that no longer seems to be taking reservations. I'm not surprised though because our tenant was having trouble with a neighbor who did not like the concept of him renting out his unit to new people on a regular-basis. Fortunately, we still had a positive experience!
The pros of staying in Notting Hill were that we were within a short walking distance from the popular Notting Hill Gate tube station with many lines, while also having plenty of nice places in Notting Hill and Kensington within walking distance. It was not very lively at night, which can be a pro and a con in my opinion. The con was that Notting Hill is not very centrally located when you consider the neighborhoods you'll most likely want to visit during your trip, rather you will always find yourself heading in the same direction.
Another neighborhood we looked at staying in was Marylebone, which would have been a little more centrally-located while still being pretty quiet at night. We also looked at staying in Chelsea, which I would not be opposed to for a future trip. In my opinion, any other neighborhood is either too far, too expensive, challenging to find an Airbnb, or a little risky (some streets are nice, others not so much). To each their own!
Where We Went in London (by neighborhood)
Much like New York City, London is a very large, busy and spread out city broken up into distinctive neighborhoods more than Prague or Budapest. Therefore, like many of my neighborhood guides, I've organized this one by neighborhoods so that you can walk to each place listed within each section.
Notting Hill & Kensington
Considered West London, Notting Hill is a charming, affluent neighborhood known for its picturesque pastel-painted homes, beautiful gardens and hidden side streets, quirky shops and trendy restaurants, Portobello Road Market, and the chick-flick starring Hugh Grant and Julia Roberts, Notting Hill, of course. It's an area you can stop in for lunch and some walking around the shops, or spend a whole day. Allow at least 2-3 hours.
South of Notting Hill is Kensington, home to royalty over the years at Kensington Palace. It's a very upscale area with stately Victorian buildings, chic boutiques on Kensington High Street, antique shops on Kensington Church Street, the Natural History Museum, and the Science Museum. Walking from our Airbnb in Notting Hill through the local neighborhood, I kid you not, every single house had a Range Rover parked out front and impeccable landscaping. Quite nice!
One place I would skip based on our experience was Electric Diner on Portobello Road. After being seated, we waited for more than 15 minutes while servers walked back and forth past us without ever receiving any service ourselves. We felt completely ignored and sadly walked out.
Other Places To Consider
Farm Girl Cafe – I really wanted to go this girly, Insta-worthy, Aussie-chic cafe but it never worked out. Tucked away on Portobello Road, they serve a mostly vegan menu and signature lattes like rose and lavender. They also have locations in Chelsea and Soho.
Daylesford Organic – An all-day cafe/deli serving seasonal organic plates such as quiche, salads, and items great for takeaway.
Granger & Co. – Another popular, no-reservations Aussie cafe with multiple locations that's very highly rated. They're especially known for their brunches!
Caravan – I'm really not sure why, but Notting Hill seems to have great cafes! This is another highly-rated, popular one in the city with multiple locations.
Egg Break – We tried to go to this popular breakfast shop a few times but the line was at least ten people out the door.
Wild At Heart – One of the most celebrated British florists, Nikki Tibbles, has a beautiful flower shop perfect for an afternoon stroll or a photo opp.
The Kensington Wine Rooms – This stylish wine bar serves fresh, seasonal, local menus to complement wines by the glass.
Maggie Jones's – I made a reservation for dinner here before our trip, but sadly had to cancel it. It's a hearty farmhouse-style British menu in an upscale restaurant themed like an old barn.
Kensington Palace & Gardens – As much as I wanted to visit some of the royal monuments in the city, they all require advance booking and payment. I love flexibility while traveling, so I didn't make it on this trip but would still like to go in the future.
The Distillery – This four-floor mecca has a working distillery, a specialty gin bar, and Spanish tapas.
South Kensington, Chelsea & Belgravia
South of Hyde Park are upscale neighborhoods including South Kensington, Chelsea and Belgravia. The area is home to fantastic restaurants, high-end shops, renowned museums, and celebrity sightings. We saw GORDON RAMSAY our first day outside his restaurant Petrus. I honestly cannot even explain to you how big of a deal that was for us. My boyfriend had been following him for years and got me addicted to his shows, especially Master Chef and Master Chef Junior. We could not have seen anyone more exciting! Anyway, you could easily spend days in these three neighborhoods alone. We spent our first late afternoon/evening here exploring before crashing of jet lag at 8:30pm, then came back the next morning for the museum and Harrods.
Although discovering the very old Kevin Moran/Nag's Head pub was cool to see with all of its mementos, I would probably skip it as it was quite small inside and fairly quiet.
Other Places To Consider
Westminster & St. James
Many of the iconic London tourist attractions are located within Westminster. Unfortunately, Big Ben was under construction during our trip, but we did stroll around Buckingham Palace and Hyde Park for a couple hours. As you can see, we lucked out that it was the most beautiful day!
We decided to skip any tickets or tours during our stroll, but some things to consider are:
If you happen to be at Buckingham Palace on Monday, Wednesday, Friday or Sunday, stick around for the Changing of the Guard at 11am!
If you visit between July 20, 2019 – September 29, 2019 when the royal family is on holiday, you can tour the State Rooms that the Queen uses to entertain guests!
It costs £25.00 for an adult ticket that you should book in advance, however the ticket requires a specific date and time slot. Don't wait until the last minute!
Other popular landmarks to check out include the historic Westminster Abbey and Churchill War Rooms. They're on my wishlist for my next London visit!
Marylebone & Fitzrovia
On my next trip to London, I'd like to spend more time in or even stay in an Airbnb in Marylebone. There are so many great places to eat and drink (see a list below) but not as much to do. As a result, we only managed to hit a few this time. It was on the more quiet and residential side, but still very charming and luxurious.
Other Places To Consider
Mayfair, Covent Garden & Soho
If I were to stay in a hotel on my next visit to London, I would try to find a reasonably priced room in any of these three neighborhoods. Unfortunately, there aren't any reasonably priced Airbnb's available.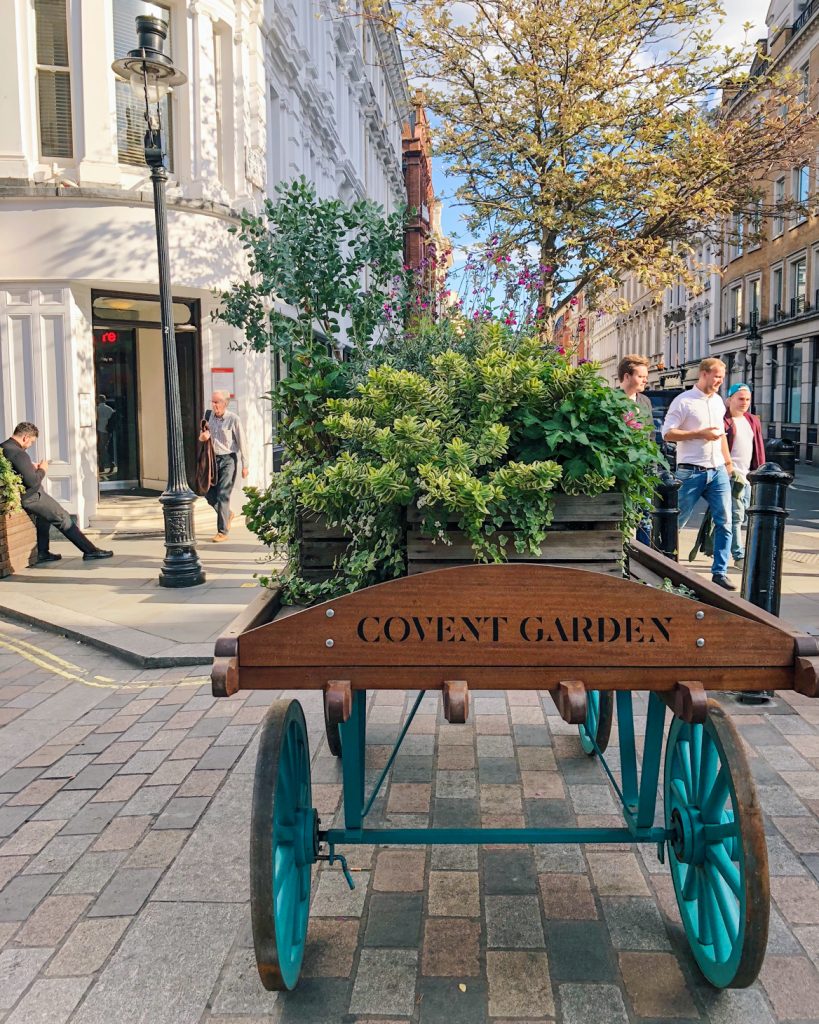 Other Places To Consider
South Bank & City of London
If you are in London for more than a few days, I'd highly recommend spending at least half a day in the South Bank beside the River Thames to visit a few key spots, then make your way over the Tower Bridge into the City of London neighborhood. Walking map below for reference! The South Bank is the heart of London's cultural scene where you can also admire iconic landmarks like the London Eye ferris wheel and Big Ben. The City of London however is quite the opposite. It's the historic financial district, home to both the Stock Exchange and the Bank of England, and filled with modern corporate skyscrapers.

Other Places To Consider
Camden & North London
Many of my close friends loved Camden when they visited London and would tell me, "you have to go." If I'm honest, it was not my favorite. It's what I expected Shoreditch to be like, however I liked that neighborhood in East London much more. That said, I'm always happy to go anywhere or try just about anything once.
Instead of exploring more of Camden on my next trip to London, I'd love to check out more of the small Primrose Hill neighborhood. I did walk around a little bit on my way to my cousin's house for dinner, but didn't stay in the area after. The Regent's Park and Primrose Hill itself is supposed to be beautiful, especially in the change of seasons, and Lemonia is the cutest family-run Greek restaurant nearby.
Shoreditch & East London
Because I love a good New York City comparison to any city in the world I travel to, Shoreditch and East London in general are the Brooklyn to Manhattan. A bit quirky, edgy, hipster, and also somewhere no one used to go but in recent years has become all the rage. We all know the type.
Other Places To Consider
Sager + Wilde Restaurant – Located next door to Mother Kelly's, this bar and restaurant is located under a railway arch serving modern British fare.
Sager + Wilde Wine Room – A second Sager + Wilde location serving fine wines in an urban bar.
Satan's Whiskers – A compact, top-rated cocktail bar that isn't stuffy like you'd expect, but rather a laidback hangout playing hip hop music with taxidermy on the walls.
The King's Arms – A local Bethnal Green staple pub with a great selection of local and international beers, and locally-sourced specialty cheese and meat boards.
The Gibson – The Gibson is a pre-prohibition cocktail recipe published in 1908 made with gin and dry vermouth, often garnished with a pickled onion. This highly-rated cocktail bar pays homage to the cocktail's journey.
Bourne & Hollingsworth – The restaurant location by the same Bourne & Hollingsworth team as the cocktail bar mentioned above in Marylebone. The highlight is the beautiful greenhouse-style dining room. Reservations are recommended.
Moro – A North African and Spanish restaurant serving all-day tapas. It sounds like a unique fusion that would make for interesting dishes.
The Gin Bar at Holborn Dining Room – Inside The Rosewood Hotel's elegant, chandelier-decked restaurant is a copper-topped gin bar featuring London's largest collection of gin — over 500 gins and 30 tonics, making for more than 14,000 gin and tonic pairing possibilities. I love an elaborate selection!
Scout – Awarded number 28 in the World's 50 Best Bars, I was very sad to have missed the opportunity to experience a cocktail here. They focus on minimal waste to ensure it's a conscious sustainable operation. The menu changes daily adapting to seasonal produce from local foragers, farmers and growers alike. It's at the top of my list for my next visit.
The Nightjar – Another very highly-rated, popular speakeasy cocktail bar with live jazz and blues and rare spirits.
Friend of Ours – A contemporary Australian coffee shop with a full menu of elevated brunch and lunch dishes, and Instagram-friendly, colorful plate presentations.
Dishoom – Also mentioned above, Dishoom is one of the most recommended places to dine in London. Their Shoreditch location is equally as popular as the next. Consider it for brunch!
Columbia Road Flower Market – I was so excited to visit this famed flower market until I realized my train out of London was too early Sunday morning. On Sundays only, there are fresh blooms for sale from dozens of vendors on a street lined with adorable shops and cafes.
Trip Highlights
I could visit London ten more times and still not come close to trying everywhere I'd like to. In the meantime, these are my top recommendations that I have since shared with friends and family. They are also places I would be happy to go back to.
Harrod's – walk around, and don't miss the food hall!
Afternoon Tea – we loved Fortnum & Mason's Diamond Jubilee Tea Salon
Fish & Chips – a must-try in London
Buckingham Palace – at least to see it from the outside
Tower Bridge – another must see
Pubs – The Churchill Arms is a memorable one!
Kingly Court in Soho – an awesome area filled with great restaurants and bars at night
We loved our meals at Rabbit, St. John Bread & Wine, and The Fine Cheese Co. (only if you can sit outside on the front patio).
For drinks, Mother Kelly's was a fun hangout spot for beer. For cocktails, we enjoyed Opium in Chinatown, or Cahoots in Soho, or any of the Mr. Fogg's bars.
Cheerio! Until next time, London.