I had the opportunity to travel to Milan for a work event and was so excited to go back to Italy because what's not to love about Italy? The food, the language, the cars, the culture…the list goes on. It's everyone's favorite place for a reason. The last time I was in Italy was in 2006 on a family trip, which was also my first time to Europe. We spent a few days in Venice, Tuscany, Florence and Rome. We loved it, of course. Needless to say, a lot has changed since then, and it was my first time going to beautiful Milan — one of the fashion capitals of the world. Keep reading for my review of my first trip.
There are three must-do's in Milan that you could easily accomplish in a day or two.
Visit the Galleria Vittorio Emanuele II.
Get lunch and go window shopping in the Quadrilatero della Moda (also known as the Quad d'Oro). It's an upscale shopping area in center city filled with designer fashion boutiques, antique shops and posh cafes.
Go out for dinner & drinks in the Navigli District.
Galleria Vittorio Emanuele II in Milan
Built between 1865 and 1877, the elegant Galleria Vittorio Emanuele II is Italy's oldest active shopping mall and a major landmark of Milan. It houses some of the most luxurious boutiques such as Prada, Gucci and Louis Vuitton, as well as a variety of classic Milano restaurants.
Located in the Galleria, Terraza Aperol is a popular spot for an apertif upon sundown. It's worth checking out if you are in the area after work hours, but I wouldn't recommend it during cold or rainy weather as the outdoor terrace overlooking the Duomo is closed.
While exploring the Galleria, we went to Café Biffi for dinner. Founded in 1867, it is one of the oldest, longstanding restaurants in Milan. I ordered the Veal Osso Buco with Milanese Risotto, a staple of northern Italian cooking, and a glass of Brunello, which is a red wine from the Montalcino region in Italy made using 100 percent Sangiovese grapes. Yummy!
For a coffee or something sweet after dinner, stop into Marchesi 1824, a historic pastry shop located above Prada in the Galleria. It's one of Milan's oldest and finest pastry shops that is considered a benchmark for the quality of its fresh patisserie, its signature chocolates and its classic Milanese Panettone. It's also the perfect place to find a beautiful gift!
If you prefer something a bit more casual, then gelato is the obvious answer. We were surprised to find our favorite gelato shop across from the Duomo. Their chocolate Oreo gelato (below left) and Nutella gelato (below right) were SO good. Given the fact that we went out of our way to get it when there are gelato shops all over the place is how you know how good it was!
An afternoon exploring Quadrilatero della Moda in Milan
Even in the rain, this part of town was absolutely beautiful. Everywhere you looked, it was clean, well-maintained and of course very chic. Most notably, Via Monte Napoleone is known as being one of the most expensive streets in Europe.
I discovered this lunch spot while researching on the go and upon arriving, we were blown away by the architecture of the courtyard of this hidden gem. It was across from the Four Seasons Milan, if that gives you an idea!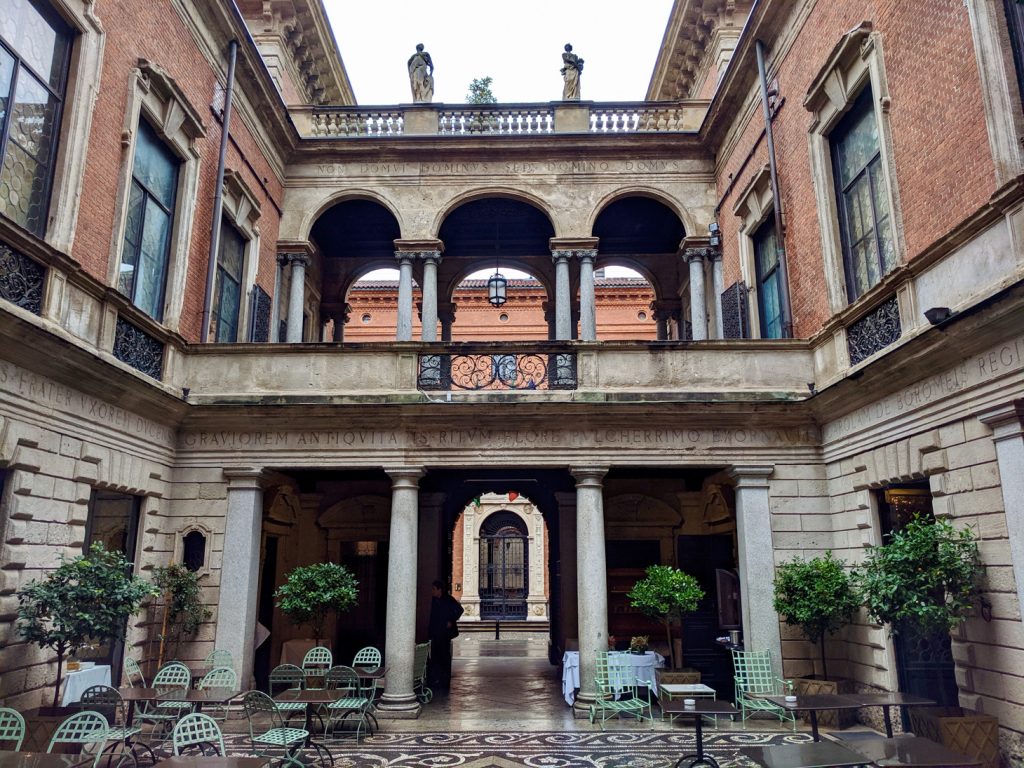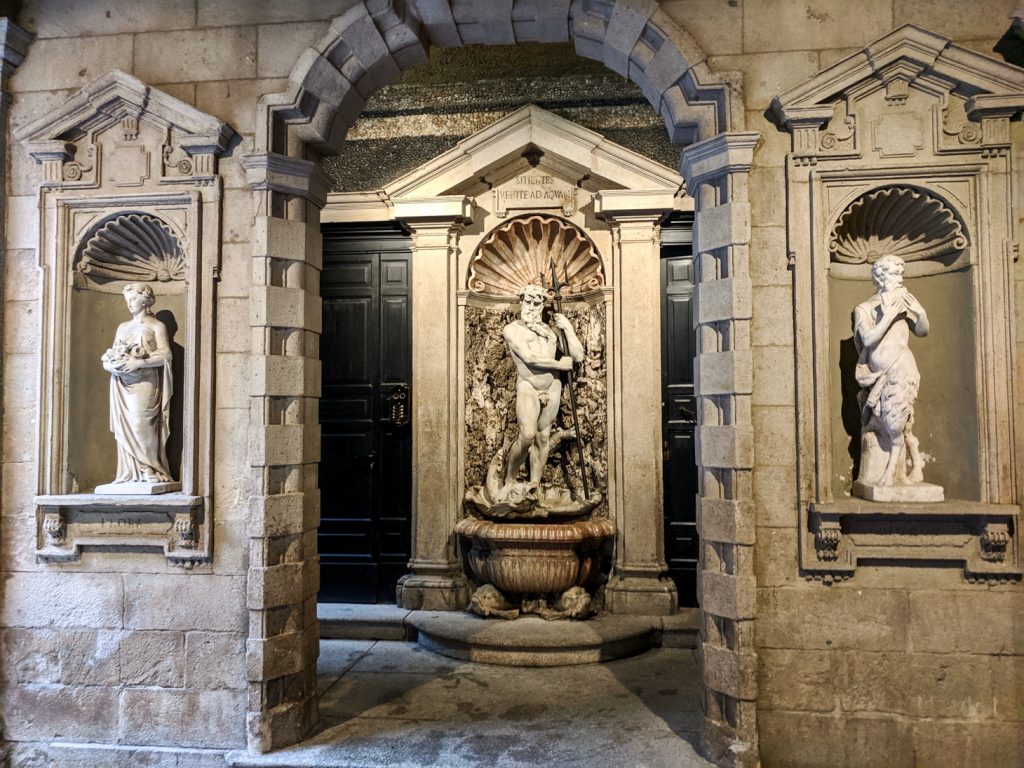 I ordered the homemade tortellini bolognese with a glass of the Colterenzio Alto Adige Pinot Bianco DOC "Cora" 2018. Molto delizioso!
There was also a gourmet market with an incredible selection of Italian classics and delicacies, from escargot and octopus to fine wines and cheeses to caviar and fresh white truffle.
Another nearby spot to consider is Paper Moon. We stopped in and they were completely booked! The food looked and smelled delicious but I was happy where we ended up for the open and airy atmosphere, whereas Paper Moon had a small, dark, bustling atmosphere.
Starbucks Reserve Roastery
By surprise, we randomly stumbled upon a Starbucks Reserve Roastery. Having visited the one in Seattle, I was impressed by this location too!
Café and coffee shop by day, eclectic bar by night. Like most of the other places featured in this post, we discovered this spot while researching on-the-go. That's the difference for me between personal vacations and work trips. I never have time to research thoroughly like I normally would for any down time after the event! This bar had a very NYC-vibe to me with exposed brick, dim draping lights and vintage furniture.
They serve anyone who orders drinks these small bites, complimentary! The cocktail list was great and I would definitely try to come back here if I visited Milan again and was in the area.
Navigli District in Milan
By day, the Navigli District surrounding the Navigli Canal has the same hustle and bustle of the rest of the city. Once 5pm strikes, locals flock to the area's canal-side bars which in recent years have become of the hub of the city's after-work apertivo culture. The area has reasonably-priced restaurants and a younger, vibrant and more romantic vibe than center city around the Duomo. There were a ton of great spots to choose from – something for everyone!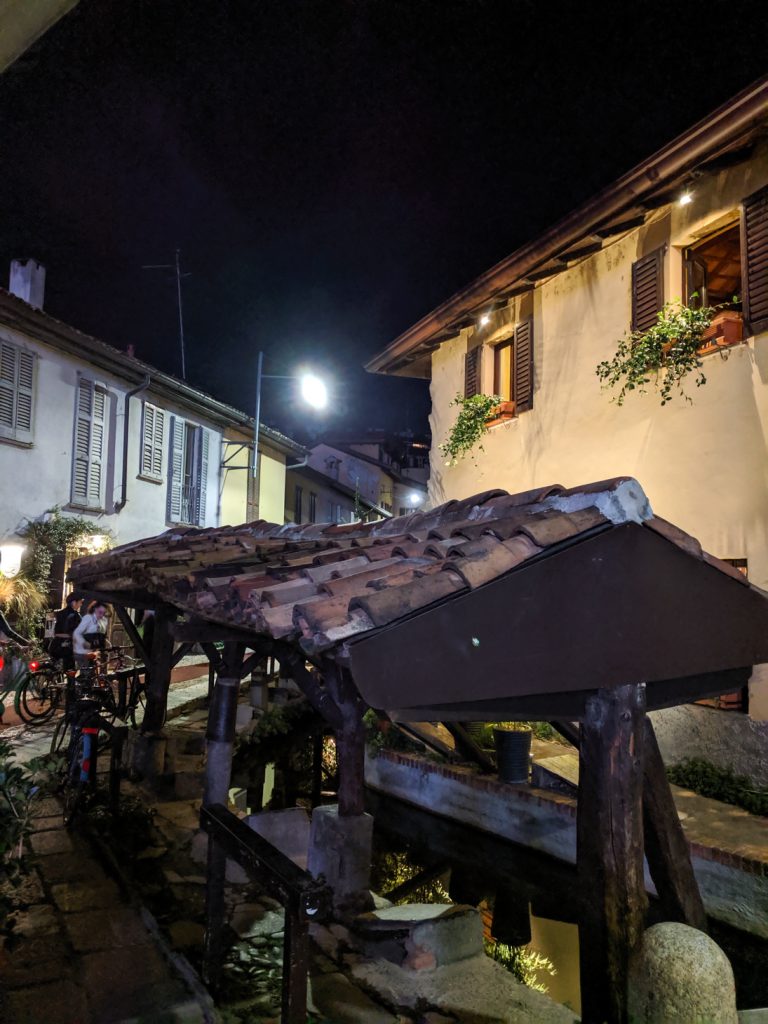 Officina12 & GinO12
During our night out in the Navigli District, we landed on dinner at Officina12, a contemporary Italian restaurant that is connected to and a part of the bar GinO12 serving up gin cocktails exclusively. In fact, it's the first ever Gin bar in Milan. Clearly I found my spot!
More Italy Guides To Check Out: