Thrive Market makes shopping for keto-approved products so easy. If you're not familiar with Thrive Market, they are an online-only market aiming to make healthy living easy and affordable for everyone. This post includes some of my favorite items to order that you'll love too!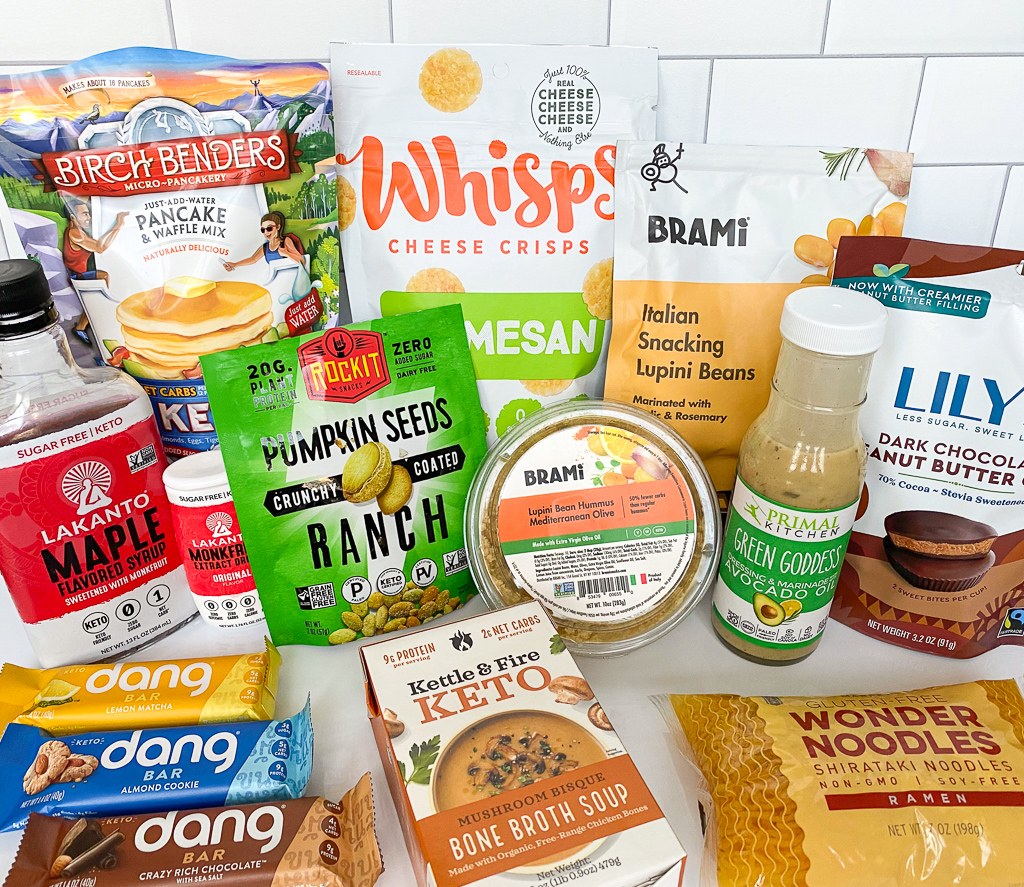 They simplify the supply chain and offer wholesale prices to consumers with an average of $30 in savings per order. From our past orders, we've saved anywhere from $35-$80 per order. Below is a summary of our savings since January, and the projected annual savings is $1,333.14! That is insane. This article goes more into detail about the benefits of a Thrive Market membership if you're interested. Beyond the savings, I love how they have more than 70 filters available according to dietary needs and lifestyles. Most people these days have at least one it feels like.
I first mentioned my love for Thrive Market in my Quarantine Favorites post. As for a little background on my Keto journey, I've been doing the Keto diet for the past two months, which was conveniently timed to being generously gifted a subscription to Thrive Market at Christmas. I've enjoyed being on the keto diet more now than the last time I did low-carb/low-sugar because of all the fun groceries I've discovered. It is definitely not for everyone and there are many variations of the diet that work best for different people. I'm trying to keep mine clean, healthy, simple (no tracking), and sustainable enough to establish long-term habits. I genuinely feel better when I do it, so in time I'll probably stick to it 80% of the time at home and be more open to splurging when I go out or travel. Only time will tell…. In the meantime, let's get to it!
Thrive Market Keto Favorites
Yogi Teas –Thrive Market has a great tea selection, which I've been taking full advantage of to try new brands and flavors. I'll mention new discoveries in a future post, but in the meantime you'll know from my 9 Healthy Teas You Need To Try post that we love the Yogi brand!
MammaChia Organic Black Chia Seeds – You can buy chia seeds at most supermarkets, but they offer them at a great price on Thrive Market.
Birch Benders Keto Pancakes – The texture of these is different from traditional pancakes but they still get fluffy and satisfy the comfort food craving. It feels like such a treat!
Lakanto Monkfruit Extract Drops & Maple Flavored Syrup – To pair with the keto pancakes, I use this brand's maple flavored syrup and it definitely fits the bill. I later purchased their drops for when I make something that needs an added hint of sweetness. A little goes a long way!
Dang Keto Bars – It's really hard to find keto-friendly snack bars so I'm really glad I found these on Thrive Market. I got the variety pack that has 3 of their 5 flavors to sample. They're perfect to throw in your bag while you're running errands.
Thrive Market Organic Coconut Wraps – I got these in the Turmeric flavor and thought they were so cool and different. Surprisingly they stayed together really well and were convenient to have on hand for a quick wrap for lunch. Recently I had the idea to treat these like the wrap of a Vietnamese Summer Roll with shrimp, cucumber, julienne vegetables, and fresh herbs. I think it'd be so good with the coconut flavor!
Primal Kitchen Sauces & Salad Dressings – I've convinced so many people to buy Primal Kitchen products because they are the best! I first heard about them from Kelly LeVeque, who I've followed for years and totally trust and admire. Their Green Goddess and Ranch salad dressings are my favorites. I've even used the ranch to dip cucumbers in for a healthy snack.
Kettle & Fire Keto Bone Broths & Soups – I've loved this brand for a few years now, keto or not! Bone broth is incredible for your health with a wide variety of benefits. I enjoy bone broth as part of a meal, or even as a healthy snack. The plain broths I drink out of a big mug and it's the best. I love that Kettle & Fire also offers soups with a bone broth base, which I find more filling.
RockIt Crunchy Coated Pumpkin Seeds – Enjoy them as a snack on their own, or mixed into salads for an added crunch.
Brami Italian Snacking Lupini Beans & Dip – As a hummus lover, I was thrilled to find this keto alternative to chickpeas in both beans and dip form.
Whisps Cheese Crisps – These are a great snack with loads of flavor!
Flackers Flaxseed Crackers – I discovered these a few years ago and have repurchased them over and over. The rosemary seasoned ones are my favorite!
Epic Pork Rinds – These are so random for me but I'm on a kick. They're a really satisfying savory and crunchy snack. When I went to the Ravenous Pig Beer Garden here in Orlando last weekend, they had pork rind nachos on the menu – genius! Then, a couple days later I saw Tori Tori (also here in Orlando) post a new kimchi pimento cheese with salt & vinegar pork rinds dish. Seems I'm not the only one on a kick!
Thrive Market Wonder Shirataki Noodles – Shirataki noodles aren't everyone's cup of tea, but I don't mind them at all. The options are endless with what you can do with them. We've especially enjoyed their ramen noodles!
Thrive Market Organic Riced Broccoli & Cauliflower – In addition to Shirataki noodles, these are great to keep on hand for quick, easy and healthy meals.
Yai's Thai Curry Sauces – At first glance, these aren't keto. But the serving size is 1/2 cup, which is way more than you need for one individual meal. They're really flavorful, easy and delicious!
Four Sigmatic Latte Mixes – You may have heard me talk about these before in my Quarantine Favorites post. Four Sigmatic is another brand I've been hooked on ever since I tried their lattes. They are all so good! I treat the Chai Latte and Cacao Mix as "dessert" drinks and love that they have adaptogens to help me relax at night and fall asleep faster. They are pricey so I appreciate the reduced rate Thrive Market offers compared to our local supermarkets.
Lily's Dark Chocolate Peanut Butter Cups – Not only do these taste like the Justin's ones I've previously loved, they are also individually wrapped – necessary for portion control!
Some Keto Meal Ideas I Love
With the above keto products, here are some snacks and meals I've really enjoyed!
Miscellaneous Non-Keto Specific Buys
Fruit and Veggie Huggers & Avocado Huggers – We've used these a lot since we got them. They're a great alternative to ziploc bags or deli cups that we used for lemons, limes and avocados previously.
***This post is not sponsored whatsoever. I'm genuinely just a big fan of Thrive Market! Therefore, I would love if you sign up for Thrive Market if you'd consider using my referral link here. You will get 25% off your first order, and I'll receive $25 in Thrive Cash. Everyone with a Thrive Market subscription has access to their unique referral link – more information here if you're interested. Thank you in advance!