There's no where in the world quite like Las Vegas (okay…maybe Macau). My most recent trip to Las Vegas was my third visit to Sin City, so despite being another work trip, it was time to write about it on the blog. Traveling to the same city three times might seem like a lot to some people, but for Vegas, I feel like I go could ten times and still not feel qualified to write a whole city guide on it – there are SO many places still to cover! Instead, I'm rounding up my top 6 favorite places I have been to, what's on my wishlist, things you should know before you go, and more!
Things To Know Before You Go
The airport is only 5 minutes drive away from the Strip. This is so rare compared to most other cities I've traveled to around the world, and it's so nice! I was able to go out for dinner and drinks, go back to my hotel to change and finish packing, and still make it to the airport with time to spare before a redeye.
The hotels are gigantic. If you don't like walking, Las Vegas may not be the city for you. Or, at least, make sure you pack comfortable shoes. I stayed at the MGM Grand this most recent trip and my hotel room was a 30-minute walk to our event space within the same hotel (and I wasn't even staying at the farthest end).
It's very expensive. While there is a wide range of places to eat, drink and stay, generally, the good ones are pricey. You can get free drinks in the casino if you are actively gambling/using machines and can spot a server, otherwise it'll run you $18 for a cocktail just about everywhere. I found it to be worse than NYC, where most cocktails cost around $14.
People come to Las Vegas from all over the world, so don't worry too much about your attire. I always think of Vegas as being super dressy, but I was reminded just how casual 85% of the people actually are. That said, it's worth checking restaurant dress codes online before you book a place. Also, refer back to point number two – ladies, you don't need to wear heels every day!
It gets HOT in the summer/fall. I thought traveling in September might be cooler than my Scottsdale trip in June, but nope! It was pretty unbearable walking from hotel to hotel, even at night. It's dry heat just like an oven.
A saving grace to consider: the monorail. It doesn't make the most sense for all outings, but the monorail is a good option for when it's hot outside and/or when you are wearing heels.
My Top 6 Restaurants, Bars and Attractions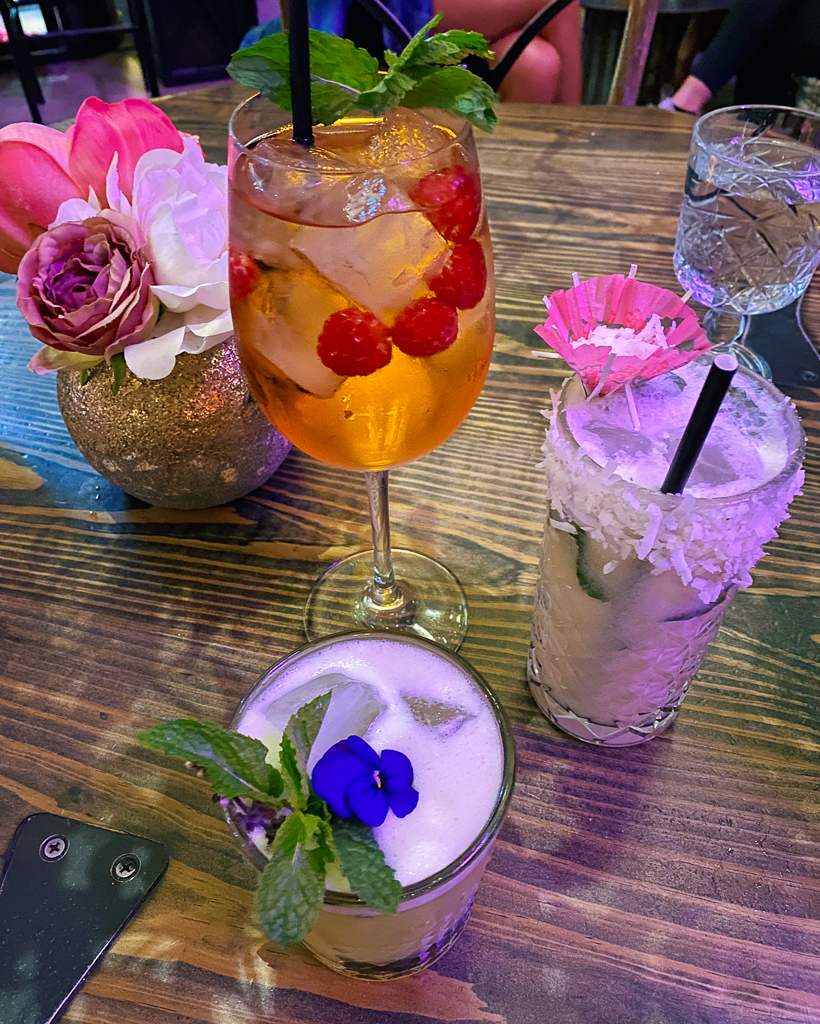 At The Top of My Wishlist
Hell's Kitchen at Caesar's Palace – Gordon Ramsay's iconic restaurant is named after his long-running reality TV show, Hell's Kitchen. Make a reservation weeks in advance if possible because it's one of the most popular in the city and books up quickly. What would I order? The beef wellington, of course!
Bazaar Meat by Jose Andres at the Sahara – The adventurous eater in me is eager to try Bazaar Meat by Jose Andres. I also love that it is mostly small plates meant to be shared so you can try more in one sitting. While I thought this was tempting enough, I read that he offers an all-new umami-centric dining experience with their Truffle Fest menu, available exclusively during the month of November!
Ghost Donkey at Cosmopolitan – If you're into tequila and mezcal like me, Ghost Donkey is one of the few speakeasies on the Strip. I tried to go with a few friends last time I was there but it was a bit too full for our comfort, so I'm saving it for next time. It is very small inside, but it's easy to spot before/after going to the Chandelier Bar. You'll find it on the second floor in the food court with a little donkey sign above an unmarked door.
You Can't Go Wrong
I've been to most of these reputable, celebrity chef chains in NYC or elsewhere, so they're worth checking out in Vegas too!
Other Restaurants on my Wishlist
I'd love to know where your favorite hotels, restaurants, bars and shows are in Las Vegas. Leave me a comment below and I'll add them to my wishlist for next time!