The longer I live in Orlando, the more I come to appreciate the variety of high quality restaurants and bars within such a short distance. North Orlando, which I'm considering to be from Downtown to Maitland, has rapidly developed in recent years and only continues to grow with new places popping up left and right. It's an exciting time and I love living smack dab in the middle of it! House hunting here? Well that's another story for another day. In the meantime, here is a complete guide to the best bars to drink beer, wine and cocktails in Orlando. Make sure you check out my 2021 Orlando Food Guide too, which I am continuing to update on a regular basis.
For Wine in Orlando
For the ultimate self-guided wine tasting experience: Look no further than The Wine Room for the ultimate, self-guided wine tasting experience. They showcase over 150 wines from around the world that can be sampled in either 1 oz., 2.5 oz., or 5 oz. pour size via their wine dispensing machines. All of their wines are also available by the bottle to enjoy on the spot or to bring home for later. This is one of my favorite places to take visitors! They also have a variety of meats, cheeses and small plates.
For a relaxed, sit-down wine tasting experience: For a more relaxed approach to wine tasting, there are a few great options. Wine Bar George by George Miliotes, Master Sommelier, is located in Disney Springs and offers more than 140 wines all available by the glass, bottle…and the ounce! The setting is gorgeous and the full food menu is delicious. I haven't been here as often as I'd like because it's a bit far from where I live, but I've been extremely impressed every time I have been. Sixty Vines is a restaurant that offers 60 wines available on tap in 2.5 oz., 5 oz., or 8 oz. pours, or also available by the bottle. You can enjoy this experience at their expansive wraparound bar or from your table with recommendations provided by your bartender or server. For a proper wine tasting flight, Quantum Leap Winery is a local urban winery that takes a reinvented, environmentally conscious approach to the wine business model. Check out their fascinating story and vision here. Their staff are extremely knowledgable and engaging, and they also offer tours.
For a cozy casual neighborhood wine bar: Digress Wine is a hidden gem in the College Park neighborhood. It's a wine bar and shop with indoor and outdoor seating, special events, a food truck, and even a wine club membership. I'm excited to spend more time there! In Winter Park's Hannibal Square, I highly recommend Vinia Wine & Kitchen. Fabio is super knowledgable about all the wines he serves and is a true delight. His Fabio's Table pre-fixe dinners are a must!
For a wine shop that has really impressed me: Tim's Wine Market has been a local favorite since I moved to Orlando. They have a specially curated selection of wines with weekly tastings, special events, and a very friendly and knowledgable staff. I love their wine club membership because it includes a thorough write-up from Tim with food pairings, recipes, tasting notes, and stories from his time visiting the winery and meeting those who own it. I also love their Crazy Case Sales and Adventure Boxes because they're such good deals! Tim's has three other locations in Windermere, Lake Mary, and St. Johns.
Other places to consider: The Parkview, Eola Wine Company, Bites & Bubbles
On my wishlist to try: The Wine Barn, Swirlery Wine Bar, Wine & Corks, Golden Hour Wine Shop, Curate Natural Wines at Eola General
For Beer in Orlando
For our favorite craft brewery ever: Let's be honest…there is no where in Orlando we have gone more frequently than Ten10 Brewing Company. It is our #1 spot for good reason – every beer is so damn good! We also happen to love the owners and all the staff. It's the craft brewery that got me into beer, and that made me appreciate IPAs, sours and even stouts. Plus, they switch up the menu fairly often (while also keeping some of the classics on tap too) so it never gets boring. It's worth noting they also have canned vodka sodas, and a white wine, red wine and a cider from neighboring Quantum Leap Winery for those who don't drink beer.
For a rotating craft beer menu in Mills 50: Unlike Ten10 who makes their own beer, The Thirsty Topher offers a rotating variety of Florida-made craft beers from other breweries. I love that I can always find something interesting on the scrolling menu, or discover a Florida brewery I've never heard of. We particularly love grabbing a beer here when Tate's working, or on our way to or from Ivanhoe Row. For anyone who doesn't like beer, they also have a limited selection of sangria, wine and seltzers.
For a rotating craft beer menu in Audubon Park: Redlight Redlight is hands down our favorite bar in the Audubon Park neighborhood. They have a wide variety of craft beers (both their own and others), rotating food trucks and occasional special events like this one with Indian River Oyster Company.
For a craft brewery in the Milk District: If we are ever in the Milk District neighborhood, we always stop at Sideward Brewing Co. – a modern, family-owned brewery, tap room and kitchen. We love their shaded outdoor patio (with fans) on a nice day, and their central location. It's the best place to park if you want to hop around the neighborhood, but go early! It fills up quickly.
For a rotating craft beer menu in Milk District: Whippoorwill Beer House & Package Store has made a great impression on us. The space is beautiful and bright with an open floor plan that feels very chill. Instead of flights, you can pick your size pour and make your own without being committed to a certain number. For any fellow sour beer lovers, they always have some amazing ones!
For the largest beer offering: While all the above certainly offer plenty of beers to choose from, I think it's safe to say GB's Bottle Shop & Tasting Bar wins the award for having the biggest selection of craft beers. If you want to try something different or are craving a specific flavor of beer, chances are you'll find it here! As for food, they have food trucks and local vendors like @itsthepizzaslut at peak times. Down the street is the newer Gnarly Barley restaurant and bar with a much more curated selection.
Other places to consider: Ivanhoe Park Brewing Company, The Twisted Handle, Barley and Vine Biergarten
On my wishlist to try: Hourglass Brewing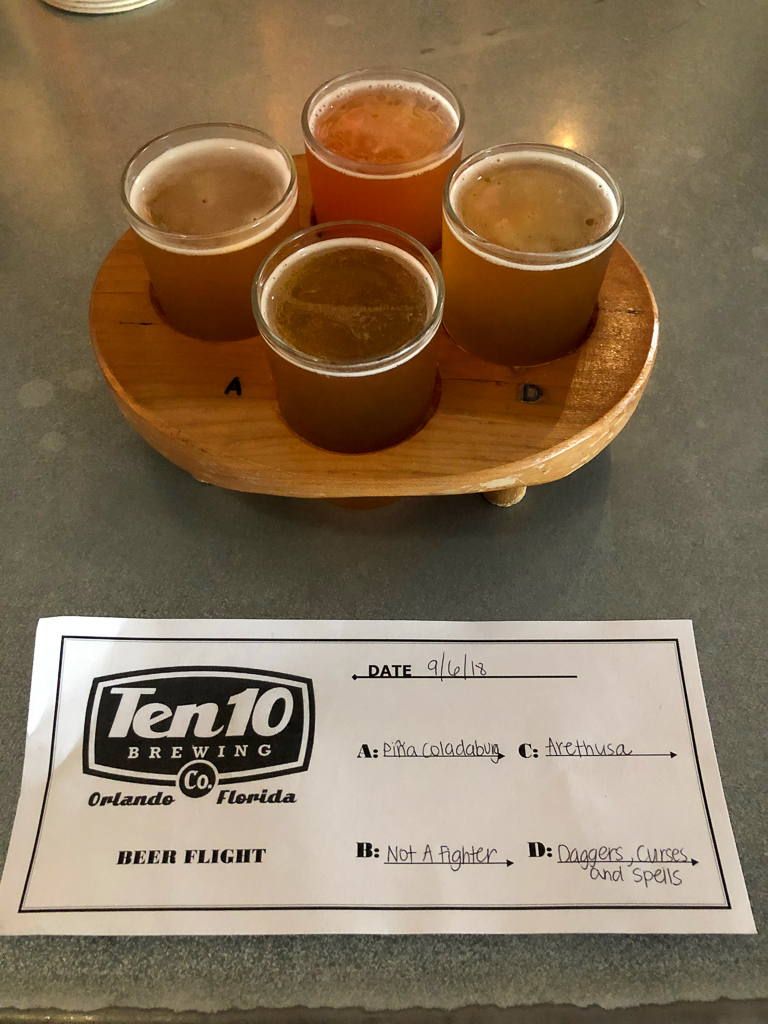 For Cocktails in Orlando
If you're looking for interesting cocktails that often rotate, or at least have great bartenders that can make something special for you, this is your section!
For a consistently reliable cocktail bar – Similar to Ten10, The Matador is my most frequented local cocktail bar due mostly to the convenience of location. I tend to enjoy switching things up with what I order at other bars, but at The Matador I always go for the Sunflower. It has gin, St. Germain, Cointreau, lemon, and an absinthe rinse. Everyone who I've told to try it loves it as much as I do – it's just so perfectly balanced. Fortunately it's part of their limited but permanent drink menu on the chalkboard above the bar. They also offer rotating cocktails that are yummy – you can find those at the chalkboard at the end of the bar.
For creative, fun and expertly crafted cocktails – Sunroom can do no wrong when it comes to cocktails, especially on their latest menu. They have the bartenders that will describe each cocktail to you in the most amazing way – you know the kind. The best! It's the perfect spot for date night, catching up with friends, or a nightcap.
For a cozy vibe and mixologist-crafted seasonal menus – The Courtesy has some of the best drinks and bartenders if you are into mixology and trying new liquors, vermouths, amari, bitters, and sherries. Since it's small inside, I recommend it for groups of two, particularly date night!
For a themed bar that takes you back in time: Mather's Social Gathering is an old-fashioned, parlor-style cocktail lounge in Downtown Orlando. I admittedly went to Mather's more often when they first opened, but I only attribute that to rarely going downtown anymore, or at least not that area of downtown. However, based on the many times I did go, I always enjoyed their cocktails, the jazzy, slightly fancy vibe, and the escape from what feels like somewhere far from Orlando.
Other places to consider: Lil Indies, The Robinson Room, Hanson's Shoe Repair, Ann Teague's Lamp Supply, The Oliv Bar, Ava MediterrAegean
On my wishlist to try: AC Sky Bar, Zenva (mocktails only!)
Other Bars I Love in Orlando
These bars offer wine, beer and cocktails, whereas the above are more suited to or only offer one.
For classic cocktails made well, plus wine & beer – The Guesthouse is our favorite first stop of the night or happy hour spot. We often pair a visit here with a cocktail at Sunroom and/or tacos from Black Rooster Taqueria next door.
For a split menu of wine and beer: While the above bars and restaurants may offer both wine and beer, I tend to only go to them for one or the other. Whereas places like The Imperial orGrape & Grain, I order both. The Imperial is a neighborhood bar housed in a one-of-kind furniture store (Washburn Imports) for a unique atmosphere. You order at the bar and sit indoors or outdoors on the furniture itself. It's fun to walk around as well! Grape & Grain, aptly named, is a neighborhood bar in Mills 50 with a fantastic back patio. It's my go-to when it's nice outside or when I'm craving frosé. They also serve frozen sangria that can be enjoyed alone or mixed with frosé – that's my favorite!
For a Winter Park beer garden experience: One of my favorite restaurants in Orlando, The Ravenous Pig, opened The Ravenous Pig Beer Garden within the past year. It is 100% outdoors, located between the restaurant and their brewing facility. While they of course have their TRP Brewing beers on tap, they also have wine and gin & tonics, palomas, vodka sodas, Moscow mules and a few other classic cocktails on tap. Plus great bar food! The main tip here is to avoid peak time, as it can be difficult to find parking or a seat/table. Fortunately they've added shade above the tables. *Note, the Ravenous Pig bar indoors is completely separate, though still a great option.
For a modern day cocktail bar meets traditional Japanese pub mash-up, Tori Tori's concept is just that. I raved about their food already in my Orlando Food Guide, but I had to give them another shout out for how incredible their drinks are. It hits the spot every time because they offer something different than every other bar on this list. Plus, I absolutely love sake. For the best experience, we like to arrive as soon as they open because it gets crowded quickly and can be tough to find parking.
For Instagram-worthy drinks and atmosphere: The Wellborn is a boutique hotel with a public "house bar" for all to enjoy. It's made up of a very large courtyard that's great for groups, and a charming two-story bar and terrace. Service admittedly is not always the best, but it kind of goes with the relaxed vibe they offer. In addition to delicious cocktails they have a food menu, wine and beer too.
On my wishlist: The Monroe,The Imperial Winter Park location
Some other situational recommendations
Warning: These are mostly in Mills 50 because that's where I live and spend the most time.
For happy hour drink deals: Russell's, Bulla, The Guesthouse, and Sunroom are some of our favorites
For a restaurant with a good bar to sit at: The Pinery, Hillstone, Prato, Domu, The Strand,The Ravenous Pig, Russell's, Agave Azul, Dovecote, The Osprey
When it's hot AF and you're hopping around Mills 50: Check out Sunroom's "Carefree & Crushable" menu, Grape & Grain's frosé, frozen sangria OR the mix of both (it's delish), Thirsty Topher's sangrias, The Pinery's G&T, or Russell's watermelon cocktail.
When you're in need of some good bar food in Mills 50: Ten10 smoked wings or chorizo nachos, Hideaway teriyaki merlot wings, tater tots or patty melt, Black Rooster Taqueria tacos before/after Guest House or Sunroom, and even Lil Indies has bar food now too!
I'd love to know where YOUR favorite bars and/or drinks are. Comment below!
In Case You Missed It