To truly know where someone's favorite local spots are, ask where they take their visitors. After all, your favorite places ultimately reflect upon you and your taste. I've tried and tested these local spots many times, some even dating back to when I went to UCF! This is my complete Orlando Food Guide you can't miss – the ultimate list of my favorite, reliable restaurants and cafes that not only I love going to, but my friends and family always enjoy too! Plus, I've included some of my favorite things to order at these restaurants, tips on where to sit, and what places are on my wishlist to try next. I'll keep this guide updated if I discover any new local gems, and update you on my Instagram @adventuresingourmet if I do! I also recommend checking out my Orlando City Guide: My Favorite Bars to Drink Wine, Beer and Cocktails.
Breakfast/Brunch in Orlando
For a quick breakfast take-out that hits the spot: We were finally were able to try out Deli Desires, a new Jewish deli in Colonialtown, recently and have already gone again to try something else from the menu. It is DELIcious! I was obsessed with the classic gravlax on caramelized onion bialy, my sister and brother-in-law loved the bacon sandwich, and Spencer raved about the scrapple and white fish. I'd skip the latke one next time but it was a fun one to try. The homemade bialy bread is incredible and blows bagels out of the water. We also tried their egg salad, which was definitely a more chunky version than what I'm used to, but the flavors were delicious. We can't wait to go back to try out even more from the menu, and it certainly will remain a place we'll be excited to take our visitors to. For inspiration on what to order, check out their drool-worthy pictures on their Instagram @delidesires!
For a trendy coffee shop meets cafe menu and vibe: While these two places have a similar appeal, they do have a few key differences that can help guide your decision of where to take your visitors. Foxtail Coffee Co. is an Orlando staple that has been successful for years. They have multiple locations but their Winter Park one specifically offers a great atmosphere both indoors and out, and a fair amount of seating. On the other hand, New General is a bit smaller with less seating, but it has the benefits of slightly more creative menu, a general store with unique home goods, and it's steps away from Park Avenue.
For the classic Winter Park brunch experience: Briarpatch on Park Avenue is probably the most popular brunch spot in the area, evident by the fact that there's almost always a long wait on the weekends. They don't take reservations, which makes this plan a little tricky, but it can be worth a try if you go early and have a back-up plan. For back-ups, I would recommend Boca or The Coop nearby. When I went to UCF, the only time I'd come to Winter Park was for Briarpatch, which goes to show how long it's been a staple.
For a laidback brunch that's a great deal: We continue to be impressed by the brunch offerings at Bulla Gastrobar. They have a 3-course brunch pre-fixe menu for $28 that offers you a lot of food, plus it can be shared with someone. Or, you can pick any one item from that menu. The Blueberry & Ricotta pancakes are a third course menu option, but it's plenty for one person's meal on its own and is only $10. Even the Bulla Benedict I ordered was $12. What's interesting is the portions are exactly the same for each dish whether you order it alone or as part of the 3-course meal. If you want to go the boozy route, they also have unlimited mimosas and sangria for $18, which is a good deal because they charge $11 each, making it worth it if you drink at least two.
For an extravagant boozy brunch: For a memorable, extravagant brunch, look no further than Santiago's Bodega on Virginia Drive. They have a buffet with a mix of brunch classics and Spanish dishes, but what makes it stand apart from any other brunch I've had is their Prime Rib carving station and king crab legs. It also offers the lively, fast-paced brunch vibe some groups might be looking for. We love sitting outside if we can get a table there, or the bar area as the second best spot.
Other places to consider: Eola General, White Wolf Cafe, Peter's Kitchen (for authentic dim sum), The Ravenous Pig, Russell's
On my wishlist to try: The Robinson Coffee Room, Winter Park Biscuit Company in East End Market
Lunch & Dinner in Orlando
For a damn good sandwich: These three places are all very different, but they have one thing in common – a damn good sandwich. Paris Banh Mi Cafe & Bakery makes a delicious Vietnamese Banh Mi sandwich, along with fun teas, boba drinks and French pastries. Stasio's Italian Deli has gourmet Italian subs, an Italian market, and is conveniently located next to Sideward Brewing and other favorites in The Milk District. Swine & Sons makes an incredible shrimp roll. Last but not least, Pom Pom's Tea House & Sandwicheria has withstood the test of time. I went in college (years ago!) and still enjoy it today. They have something for everyone. P.S. You have to try the Mama Ling Ling's Thanksgiving sandwich at least once in your life!
For a casual, order at the counter spot: Black Bean Deli is a delicious Cuban cafe, and Black Rooster Taqueria and Tako Cheena make great tacos. The benefit of the taco spots is that they're very close walking distance to many of our favorite local bars you'll find in my Orlando Bar Guide.
For a mix of adventurous and not adventurous eaters: For something a little different that not everyone can find at home where they live, Bem Bom, The Greek Corner and Hawkers both offer an approachable but still interesting menu. At Bem Bom, you have to try the lamb burger – it's everyone's favorite and award-winning! At The Greek Corner, the portions are large so you get a lot of bang for your buck. In the past year, they extended their patio and added an awning for shade – definitely sit outside if you go here! At Hawkers, we also prefer to sit outside where it's not as noisy. We love their Kunizakari Nigori Cup cold unfiltered sake, bulgogi beef skewers, and Hawkers wings in the spring onion ginger sauce.
For sharable tapas that's perfect for groups: I honestly think we have taken every single visitor to Santiago's Bodega. Friends and family always love it, and so do we! We've also tried all but a few items on the menu, and best of all, they are consistently cooked/prepared well time and time again. It's hard to pick favorites but I'll try! The beef carpaccio and prosciutto-wrapped dates are probably our most ordered. We also love the cheese and charcuterie plates (no surprise here!), shrimp and chorizo, petite-rack lamb, Brussels sprouts, beef tenderloin and spanakopita. Because most of our favorites are hot tapas, I prefer it for dinner or an evening snack. As I mentioned above, our favorite place to sit is outside, and second would be the bar area.
For an upscale meal & experience and a lively vibe: Both Hillstone or Sixty Vines are in my opinion, impressive. Anyone you take there will appreciate the quality of their food and drinks, but also the atmosphere. I honestly don't think I could narrow down my favorite food and drinks at both of these places!
Other places to consider: Prato, East End Market in general (Farm & Haus, Hinckley's Fancy Meats, Le Femme du Fromage), Hunger Street Tacos, MX Taco, King Bao
Lunch spots on my wishlist to try: The Pastrami Project
Dinner Only
For a lively scene and shareable Asian small plates: Out of the seven places we ate at while my sister and brother-in-law were in town, they agreed that Tori Tori Japanese Pub was their overall favorite. It checks all the boxes: great vibe, service, food, and drinks. Bonus that they offer something truly different with a variety of creative drinks & dishes. I recommend going as close to their opening time as possible because it fills up quickly. Clearly we're not the only ones who love it! Some of our favorite things to order are the crab fried rice with garlic (a non-negotiable if we eat there – it's SO good!), blue crab & corn croquettes, the chicken karaage (Japanese fried chicken) with Japanese citrus pepper sauce (I'm obsessed with this sauce), and the chicken oysters.
For the most comforting AND flavorful meal that's worth the hype: Domu is an Orlando hotspot in the Audubon Park District that has since expanded into a new location in Dr. Phillips and more recently in Jacksonville, a Domu wings pop-up, and a sister concept, Tori Tori (above). They're best known for their ramen and wings (rightly so), but I love their cocktails and other plates too!
For delicious sushi and so much more: Kabooki Sushi is one of my favorite local restaurants if my visitors want sushi and a good vibe. Kabooki remodeled and expanded during the pandemic and WOW it's impressive! I love their Hawaii x.o. roll and Zen roll, and have on my list to try their ramen.
For carbs that are really worth it: Pizza Bruno has our favorite pizza in Orlando, and I know I'm not alone. They have a long-standing stellar reputation in Orlando for good reason. On this entire list, it's the most inconvenient and farthest location but it's always worth it for their garlic knots, meatballs and Crimson Ghost pizza.
For a cozy neighborhood vibe and seasonal dishes: The Strand has been one of my go-to restaurants since I moved back to Orlando. It's a restaurant I feel good supporting because it's family-run and they source their ingredients locally – you can find the specifics on the chalkboard above the main entrance! Their menu changes seasonally but I love the snapper cakes to start, and the red snapper and scallop entrees. The Strand also has a fantastic menu of natural wines worth exploring. When Spencer and I go for date night, we always sit at the bar. For groups or visitors, I highly recommend making a reservation for a table.
For an upscale yet casual & relaxed dining experience that's never stuffy: I'm a gourmet girl through and through. Therefore, it comes as no surprise that the upscale sections are the most robust. We've dined at each of them at least a handful of times and are very rarely, if ever, disappointed. Plus, they all (except Bites & Bubbles) have great happy hours and are a hit with our visitors too! At Luke's, we love to sit outside, order some cocktails and starters to share, and enjoy a long, relaxed meal while taking in the atmosphere. The Osprey is beautiful inside and at the bar, but we love sitting outside for the bustling atmosphere in the heart of Baldwin Park given it's corner location. They also have oysters on happy hour, which is a bonus in our book! If you follow me on Instagram @adventuresingourmet, you'll probably notice that I post about The Pinery a lot. We love going there after work for their "Golden Hour" happy hour and sitting at the bar (inside or outside). I find the dining room to get a bit noisy, so if there isn't space at the bar we honestly go across the street to Russell's. Last but not least, the newest opening of them all. Bites & Bubbles' new location has plenty of indoor, outdoor, rooftop and bar seating. We love the friendly service, relaxed atmosphere, expansive wine list, unique cocktail menu and dinner menu. The escargot, the cheese selection, the smoked fish dip…you can't go wrong. I didn't have a great brunch experience but would like to try it again soon. I heard they revamped it a bit.
For an upscale dinner with a sophisticated menu and knowledgable service: At The Ravenous Pig, their menu changes regularly so we're always excited by all the amazing options. Their service is great so we tend to lean on our server for menu suggestions. It's no surprise that my love for Russell's runs deep. See my full review here for all the details. I always sit in the bar area for a better atmosphere, and their meat/fish entrees are always cooked to perfection.
For special occasions and celebrations: I couldn't include a roundup of my favorite places without mentioning Kadence and Camille. I've written about Kadence many times, including two reviews from their pre-fixe dinners here & here, and of their Chirashi Bowls here. We've dined in-person for birthdays, anniversaries and Valentine's Day, and it's always such a treat. My review of Camille is also detailed on the blog. Both are 100% worth the price, I promise! Another more recent favorite is VINIA Wine & Kitchen in Hannibal Square. Let my review and photos on Instagram be proof that Fabio's Table ranks up there with Kadence and Camille – a phenomenal experience! For the most lively and trendy vibe you can get in Orlando, Ava MediterrAegean is a fun upscale date night or girl's night out. I have only been once when they first opened, so I an't speak to how it may have changed since. That said, we had a great experience and ordered a LOT. See my reviews on Instagram for the apps & entrees and cocktails & desserts.
Other places to consider: DoveCote, Atlantic Beer & Oyster (ABO), Sushi Lola, Christner's
On my wishlist: Chez Vincent, Hamilton's Kitchen; Special Occasions: The Foreigner, Doshi, Soseki, Kabooki's Chef's Table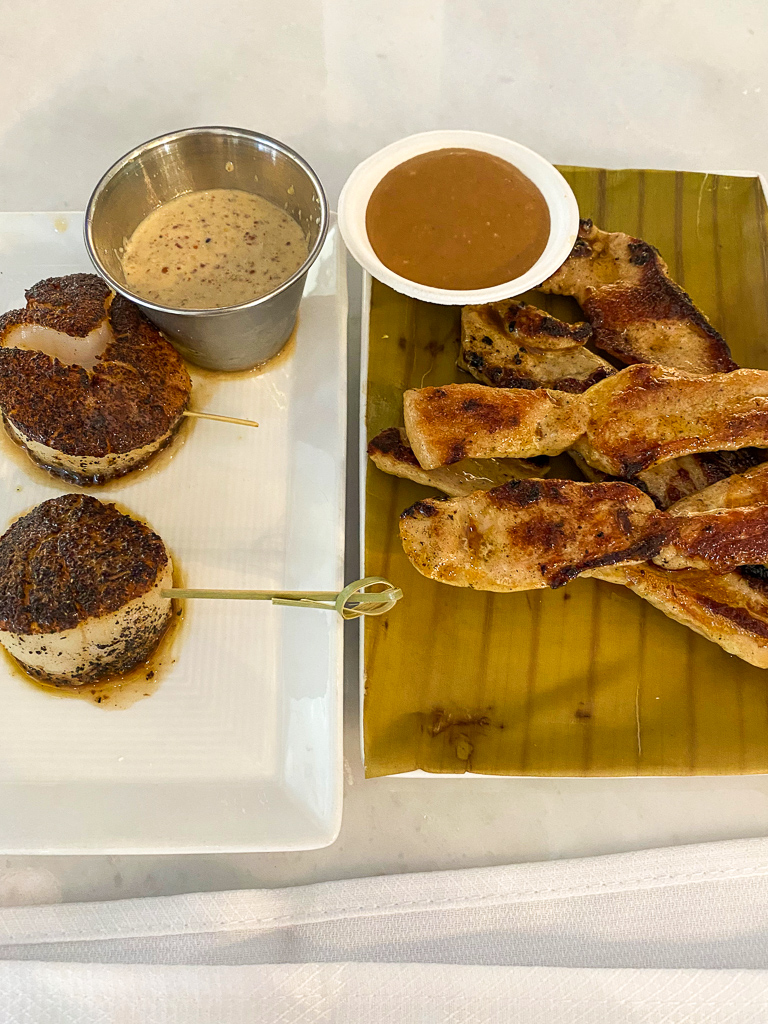 Dessert in Orlando
For a romantic date or girl's night out: I tried Better Than Sex – A Dessert Restaurant for the first time when my friend Carly visited me, and we had so many giggles because the names of everything are steamy, and "ooo's" because everything sounded SO GOOD and indulgent. It's a fun and memorable one!
For a quick, refreshing treat the whole family will enjoy: I first had Jeremiah's Italian Ice when I was in college, and I still love it. While we don't have it often, it's always a treat when we do! I get the Scoop Froggy Frog (mint chocolate chip).
For authentic homemade ice cream: It's hard to find a local ice cream shop these days. Fortunately for us, Kelly's Homemade Ice Cream is only a 5-10-minute drive away. The quality is incredible, and the flavors range from staple favorites and more unique, limited-time special flavors. The blondie ice cream is my all-time favorite. On my list? To order the banana pudding! My friend Katie raves about it. P.S. They now have multiple locations including Milkhouse in the Milk District and The Hall on the Yard in Ivanhoe Village.
For a cookie they'll never forget: Gideon's Bakehouse definitely tops the list for their huge and topping-filled indulgent cookies. I honestly can't put into words how good they are. They still sell out constantly, but at least at the East End Market location, you actually have a chance to get one without waiting in a super long line. The Disney Springs location is SWAMPED at all times.
For an afternoon sweet treat in a cafe setting: If your visitor wants dessert, The Glass Knife is a go-to because they have cakes, cookies, donuts, pastries and more. Plus, it's very cute and Insta-worthy inside!
For donuts & coffee: The Salty Donut has a great setting with both indoor and outdoor seating available, as well as fun, delicious flavors of donuts…because who can resist a good donut?
On my wishlist: Dochi in East End Market
For A Day Trip
If you go to Sanford: Hollerbach German Restaurant is always busy on the weekends especially to sit outside, which I much prefer. It's a fun spot for a group, and the food is authentic and delicious. Another favorite is Buster's Bistro for their Belgian beer menu. Check out my Sanford guide for details and more recommendations in the area!
On my wishlist in Sanford: The Old Jailhouse, Henry's Depot
If you go to Dr. Phillips: I've never had anything I didn't like at Dragonfly Robata Grill & Sushi in Dr. Phillips. Their cocktails, sushi, Robata grill entrees, and specials are all so good.
On my wishlist in Dr. Phillips: The H, Slate
If you go to Disney Springs: On a nice day, you can't beat The Boathouse. The restaurant is enormous with many different rooms, though we love sitting outside on the water. The prices, to be expected given its touristy location, are high, but the oysters are great quality if you're looking to treat yourself. Across from The Boathouse is Wine Bar George. From a nice wrap-a-round bar as you walk in to a bright and airy upstairs, Wine Bar George does it right. Great service, great food, and great wine. Go here with your visitors who appreciate good wine! I also love Jaleo by Jose Andres and Morimoto Asia.
On my wishlist in Disney Springs: Chef Art Smith's Homecomin', The Edison, and more dishes at my favorites above!
If you go to Mount Dora: When my parents visited in spring 2022, we went to 1921 Mount Dora for brunch to explore a new-to-us area. It was so delicious…I mean look at that foie gras! I definitely want to go back to explore more.
Thank you for reading, utilizing and/or hopefully enjoying my Orlando Food Guide. If you made it this far in one sitting, bravo! Stay a minute longer and tell me in the comments below what your favorite restaurants and cafes are – Orlando or wherever you are. I'm always looking for new places to explore, or new dishes to try out at my favorite spots!
In Case You Missed It
All of my City Guides! You can also find them listed alphabetically under "Discover" at the top of the page.