After starting off our trip in Point Reyes, we continued our journey to Napa Valley and then Sonoma. It quickly became one of my favorite places I've ever traveled to. Come along with us on the most incredible trip of winery hopping in Napa Valley!
My parents and sister had visited previously when we all took a trip to San Francisco years ago, but I went to camp in the desert instead (I wasn't 21 yet anyways). If you read my about me, you would know that my family owns a gourmet food store and catering company in Palm Beach. Selling wine in their store and maintaining an evolving wine list for catering clients means that we are regularly trying different wines at home. A major perk of the business! Going directly to wineries for wines we already sell or those we are interested in allows us to come back to work with a story of our first-hand experience with that wine.
Where We Stayed in Napa
Since there were five of us, we decided to book an Airbnb that would be a comfortable spot to come back to after long days of winery hopping. For those who might be wondering, we drove everywhere in Napa with our rental car. Each tasting was spread out, and whoever was driving among us simply tasted the wine, not drinking full glasses of wine at each stop. Everywhere was pretty close together, and there are plenty of places to stop along the way as needed. The main road is lined with winery after winery after winery for miles.
We found the adorable Napa Yellow House and loved how close it was to Napa's famous market. We even ate a meal at home one night with local ingredients we picked up along the way, with plenty of wine of course! More specifically, we had Point Reyes Original Blue Cheese sprinkled over a fresh heirloom tomato salad to start. The tomatoes in Northern California were SO good. I ordered anything with tomato nearly every place we ate. My mom and sister also made a white truffle pasta with broccoli, ham, red peppers and onions. Delicious!
Oxbow Public Market in Napa
We were lucky to be staying a few blocks away from the famous Oxbow Public Market in Downtown Napa. The market had an open floor plan filled with local, specialty goods and shops.
Gott's
Everyone we spoke to about Napa recommended Gott's for a burger, so of course we had to try it! I'm pleased to share that is did not disappoint. So flavorful and juicy! Living in NYC, it reminded me of an outdoor, roadside, rustic Shake Shack with picnic tables. It's a local gem worth stopping at.
Pizzeria Tra Vigne
When my parents and sister came to Napa 11 years ago, they remembered dining at Pizzeria Tra Vigne and swore was the best pizza they had ever had. Their seasonal balsamic, fresh mozzarella, heirloom tomatoes and basil pizza was amazing to say the least! We enjoyed it out on the patio facing Gott's.
Redd
We went to an lunch at Redd thanks to a recommendation and had a wonderful meal. The sleek, contemporary restaurant serves upscale California fare and has a lovely patio. We ordered the Glazed Pork Belly, Heirloom Tomato Salad (I told you I ordered heirloom tomatoes everywhere!), Smoked Trout Salad, Steamed Pork Buns and the Petrale Sole. I would highly recommend this spot to anyone visiting Napa!
Newton Vineyard in Napa
Our highly-anticipated tasting at Newton Vineyard started off with an adventure. We had trouble finding it at first, as it is tucked back (and up) in the mountains. Unlike many wineries in Napa, you can't see it from the road at all. We later learned that the property covers ground as high as 1500 ft! We finally landed in a parking lot, but no one and nothing was around. Then, we saw a sign that visitors are picked up in the lot by a Newton Vineyard vehicle. Low and behold, the Newton 6-wheeler arrives to pick us up and bring us up a narrow, steep hill. We made it!
Our tour included a walk through the majestic English gardens, impeccably designed and maintained with fresh lavender from England, France and Spain. Each one smelled and looked slightly different. Our guide encouraged us to take as much lavender as we wanted, so of course I did and continued smelling it as we walked around. So good! We went through the wine caves and had a look at their impressive vintage collection in the cellar. I've had some really great wines in my life, but I can't imagine how special those vintages must taste. One day!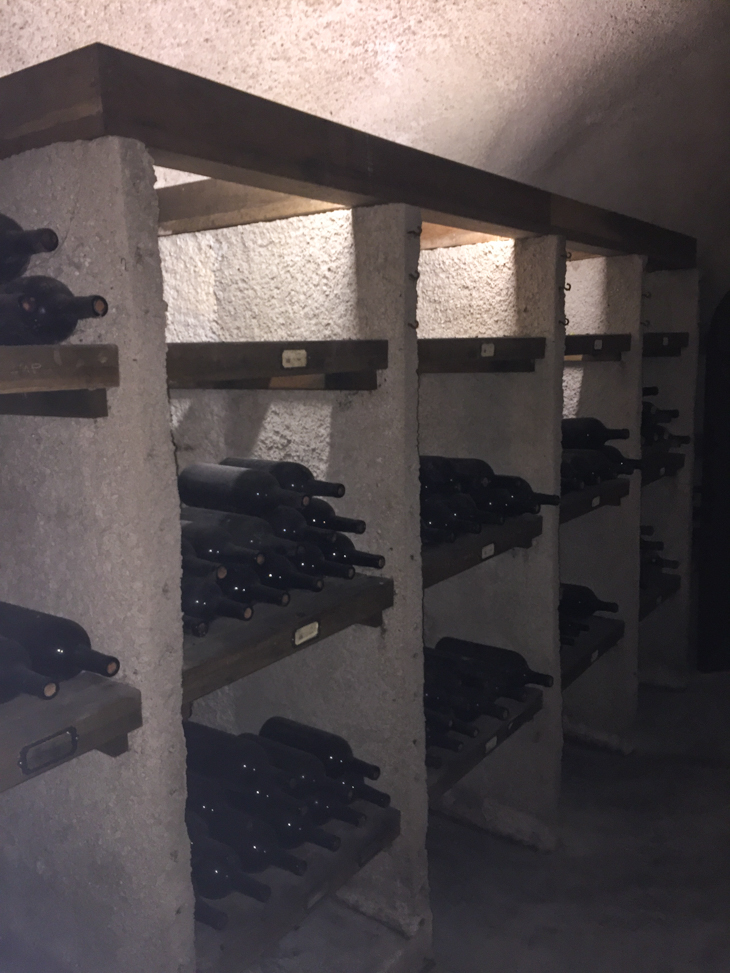 We went to the tasting room, which was about 800 ft. high, offering stunning views of the mountains and vineyards. Apparently it attracts quite the wildlife including coyotes and mountain lions! It was an intimate group of 12 of us including the tour guide, who was formerly a sommelier. The format of this tasting was so relaxing. Instead of our guide talking the whole time, the whole table discussed each wine and our thoughts. We talked about food pairings, where we had all dined in the area, where everyone was staying, etc. Our tasting included the Chardonnay, Merlot, Cabernet and The Puzzle. Turns out, that was the order of my preferences although I enjoyed all of them. Newton was, and may always be, one of my favorite winery experiences of all time.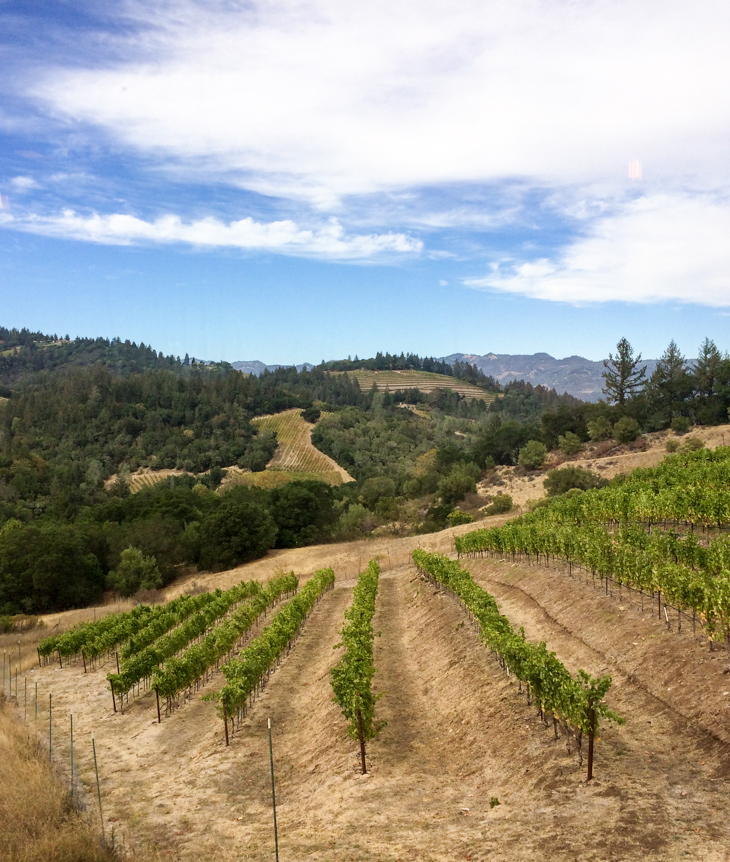 Inglenook Winery
Known for one of the best gift shops in Napa, we stopped by Inglenook to walk around the historic property in between scheduled tastings. The views of the vineyard was absolutely beautiful! There was also a bistro that was as quaint as could be.
Caymus in Napa
Instead of a formal tasting, we got a table outside at Caymus with a server who would bring by the wines we wanted to try. It was a chic atmosphere that I would recommend for couples, groups of friends, or anyone looking for a more laidback winery experience. Since visiting Napa, I have found that Caymus is very widely distributed across the country and offered on many restaurant wine lists.
Trefethen Family Vineyards
Trefethen Family Vineyards was the winery hardest hit by the 2014 Napa earthquake. The winery shifted four feet from the quake, damaging infrastructure to the main building and forcing them to host public tastings in a tent for nearly three years (note: the new tasting room re-opened in May 2017). Luckily when we visited, we had a private tour arranged and were in for a special surprise! It began with a private walking tour around the vineyard for just my family. It couldn't have been a more beautiful day! We walked through different vines for different wines and got to pick off grapes from the vines to eat! It was interesting to see how the grapes tasted differently knowing what wine they were used to make, that they had seeds, and looked like giant blueberries. Best grapes I've ever tasted, that's for sure!
We also took a look at their cork trees on-site. We learned that it takes a very long time until you are able to use the cork, so although a few of the wineries had them and showed them off during our tours, most don't actually utilize them for corks in their wine bottles. The child in me enjoyed touching the trees for their squishy feeling. I officially want a cork tree in my future backyard. Moving on from the cork trees, we walked through the family garden next to the estate. The Mrs. grew everything you could imagine – kiwis, tomatoes, rosemary, persimmons, limes, apricots, strawberries, etc. and used them for cooking while entertaining her winery-owner friends. What a life!
It was time for our tasting, which we thought would be in this tent like everyone else. Instead, our tour guide brought us to a vine-covered patio next to the family's private estate's to a table set specifically for our tasting. It was so special! We sat there for hours, trying a variety of their wines, learning more about the Trefethen family, Napa as a whole and naturally got to know our tour guide as well, who was amazing by the way. He telling us stories from growing up in Napa, meeting the family, working at the winery and even unfortunately being a victim of the horrible wildfires in northern California. His family's entire house was destroyed while they were on vacation a few weeks prior to our tasting and our tour was his first day back to work. So hard to imagine. We tasted quite a few white and red wines, and maybe it was the atmosphere, but I absolutely loved them all! Specifically the dry riesling, which my family continues to drink regularly. It's perfect with seafood!
Napa is a remarkable place, and somewhere I hope to return to time and time again. Anyone wondering where they should add to their travel bucket list, make sure to put Napa at the top (note: must appreciate and enjoy drinking wine). 
In Case You Missed It