The finale to an amazing and life-changing trip – Sonoma. Did you see part 1 and part 2? Life-changing might sound a bit dramatic, but exploring Northern California wine country opened my eyes to all aspects of the production of winemaking. I have since gained a much greater appreciation for wine and have rapidly become closer and closer to identifying my likes and dislikes in a wine. By hopping from one winery to another, it was much easier to compare different types of wines. That and a lot of tasting flights, too! Keep reading about our beautiful day visiting wine country in Sonoma.
Gloria Ferrer Caves & Vineyards
Gloria Ferrer is located in southern Sonoma, and therefore was conveniently located between Point Reyes and Napa (editor's note: this isn't an itinerary, so that's why I'm sharing it here). Talk about a nice road trip "pit stop"! The winery specializes in sparkling wine, which is immediately apparent by Gloria Ferrer's extensive flute collection on display gathered from all over the world. Every flute has a story, she explained. On one side, there was a luxurious, limited-edition vintage Tiffany & Co. flute. Alongside it was an affordable one from a grandchild from Disney. It was quite the variety to say the least!
Their outdoor Vista Terrace was absolutely gorgeous on a nice day. The uninterrupted views of the vineyards from above and bright wild flowers blooming. We were lucky to get a table, but it definitely was crowded. If you don't do a tour, they do offer table service on the terrace along to order a glass or a flight.
Ferrari Carano in Sonoma
On our last day, we took a long drive up to northern Sonoma Valley, Healdsburg to be exact. I say long drive because while we were going through the mountains between Napa and Sonoma on a one lane each way road, we got stopped by a police car who had the road blocked and told us we could not go through due to an accident, leaving us to turn around and drive all the way back! We were about 5 minutes to the other side after about an hour of driving through the mountain. The worst! Fortunately, we were able to figure out another route. A way that we were not in "civilization" for over an hour on windy, hilly, narrow, no-railing, mountain roads. Finally, we made it just in time for our first scheduled tasting at Ferrari Carano. Good thing we left early!
Our tour began with a walk through the on-premise garden where we spotted another cork oak tree. We passed the pig statue, which was a gift to Mr. Carano. Tradition holds that rubbing it's nose would give you good luck. We went through their wine cellar and learned a fun fact: each barrel contains nearly 300 bottles of wine! Who knew?! Towards the end of the tour, we were led into a gorgeous, dimly lit tasting room. It was hidden and secluded, further underscoring it's luxury and beauty. Although it was still the morning, we had the most incredible red port wine. My parent's continue to carry it in their store to this day, and we continue to stock at least one bottle at home.
Francis Ford Coppola in Sonoma
For lunch, we went to the Francis Ford Coppola Winery to explore the grounds and famous gift shop. Their on-site restaurant, Rustic, was fantastic. The outdoor patio of the restaurant was the most idyllic setting. Endless views of vineyards, mountains and wine flowers. In case you are not familiar, Francis Ford Coppola was the director of the Godfather! The large gift shop featured quite a few items from the movies, including the desk from the Godfather and numerous awarded Oscars displayed in a glass case. Pretty cool! The Francis Ford Coppola winery also has a pool and cabanas you can rent out, which looked so fun!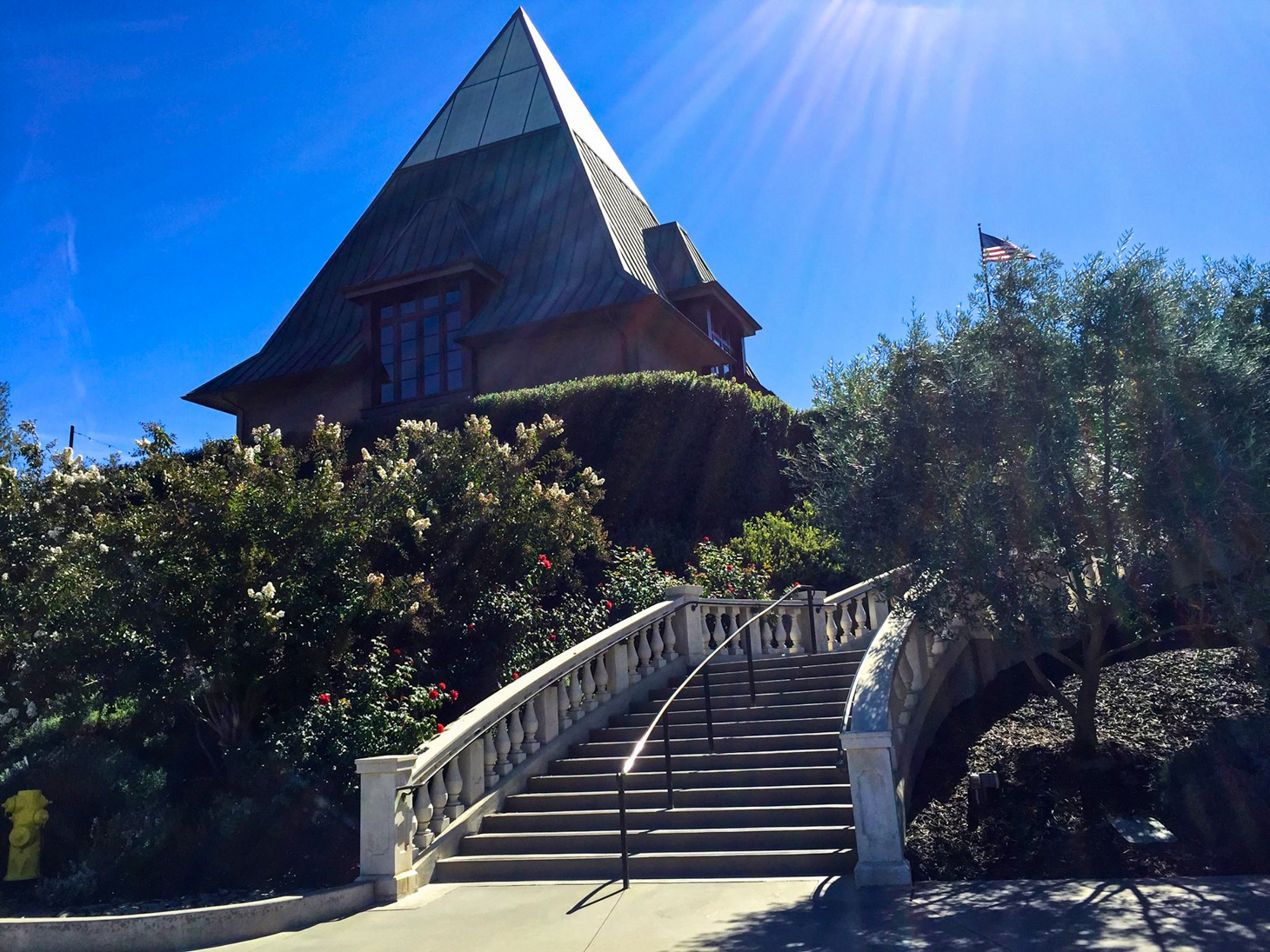 Benziger Winery in Sonoma
Before our next scheduled tasting, we made a stop at Benziger Family Winery to view the grounds. We did not do a tasting unfortunately. You can only drink so much in one day!
Kunde Family Winery in Sonoma
Our last winery of the trip was to Kunde. My parents sell and love their Sauvignon Blanc, so we had to pay them a visit to see what else they offer. Their tours featured many club-member only wines that are not widely distributed (like to Florida), but we enjoyed them regardless. The property had a very relaxed vibe that wasn't overly crowded.
The Girl & The Fig
We walked around downtown Sonoma before heading to an early dinner at The Girl & The Fig, which came recommended to us by my Supervisor at the time and a wine salesman my parents worked with. They serve rustic French cuisine in a bistro-style restaurant with a cozy outdoor patio.
What are your favorite places to visit in Sonoma? I can't wait to go back and explore more! 
In Case You Missed It