On a warm and sunny day, we made our way to Pioneer Square to explore another neighborhood in Downtown Seattle before heading to Bainbridge Island. It made for such a perfect day trip!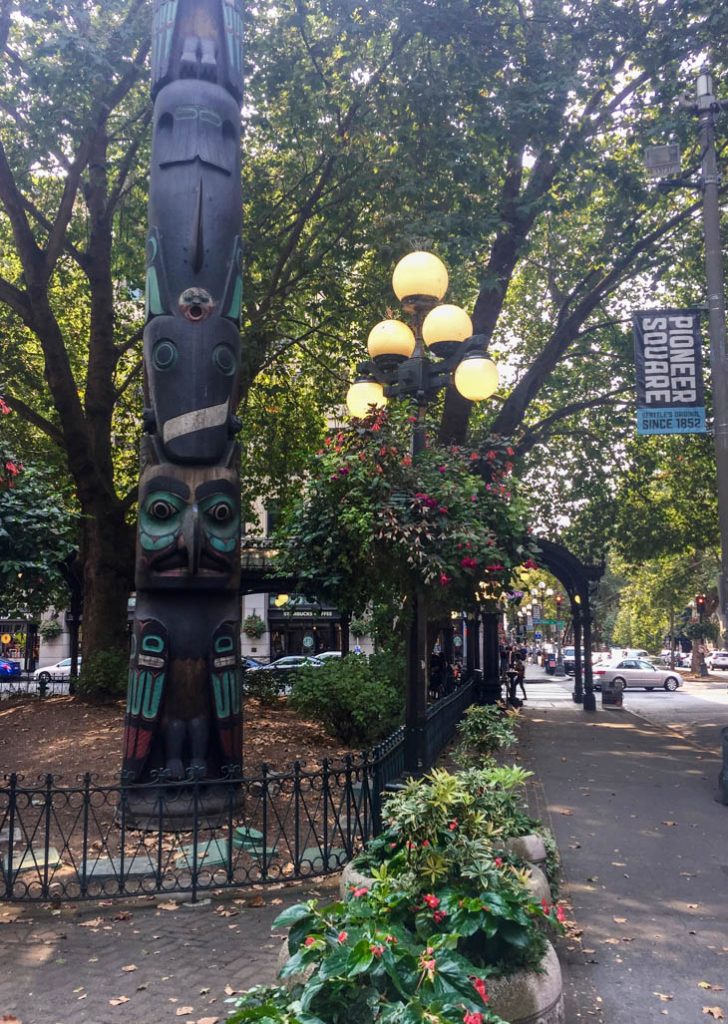 The London Plane
The London Plane is a bright and modern cafe by morning and wine bar by night, with a small bakery, some specialty food products and a floral workshop. It was smaller than expected and therefore rather busy! It looked like a cute brunch spot or somewhere to meet for a mid-afternoon snack. We didn't dine here, but got a Rachel's Ginger Beer to-go after some perusing. From its atmosphere and location on a charming brick-lined street, I would recommend it.
E. Smith Mercantile (NOW CLOSED)
Continuing our stroll under the canopies of trees, we stopped into this quaint boutique. They sell a variety of items from vintage sunglasses to niche beauty products to stationary and cookbooks. Best of all, they have a tucked away bar in the back serving light bites and pretty terrific cocktails. We came back later for the drinks because we loved the menu! The "cock-sicles" (cocktail + popsicle, ha) for example were a fun treat on this summer day. In particular, the Espanola with gin, lime, tonic & soda and a grapefruit, vanilla and cinnamon popsicle was to die for. They make the popsicles in house, and this one used a real cinnamon stick instead of your classic wooden popsicle stick! One of my favorite drinks ever and definitely beats (and is half the price of) the popsicle/champagne version at Loopy Doopy in Battery Park City, NYC. *Editor's note: Unfortunately, E. Smith Mercantile closed in Summer 2018.
Although we did not have a chance to test them out, Damn The Weather (appropriately named) looked like your classic gastropub and Smith Tower has a speakeasy-style hideaway on the 35th floor observatory. For more views, Sky View Observatory in Columbia Center is also nearby.
Bainbridge Island Ferry
After quite a bit of walking, we took the 35-minute ferry from Pier 52 to Bainbridge Island. It runs every hour, but don't be afraid of the never-ending line if you cut it close! We bought our tickets after the majority of people had already boarded and had no issues getting on – the ferry is huge! It's a car ferry too with a surprising amount of cars on it each way. After all, it is the only way to travel between the island and Seattle. There's plenty of seating on the ferry, both inside and outside. The view of the skyline is the best you'll find, especially considering it's only $8/person round trip! In case this applies to you, they also allow dogs. Upon arrival to Bainbridge Island, we walked about 5 minutes up a small hill to the main town of Winslow, where we found the majority of shops and restaurants.
Doc's Marina Grill
For lunch, we joined my family at this waterfront outdoor bar & grill facing the marina. The laidback vibe, table in the shade under a tree and friendly service made for the perfect setting. The food was pretty good too! We got the tuna bulgogi which was tasty, and my sister said the focaccia bread on her sandwich was really good.
Pegasus Coffee House
Next door is this coffee shop with a lovely outdoor patio and a surprisingly nice selection of teas and pastries too! The crowd was a mix of young families, tourists and people working on their laptops.
As we made our way back to the ferry to return to Seattle for dinner, we stopped in a few shops.
Salt House Mercantile
This airy, welcoming shop offers a unique selection of cooking salts, local pantry goods, beautiful homegoods, stationary and gifts. You may want to move in – the decor is on point!
Willow Tree Market
Next up, this health and wellness market had a huge selection of teas, essential oils, nutritious snacks and kombuchas, natural remedies and high-end natural beauty products. The woman who was working embodied the calming nature of the store and was very well educated on the products being sold. She made some wonderful recommendations, gave us samples and convinced us into buying quite a few items! Fortunately, we don't regret buying any of them.
Seaside Station
Mid-hill returning to the ferry is this covered gas station that was converted into a quirky gift shop. They offer a random assortment of local souvenirs, clothing, accessories, fragrances and gift items.
Elliott's Oyster House
Once we made our way back to Seattle, we walked a few piers over to this long-standing seafood restaurant that attracted a large crowd, primarily tourists. Despite the outdoor seating on the pier and incredible sunset views, we unfortunately found the service very slow and meals mediocre for the price. I think this proves why it's better to find local places off the beaten path. However, if you do go, the Celebration Seafood Platter had a nice variety of crab, shrimp and oysters to share for the table.
Great Wheel
I'm not one to enjoy most heights, but the view of the Seattle Great Wheel from the ground, especially at sunset, was pretty beautiful! It's one of those famous spots worth seeing, like the Space Needle and Pike Place Market neon sign.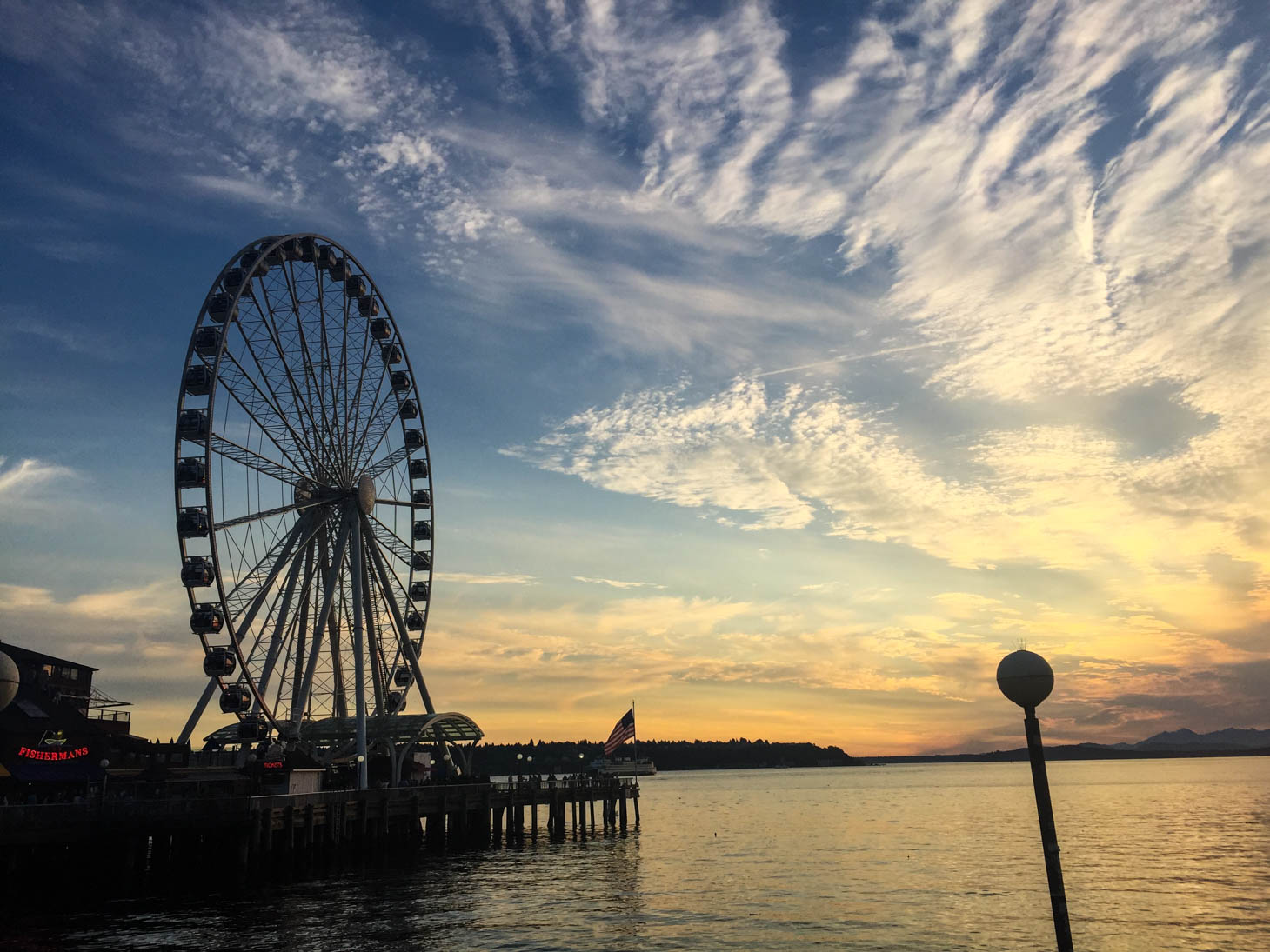 If you are visiting the city for at least a few days, these neighborhoods are not to be missed.
Check out more from our Seattle trip here!