I visited nine amazing European cities in three weeks, and to my surprise, Rotterdam was my favorite. I enjoy traveling to learn and explore but rarely do I find somewhere I could see myself living. Here's why you will love visiting Rotterdam: it's the perfect size of a city filled with fun neighborhoods within walking distance, beautiful towns easily accessed by train, countless local restaurants, bars, and boutiques, and most of all, NOT overcrowded with tourists. If you think it's too good to be true, keep reading for the full breakdown of all my favorite spots in this Rotterdam Travel Guide!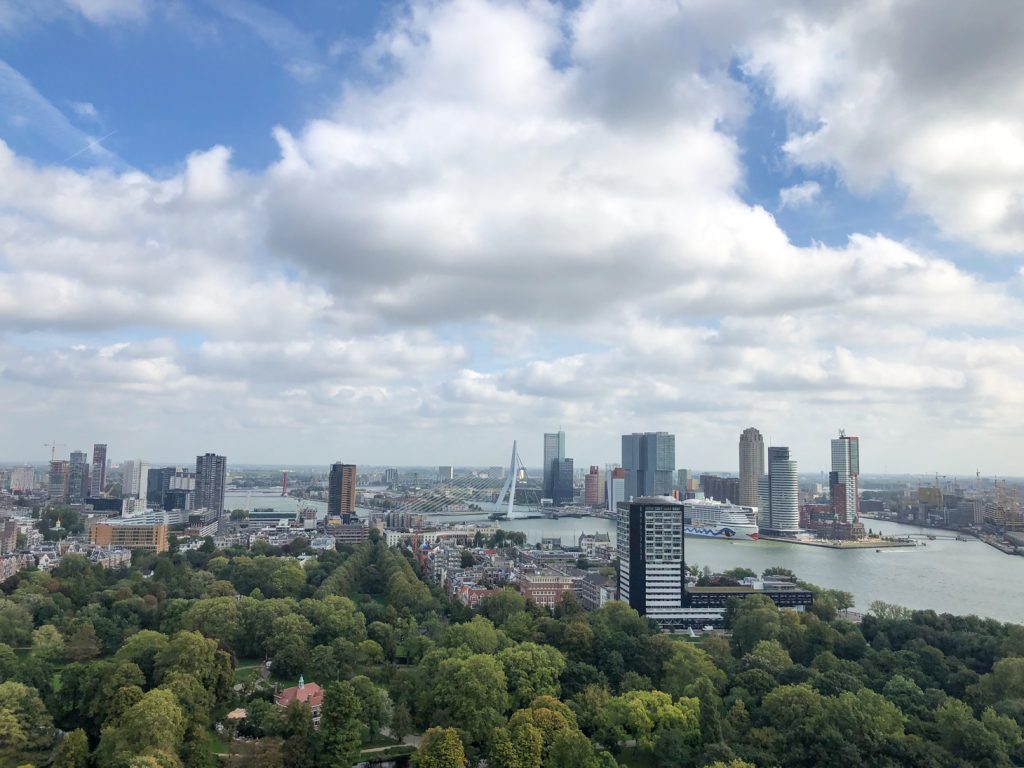 In This Guide
Why I Chose Rotterdam
One of our top reasons for taking a trip to Europe was to visit our friend PJ who had recently moved to Rotterdam from New York City. Fun fact: She's the one who introduced us — my boyfriend and I! Although fairly new to the area, she raved about the city and the surrounding towns. I always had an interest in visiting The Netherlands, especially Amsterdam, but was most excited for the day trips to less touristy, local spots.
To most people, Rotterdam is best known for having one of the largest ports in the world. It's also the second largest city is The Netherlands. To me, it was so much more. From the modern architecture that's very cool and sometimes puzzling how the structure even supports itself, to the sophisticated shopping and hip dining scene. As a born-and-raised Palm Beach girl, I also appreciated how much water there was in the canals all around. There's no feeing quite like being by the water! With constant innovation and new openings, I genuinely believe big things are to come to Rotterdam. Go now before everyone else does!
The Netherlands uses the Euro as a form of currency, which is more affordable than the British Pound but more expensive than the U.S. Dollar. For more information on European travel as it compares to the U.S., read my post, 19 Things To Know Before Traveling To Europe.
Where We Stayed
We were incredibly fortunate to be able to stay at our friend PJ's apartment during our visit. Not only was this the ideal way to spend the maximum amount of time together, but we also were able to save on accommodations — a huge bonus! We stayed for a total of 7 nights, which allowed us the perfect balance between relaxing and exploring The Netherlands. Her apartment was conveniently located in the Cool District – yes, that's what it is called! It was a wonderfully central location as visitors, allowing us to walk almost everywhere mentioned below (or quickly hopping on to the metro when needed).
Getting Around Rotterdam
While Rotterdam certainly is a very walkable city, you can't help but notice how many cyclists there are at every turn. The city is more accommodating to cyclists than anywhere I've ever seen before, with exclusive wide bike lanes, friendly cyclist-to-cyclist manners, and even bike turning lanes. Many residents own their bikes, but for those who don't (such as visitors), there are plenty of bike share programs around the city that can be easily accessed via an app on your phone.
If we didn't walk, we used their very clean and efficient metro system. As soon as we arrived at Rotterdam Centraal Train Station from London, we purchased Netherlands Rail Cards. What's great about these is that they can be used for underground metro rides, above ground trams, and train rides within the country. You can easily refill them at most stations as needed. Similar to London, you have to swipe in AND out from any station – something that takes getting used to after living in New York City where you only ever swipe in.
When We Went
We were based in Rotterdam and exploring The Netherlands from September 16th to September 24th. The weather was a mix of mild, sunny days, and cold, rainy days. On average, I would say it was around 50 to 65 degrees Fahrenheit. We soon learned that The Netherlands is known for quickly varying in temperature without notice during the day. It can be warm and sunny one minute, and turn cloudy with a cold breeze the next.
What To Pack
Due to the unpredictable weather, my top packing recommendation would be a packable windbreaker/rain jacket. Any time we left the apartment without a jacket, we always regretted it, as annoying as it can be to carry it around when it's not needed. If you like to shop when you travel, I would also bring a collapsible duffle bag in your suitcase – they have the best stores here (more on that below)! The locals are dressed stylish but never fancy or glam, rather a chic street-style wardrobe that I happen to love. To see every single item I packed and how I packed it, check out my Packing for 3 Weeks in Europe with a Carry-On post!
Where We Ate
If you are only in Rotterdam for a short time, my top food recommendations would be Bertmans, Pix, and Restaurant Bazar. If you've never had classic Belgian/Dutch-style frites, Bram's is a must too!
Markets & Food Halls
Where We Drank
A few other places we went for drinks include Loos, a grand cafe located near the Euromast with a nice wraparound porch at a busy street corner, and Cafe LaBru, located on a side street from Witte de Withstraat. While both were fine, our experiences didn't stand out in comparison to the above.
Where We Shopped
What We Did
Other Places To Consider
With any trip, it's nearly impossible to make it to everywhere on your list. Based on my research, I wanted to include some other places to consider for your trip. If you go, I'd love to know what you thought…for next time!
Spido Bout Tours – It takes you to the port and around the Rotterdam harbour for about 13 Euro. It runs almost every hour, and you can buy tickets at the box office at Willemsplein.
Kralingse Plas – to walk, run, bike, or dine along the largest lake in the city
Bagel Bakery – unlike Bagels & Beans, this is a local bagel cafe
Ter Marsh & Co. – very highly-rated burgers
Bier Boutique – an elegant craft beer bar on Witte de Withstraat
Rotterdam Biergarten – near Rotterdam Centraal station and has a good happy hour
Spikizy – speakeasy cocktail bar off of Witte de Withstraat
I hope you found this Rotterdam travel guide useful for planning your upcoming trip! Please let me know what you learned from this guide or found most helpful in the comments below.