I never imagined my job would bring me to Asia for the first time, yet here we are! I feel incredibly lucky for the opportunity to travel to Singapore and can't wait to re-visit someday. As you might imagine, the majority of the trip was for work-related tasks and events. Fortunately, I did have one day to explore so, in true Ariana fashion, I made the most of it! Highlights you'll read about include seeing the famous Marina Bay Sands hotel, a review of staying at the Hard Rock Hotel in Resorts World Sentosa, Formula 1 racing happening while we were there, and more.
Hard Rock Hotel in Resorts World Sentosa Singapore
We stayed at the Hard Rock Hotel within Resorts World Sentosa, which is an island geared for tourists with five resorts, Universal Studios, Adventure Cove Waterpark, S.E.A. Aquarium, restaurants with celebrity chefs, and more. It's great for families or large groups like ours.
If you're looking to splurge, check out the Tree Top Lofts, Ocean Suites, and Beach Villas! Dream status.
Raffles Hotel in Singapore
We took took a car through Grab, Southeast Asia's #1 ride-hailing app, food delivery service and cashless payment solution, to get off the island. Our first stop was the elegant Raffles Hotel, home to the Long Bar where the Singapore Sling cocktail originated. The grounds of the hotel were very exclusive, well kept and chic — everything you would imagine. Might I call it The Breakers of Singapore? Unfortunately the Long Bar was closed when we were there, but that didn't stop us from enjoying Singapore Slings throughout the day!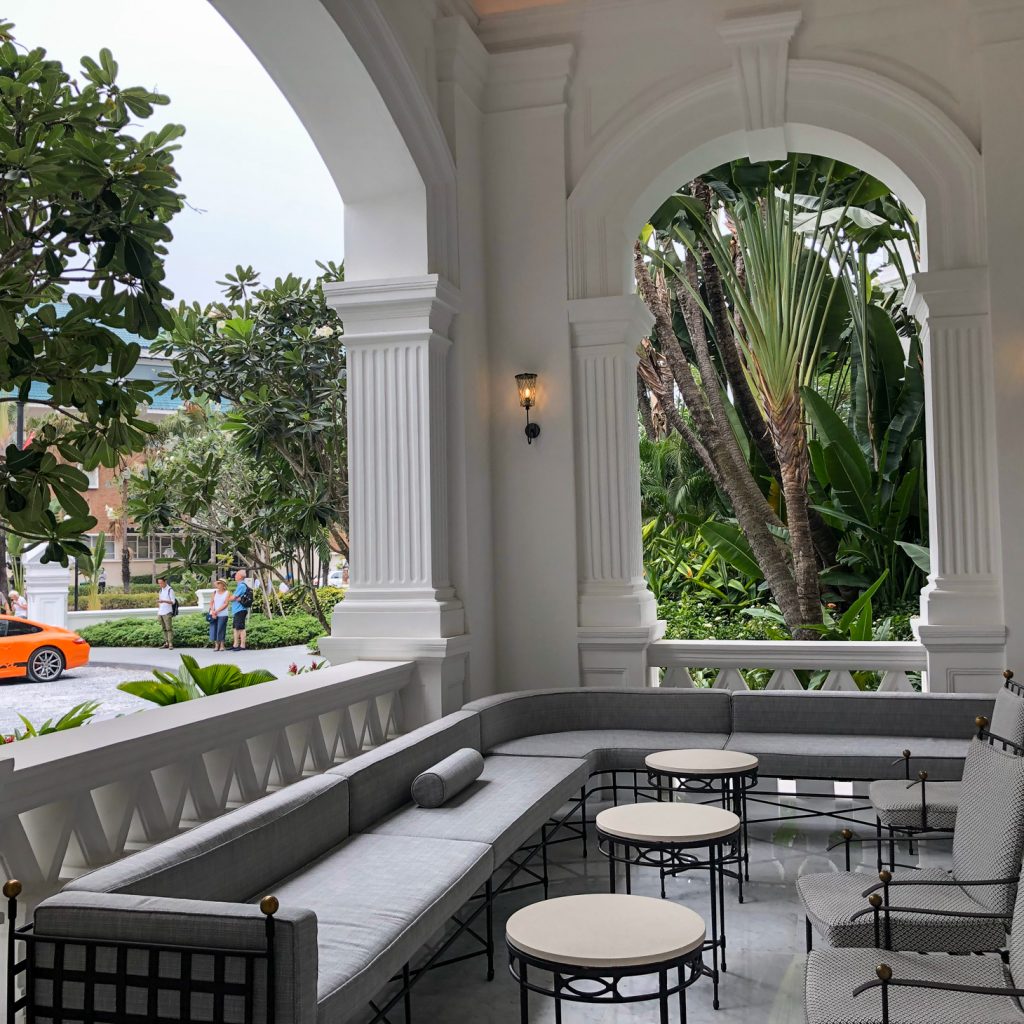 Capitol Piazza in Singapore
We strolled over to Capitol Piazza, a shopping mall, hotel and theatre Downtown, for lunch. They had so many amazing options to choose from over three floors, from restaurants to coffee shops, food courts to specialty food shops. We ended up at Chalerm Thai for some Pad Thai, papaya salad and taro. Yum!
Esplanade
After lunch, we took a walk to the Esplanade to check out views of the iconic Marina Bay Sands Hotel. Along the way, we passed some visual art exhibitions and the streets of the Formula 1 race that was happening at the same time as our visit!
One Fullerton Singapore
Across the bridge is The Fullerton Hotel and One Fullerton for dining and shopping. Once again, there were so many cute places to choose from! We stopped into Over Easy for some refreshing cocktails to get out of the heat. Despite all the tourists, it was incredible how clean the city was.
Boat Quay and Clarke Quay
The next place on the list was BeGin, a hidden cocktail bar above English pub The Penny Black on Boat Quay. It's an eclectic space with multiple rooms and lounge areas, as well as a large bar filled with, you guessed it, gin! They were very friendly and generous, allowing us to try all sorts of different gins we had never had or heard of. The cocktails were great too, with some even on happy hour. If we had more time we would've hopped along this street to Clarke Quay, but instead we headed back towards One Fullerton.
Lantern at The Fullerton Bay Hotel
A rooftop was on our must-list, so we went to The Fullerton Bay Hotel to visit the Lantern rooftop bar. The chandelier-filled lobby, views of the Marina Bay Sands Hotel, rooftop infinity pool and long list of Singapore Sling renditions made us stay until the sun went down.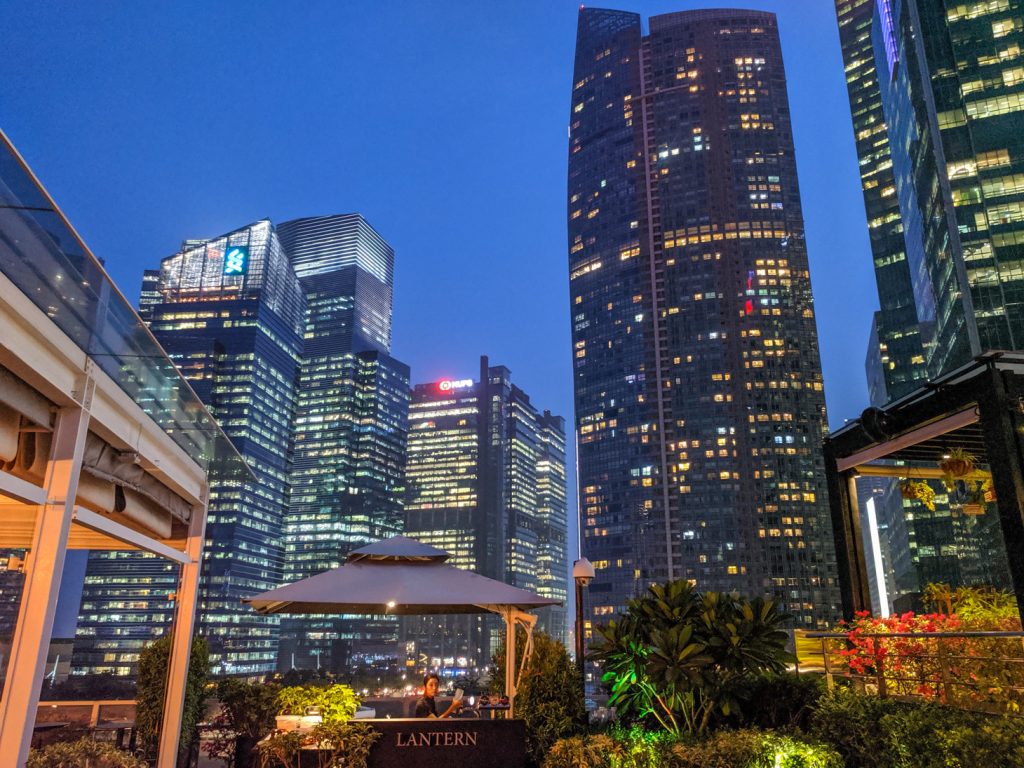 The Shoppes at Marina Bay Sands
Despite a long day of walking, we continued on to go to the Marina Bay Sands Hotel and see its extravagance up close. It's quite a visit and worth the trek! There's a high-end shopping mall on the lower floors of one of the buildings, fine restaurants, and of course the Sky Park Observation Deck and rooftop pool at the very top.
Gardens by the Bay Singapore
The last stop on our day long adventure in Singapore was Gardens by the Bay. Although the park features many attractions and activities, we specifically went to see the Garden Rhapsody light show. It only happens at specific times, so make sure to check online before you go! The Supertree Skyway and Observatory closes early, but you can still see the light show from the free public grounds. The experience exceeded our expectations! Check my Singapore highlight on my Instagram stories for videos.
Until next time, Singapore! I highly recommend a visit to anyone. Feel free to comment below or message me on Instagram if you have any questions.