In a span of many trips to Orlando over the past few months, I've tried restaurants for their first time that were an absolute hit. To be honest, I haven't been disappointed in a while! The Orlando food scene is growing at a rapid pace, and I always get excited about new openings for my next trip. Below I have reviewed some of those places. And let's not forget about Kadence, which I've reviewed in detail here! Keep reading for six great restaurants in Orlando I keep going back to.
Bosphorous in Winter Park
I went here for lunch on a beautiful day when my sister was in town. Despite many outings to Park Avenue over the years, I never ate here but always wanted to. We scored a table outside and ordered the Mixed Appetizer with Lavas, and the Turkish Pizza. Both were delicious, and we were blown away by how large the portions were! The sidewalk setting simply cannot be beat, but you can expect to wait if you go at peak lunch hours or on the weekend.
Bulla Gastropub in Winter Park
Another place I've been eyeing for a while was a spontaneous choice when we were craving a good brunch. We decided to go for the pre-fixe menu after the server explained that you can share it (and warned us how large the portions were – she was right)! The ability to share pre-fixe menus is very rare, but it's the perfect way to try multiple offerings without stuffing yourself. We had the Tostada de Aquacate (avocado toast) to start, followed by the Huevos 'Bulla' and the Blueberry Ricotta Pancakes. We couldn't finish a single plate they were so huge, but everything was delicious and made for nice leftovers. The Huevos 'Bulla' was by far the stand-out dish, that I have craved since. The pancakes were nice and fluffy, if I was in the mood for something sweet.
Domu in East End Market
Having visited East End Market previously, I was excited to try the highly-rated, Domu restaurant. We started off at the bar for happy hour, where I ordered a Kyoto mule. I love mules because they can be made in hundreds of different ways, but always have my favorite, ginger beer, in common. For our meal, we started with an order of the black truffle burrata and Domu wings. Both delicious with a punch of flavor, with the wings being the standout. Then, we had the Richie Rich ramen bowl, which seemed to be the most popular.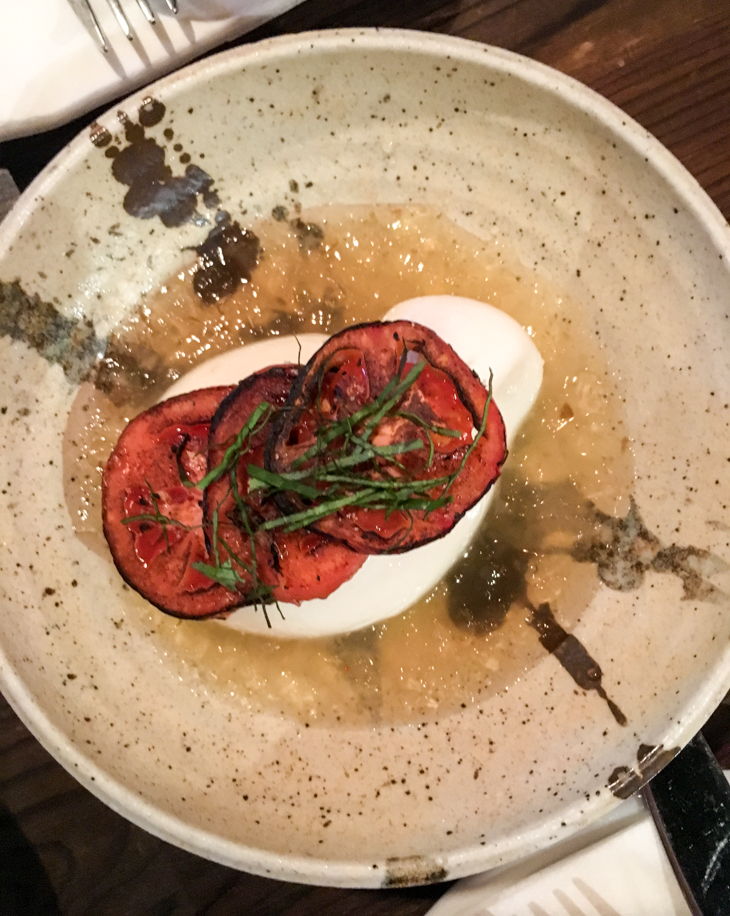 Foxtail Coffee Co. in Winter Park
I remember seeing this coffee shop when I went to The Bear & Peacock Brewstillery a few doors down, but their expansion hadn't opened yet. I went recently with my boyfriend to work on our laptops at the coffee bar and loved the atmosphere, overnight oats from Create Your Nature next door and a matcha tea latte.
Hawker's Asian Bistro in Mills 50
I've driven past this restaurant at least twice per trip to visit my boyfriend in Orlando, which is too many times! I finally went for lunch and ordered a variety of small plates to try out, as well as a cold sake. The Char Siu (pork shoulder) was probably my favorite, but everything was very good. To be honest, it was better than I expected! We also order the Summer Rolls (a personal go-to of mine), and Tiger Salad (a little too spicy for me).
King Bao in Mills 50
This no-frills, small cafe specializes in fluffy bao buns filled with unique flavors. On the side, they also offer childhood favorites with a kick. I was lucky to go at an off-time when they weren't too busy, but I have driven by when they've had a line out the door! The Hogzilla and Glen Rhee Baos we ordered were so delicious, and I can't forget about the Truffle Tater Tots! I look forward to trying more baos in the near future.
Where should I go in Orlando for my next trip in a few weeks?
UPDATE: I live in Orlando now! Don't miss these guides: