If you've been following along since 2018, you might remember my post, The 18 Best Things I Ate in 2018. Well friends, it's back! I was spoiled in 2018, traveling to nine cities around Europe and to Austin, TX – a total of 10 new-to-me places. This year, I only went to two new destinations (Scottsdale, AZ and Newport, RI), one familiar (Las Vegas), and otherwise explored my home state of Florida from Orlando north to Amelia Island, FL. Given the pandemic, I feel very fortunate I still had those few opportunities to travel and that I never got sick. Without further ado, here are the 21 best things I ate in 2021 that I haven't stopped thinking and raving about, in no particular order.
I'm kicking off the list with those in my hometown of Orlando where I spent the majority of the year. I'm lucky to live in a place where there is such amazing food within a 15-minute drive!
Bialy breakfast sandwiches at Deli Desires in Colonialtown, Orlando – There is something so incredibly satisfying about a good breakfast sandwich, and Deli Desires does it best. My favorite is the classic gravlax on caramelized onion bialy, and my boyfriend loves the scrapple or corned beef sandwich. You really can't go wrong with any of them. And now I'm craving it again…
Huevos Bulla at Bulla Gastrobar in Winter Park, Orlando – When visitors come in town, we like to treat them (and ourselves) to brunch at Bulla. The star of the show is the Huevos Bulla, their signature dish that they mix up for you tableside. It has eggs, homemade potato chips, serrano, potato foam, and truffle oil. It sounds crazy but I'm telling you, it's SO good. I'm also a big fan of their watermelon salad, smoked salmon montaditos, croquetas de jamon, and blueberry & ricotta pancakes. The good news for you is that you can try three of these dishes in their pre-fixe menu for a great price. I talk more about their incredible brunch deal in my Orlando Food Guide here if you're interested.
Shrimp roll at Swine & Sons in Winter Park, Orlando – There was something so simple yet special about the shrimp roll I recently tried for the first time from Swine & Sons. It was perfectly seasoned and balanced without one thing I would change, add or remove.
Insalata di Pollo (the Caesar salad) at Armando's Winter Park, Orlando – NEVER ever did I imagine the day where I would be highlighting a Caesar salad…until I went to Armando's. My friend Danielle recommended it to us with the "I know it sounds silly but…" precaution. She was right, it is GOOD and has quickly turned into a dish we won't ever forget to order when we dine there again. We like it with anchovies but understand most will probably prefer to leave them off.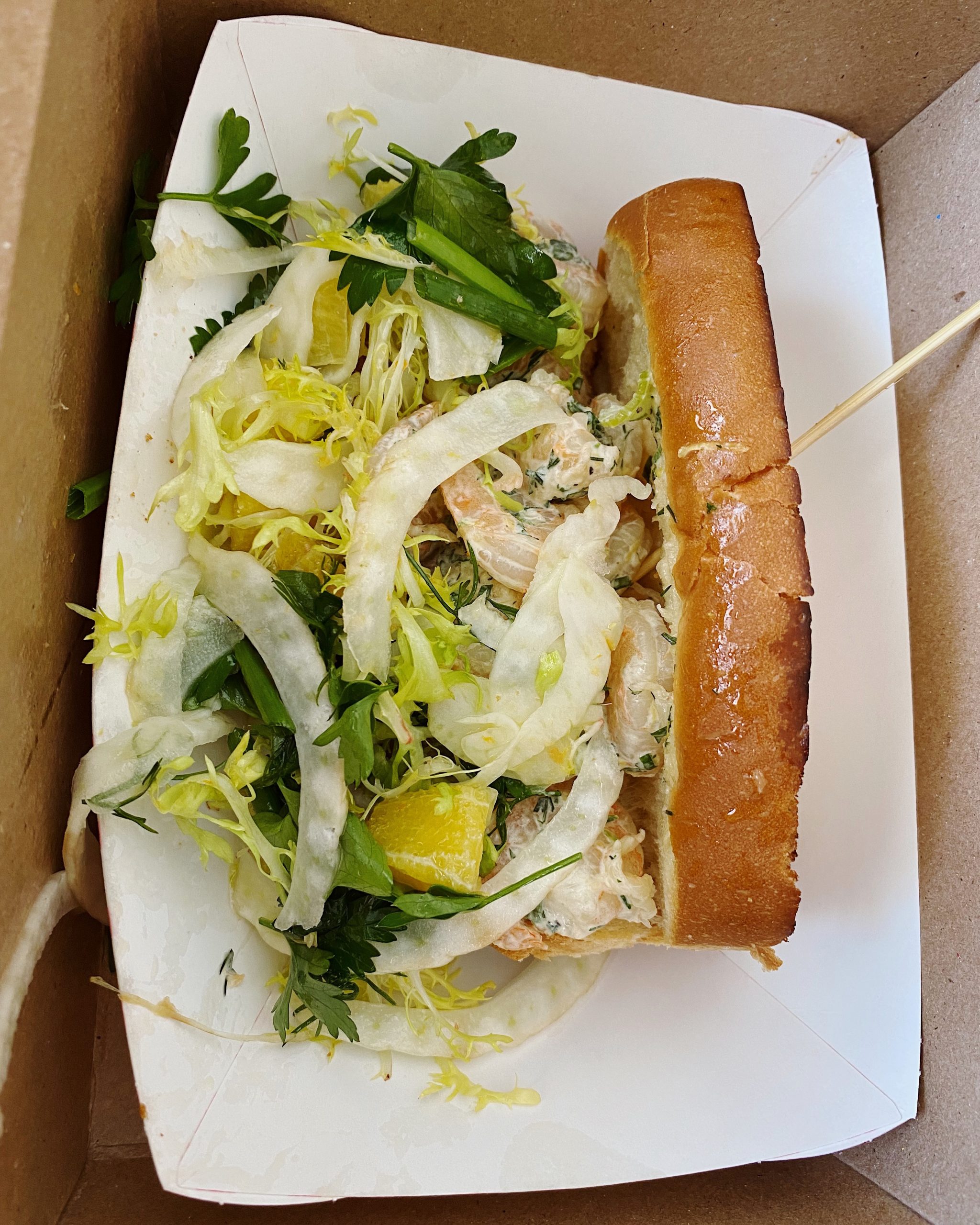 Crab fried rice with garlic at Tori Tori in Mills 50 District, Orlando – A non-negotiable for us if we go to Tori Tori is to get at least one order of the crab fried rice. It's super garlicky in the best way possible and a favorite of all those we've shared it with.
Chirashi bowl at Kadence in Audubon Park, Orlando – You can't go wrong with ANYTHING from Kadence, period. We tried their chirashi bowl for the first time in 2021 and obviously, it was no exception. The quality is worth the price tag, I promise.
Smoked chicken wings at Ten10 Brewing, Mills 50 District, Orlando – Smoked wings and smoked fish dip are two of our comfort food favorites. Ten10 makes the best smoked wings, with The Pinery offering a close second!
Wu-Tang clam pizza at Ziggie's Pizza in Ivanhoe Village, Orlando – While I love all the pizza's at Ziggie's Pizza, previously named Perla's Pizza, the Wu-Tang clam pizza is something unique, bright and zesty. It has white anchovy sauce, mozzarella, pecorino, pan seared clams, potatoes, red onion, fresh garlic, parsley and lemon, and I bet you can't find it anywhere else! We also love the Gabagool, Everybody Hates Pineapple, Prince Zuko and Green Ranger.
Beef Carpaccio and Prosciutto Wrapped Dates at Santiago's Bodega in Mills 50 District, Orlando – As I said in my Orlando Food Guide, "The beef carpaccio and prosciutto-wrapped dates are probably our most ordered." They're favorites and everyone we bring loves them too!
Lamb burger at Bem Bom, Audubon Park, Orlando – Since winning Restaurant of the Year and Best Burger in the Orlando Sentinel Foodie Awards in 2020, Bem Bom has become synonymous with their signature lamb burger. It's grilled in-house with ground grass-fed lamb, served with feta compote with pico de gallo, apple ginger bbq sauce, lemon mustard, and piri piri. Delish!
Escargot, Smoked Duck, and Lemon Semifreddo at Bites & Bubbles in Mills 50 District, Orlando – In 2021, we were blessed with Bites & Bubbles taking over the old Belicoso space, conveniently and dangerously located steps away from our home. As a result, we went (and go) frequently and have tried many of the menu items, although they do change. Our three standout favorites are these three dishes – the escargot and lemon semifreddo that were included in their Magical Dining menu, and the smoked duck that has since changed to duck wing drumettes. I hope they bring our favorites back on a regular basis, but in the meantime, I look forward to trying whatever else they have up their sleeves.
Grilled Swordfish or Crispy Duck Confit at Russell's Lake Ivanhoe in Ivanhoe Village, Orlando – I've proclaimed my love for Russell's on the blog before in its own dedicated post titled, "Our Latest Restaurant Obsession." These two entrees are our absolute favorites that we've ordered repeatedly over the year.
Anything at Luke's Kitchen & Bar in Maitland, Orlando – We're always happy with anything we order at Luke's, often ordering multiple smaller plates instead of one of the main courses. Since the menu changes often, a few of our favorites on the current menu posted online include the BBQ deviled eggs with Funyun crunch, chicken wings with green chile, agave lime pickle and cilantro, and the snapper crudo. Their success in 2021, largely with thanks to Executive Chef Jason Campbell, is no secret. They won numerous awards in 2021, including Orlando Sentinel's Restaurant of the Year and more.
Everything at The Strand in Mills 50 District, Orlando – Similar to Luke's, The Strand's menu changes frequently but the typically keep a few tried-and-true staples like the snapper cakes, burger and red snapper entree. You can't go wrong with anything.
Any ice cream at Kelly's Ice Cream in Audubon Park, Orlando (now also open in The Hall at the Yard) – For better or worse, we "discovered" take-out at Kelly's Ice Cream this year. They can put a lid on any cup, so we started getting a few flavors by the cup to bring home and put in the freezer. So dangerous! The blondie was my first favorite and remains my top pick today.
Fried green tomatoes at Coop 303 in Neptune Beach, Jacksonville – On New Year's Eve, we spent the afternoon in Neptune Beach including brunch at Coop 303. Their most popular dish, the "peaches & cream" fried green tomatoes combined so many of my favorite things into one bite!
Sushi at The Lobby Bar at The Ritz Carlton in Amelia Island – One of the most obvious food highlights of the year was the sushi at The Ritz. I wrote about it in more detail in my post, "A really great day in Amelia Island."
Lobster Roll at Clarke Cooke House in Newport or Cafe Heavenly in New Smyrna Beach – One was cold and one was hot so I just can't choose. Both fantastic lobster rolls!
Beef Wellington at White Horse Tavern in Newport – I'm no Gordon Ramsay beef Wellington expert, but this was excellent. If you've never tried one before, add it to your list asap!
Scallop chowder at The Mooring in Newport – A surprise highlight from our entire Newport trip. Watch out, clam chowder! Read more in my Newport Guide.
Last but certainly not least, some incredible home cooking/preparing! There are too many highlights to list but some top of mind include Adam's seafood boil during our Indialantic weekend getaway, my mom's Raclette spread, Spencer's prime rib on Christmas Eve, our homemade sushi using the Sushi Bazooka, and MANY cheese & charcuterie boards, salads, smoothies and pancakes. If you're interested or looking for inspiration, I post about them in my "At Home" highlight on Instagram.
In Case You Missed It
P.S. At what point will this list get out of control? The year of 2025? Ha!
What were some of YOUR favorite meals in 2021? I'd love to know!