On my 2018 travel bucket list I announced my first trip booked for the year was to Austin, TX! I had never been to Texas before, but in recent years it's become such an up-and-coming city and a hotspot in March for SXSW. I was intrigued by the food culture, of course – tex-mex tacos and BBQ! When a national JetBlue sale popped up with a direct flight from Orlando to Austin, I knew it was the perfect opportunity to check it out. Keep reading for an idea of where to stay and our favorite places to eat in Austin.
Where We Stayed
Time and time again, rental apartments have been more affordable than hotels. Austin was no exception. We stayed at 422 at the Lake Apartments through Stay Alfred – a city-focused vacation rental company. Similar to the company we stayed with in Seattle, I find these accommodations to be more reliable and trustworthy than your ordinary Airbnb.
We were thrilled with the central location just south of the First Street Bridge because it allowed us to walk almost everywhere, including across the river alongside the bridge on the Ann and Roy Butler Hike and Bike Trail. The building and apartment were very clean and modern, and the access into the building was easy.
While the check-in process was smooth, we were disappointed to not have our early check-in request accommodated. Of course it can "never be guaranteed," but after calling once arriving to the Austin airport, there was no ETA that could be given. We had three hours to kill with luggage that the building could not hold, and had no idea how soon it would be ready. We went into the city anyway for tacos (see below) and were so glad we did! We went over to the building 15 minutes early and could not access the key from the lock box. We thought the room was still being cleaned and someone would be coming by with the key. Instead, we waited 15 minutes in front of the lock box until 3pm check-in time on the dot and voila, we tried again and the key was there the entire time. It must have been on a timer. I don't know how long it had been there, or when exactly the cleaners may have left, but it was frustrating to have hours of plans we couldn't get to despite multiple attempts at requesting early check-in starting with the initial reservation. I wanted to share this experience for any guests to keep in mind for their upcoming stays!
Where To Eat in Austin
For "Damn Good" tacos: Originated in Austin, Torchy's Tacos now has many locations all around Texas, as well as Colorado and Oklahoma. We went to the location on South 1st Street located in a Trailer Park of other food trucks, picnic benches and a small closed-in dining area in case of unfavorable weather. We started with the chips & salsa, which was standard but way better than average (note: we later learned that Torchy's is known for their queso too!). Then we had the Democrat (shredded beef barbacoa with fresh avocado on a corn tortilla) and the Green Chile Pork (slow-roasted pork carnitas simmered with green chiles on a flour tortilla) tacos both served with cotija cheese, cilantro, onions, a lime wedge amd tomatillo salsa. The pork was my absolute favorite, and what I now have considered to be the best taco I've ever had. Seriously, try it. Don't be fooled by the fact that it's grown into a chain and the idea that "not every location can be that good."
For an acceptable "manly" meal: Banger's Sausage House & Beer Garden serves 30 house-made sausages and has over 100 beers on tap. We ordered the Duck, Bacon and Fig sausage (dried figs plumped in port wine and honey with bacon), and the Rabbit & Mushroom sausage (ground w/shiitake mushrooms, manchego cheese, garlic, and rendered bacon fat). They come in massive buns suited for the rather large sausages themselves. They could easily be shared, or a whole one will outweigh the alcohol content of one of their craft beers consumed (haha). They also have pickled vegetables, monthly Smoke Out Saturdays, and Big Band Brunch with live music every Sunday.
For the quaint atmosphere: We typically don't go out for breakfast, but on a cold and grey morning, Elizabeth Street Cafe was more appealing than ever. It is a French bakery meets Vietnamese cafe with cozy and bright interiors. We ordered the house mint tea, a classic in my book, although they offered many tea options. My boyfriend ordered the Chicken and Rice Soup, which he raved about (especially the perfectly grilled bread it was served with!). After feeling very indecisive, the server suggested I go with the Sticky Rice with Ginger Sausage and Poached Eggs. I've never had anything like it, but it was my ideal breakfast. The herb salad was fresh, the sriracha provided a necessary kick of flavor and the hoisin brought everything together. I would absolutely return to this spot!
For the health nut: True Food Kitchen is swarming with men and women in "athleisure" and it's no surprise why. Their entire menu is health-conscious, accommodating to vegan, vegetarian, gluten-free and naturally organic diets. The food is fresh, seasonal and flavorful, as the Sunrise Bowl and Poke Bowl we ordered proved. It's located next to an old power plant that was converted into a modern park, with plenty of outdoor patio seating available. It's easy to get carried away with tacos and BBQ in Austin, so I highly recommend this spot to provide your diet some moderation.
For the best overall Texas BBQ: We couldn't decide where to go for BBQ, and did not want to wait hours in line at Franklin Barbecue. There were so many well-rated options, and everyone seemed to have different preferences. Once we arrived and began asking around, Cooper's BBQ was the most frequently mentioned place and fortunately one of the most conveniently located. We ordered the minimum portion of everything we were interested in trying – 1/4 pound brisket, 1 beef rib, 1 sausage, small cole slaw and a small bacon & jalapeno macaroni & cheese. It was very rich and filling, but we couldn't stop – it was SO good. It was beyond what we ever imagined real BBQ could taste like.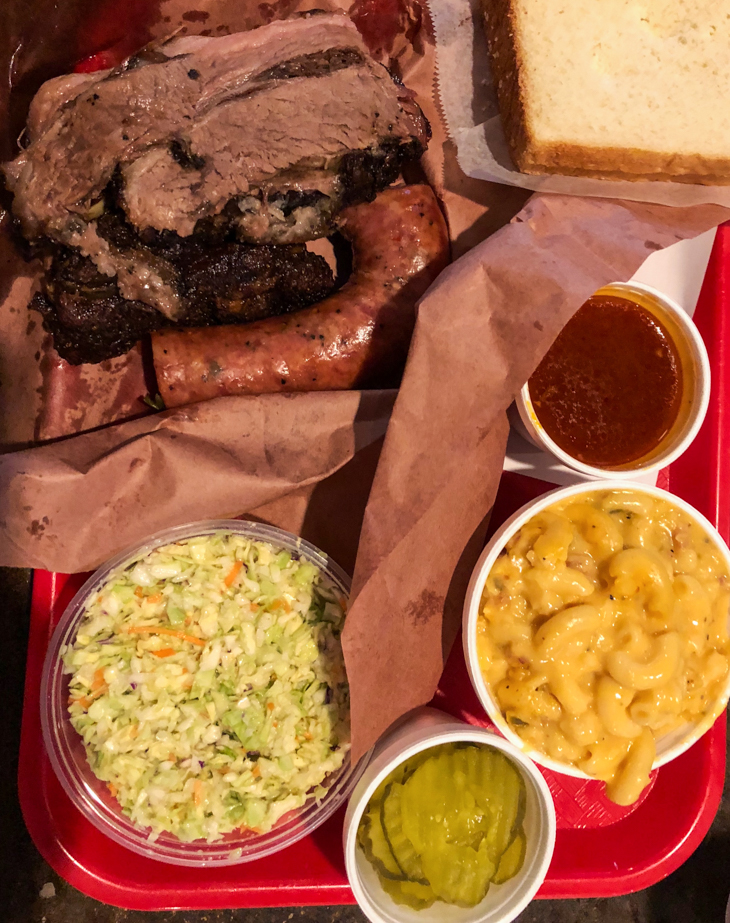 For deliciously charred BBQ ribs: Terry Black's was recommended to us numerous times by locals, specifically the (enormous) beef ribs. We loved Cooper's so much, but had to see what the hype was all about. We decided to order nearly the exact same items to directly compare the two places. While everything was very good, Cooper's won on the sides and brisket. Terry Black's, however, took gold (can you tell I'm watching the Olympics as I write this?) on the beef ribs and BBQ sauce! It was absolutely incredible – charred, juicy, tender and flavorful. The BBQ sauce was very light in texture but still packed a punch of flavor and spices.
For date night: Swift's Attic initially appealed to me because they serve whimsical and inventive small plates meant for sharing, ideal for date night or any food lover who wants to try everything! Also because the atmosphere is dimly lit with cozy booths and a trendy vibe. Before we get into the food, you have to try their Ice Ball cocktails. The ingredients are frozen into an ice sphere and the alcohol is poured over straight. You can sip it initially, or wait as the ice melts for the cocktail to transform.
For food, we started with a bang (or shall I say a "pop") with the Charred Edamame with chili oil and pop rocks. You read correctly – pop rocks! As you can see in the image below, the edamame is meant to be dipped in the bowl that contains salt and pop rocks before eating. Not only is it fun to eat, but the combination of flavors and the added texture of pop rocks was absolutely genius. For only $7, these cannot be missed! Next, we had the Devils on Horseback with candied bacon, black mission figs, gorgonzola dolce and pink peppercorn gastrique. When it comes to bacon, you can't go wrong. Heading into the more substantial small plates were the Warm Beeler's Pork Cheeks with fig and mustard on sourdough toast. You spread the fig jam on toast, add a spoonful of the pork cheeks and top with mustard. The multi-dimensional flavor profile explodes in your mouth – taking a comfort food and making it gourmet. Delicious! Last but not least, we had the Red Snapper in a dashi broth that I could probably eat every day. It was a warming and satisfying yet light dish with supplementing vegetables marinating in the broth. It was one of our absolute favorite meals in Austin!
Where to Drink and What To Do in Austin is going live on Thursday – stay tuned! Where are your favorite places to stay and eat in Austin?