After dining at Vinia three times for the Fabio's Table experience, I can honestly say it's one of the best restaurants in Orlando and deserves a LOT more recognition than they get. While Vinia also has an a la carte menu for walk-in diners and reservations, I'm going to focus on Fabio's Table for this post. In my experience, going "all in" at places that offer a pre-fixe menu is often the best introduction you can possibly have to a new restaurant.
Booking Fabio's Table at Vinia
If you look at all the pre-fixe menu experiences in Orlando (Kadence (also here), Soseki, Camille, Kaya, Doshi, Susuru, etc.), Vinia is actually the most affordable at $85 per person and an extra $40pp for wine pairings (one for every dish plus a welcome drink). It's still a special occasion price tag, but worth it every time. Reservations are required to be booked in advance on Tock and are non-refundable. However, unlike some of the other restaurants mentioned, you are usually able to book closer to your actual date of dining because there are more tables than an 8-seat bar, for example.
The Atmosphere
My three Fabio's Table experiences have been very different. We sat outside the first two times and were inside most recently due to rain in the forecast. Sitting outside means Fabio walks next door and carries over the table and chairs himself to be placed right outside the entrance on the sidewalk of West New England Ave. The man truly does it ALL! It's a quaint atmosphere on a beautiful Winter Park street, and at the quieter end of the street than where Armando's is, while still remaining lively. Because we were the one and only table outside, it felt like the dinner was just for us and exclusive. People walking by were jealous! Fabio made sure that we never felt forgotten about and was just the right amount of attentive without ever making us feel rushed. That's something he has always been so considerate of – taking our time and enjoying each course – which is definitely the European in him!
Due to the rainy forecast for our most recent Fabio's Table reservation, we were seated inside for the first time. Because there were enough other Fabio's Table bookings, they closed the restaurant to the public and exclusively served those who were there for the experience. It's much easier on the kitchen, for sure! What was so great about it for us is that it meant it was a controlled environment. All the tables were spaced out instead of filling every single seat, and the volume was very comfortable and never had us feeling like we had to yell or needed him to repeat himself. Whether you request to sit inside or outside, you really can't go wrong either way.
The Menu
Something I really appreciate about Fabio's Table are the various menu themes rotating on a monthly basis. The two I've experienced are a Spring-themed menu and Food, Wine & Cinema! He puts so much thought, effort, and creativity into it, and seems to have fun with it too! He'll explain the inspiration for each dish, showcasing his eye for detail with special ingredients or spot-on presentation elements.
For the Food, Wine & Cinema menu (going on now, ending May 12th), he took a food-related scene from a classic movie and put his own modern twist on it. Prior to the dinner, they emailed over specific clips from the movies for us to watch, but in case we didn't watch them or had never seen the entire movies, he took the time to explain each one. A fun and interactive touch to the menu!
I love that they offer a plant-based menu to fully accommodate those who fall under alternate diets (i.e. vegetarian and vegan). If you have any other dietary constraints, they're usually pretty open to it as well. For example, the dessert we had contained raspberries, which my dad doesn't eat. Fabio made him his own chocolate dessert that was equally fabulous! Noting that I did let him know prior to our dinner about it.
The Food
As for the food itself, it's all incredible – every bite, every dish, every time. Family and friends I've dined with debate which dishes were our favorite and try to rank them. It's never consistent because we all agree that every dish is so good. Every element on the plate has a purpose – no filler, no fluff. The portions are also perfect! Some previous pre-fixe menus I've experienced have been too much food and you feel guilty for not finishing everything since you're paying for it and can't take home leftovers. In which case, you leave uncomfortably full. Not Vinia! Every dish is the perfect portion to be able to have enough appetite to enjoy each course up until the last one, and feel perfectly satisfied at the end of the night.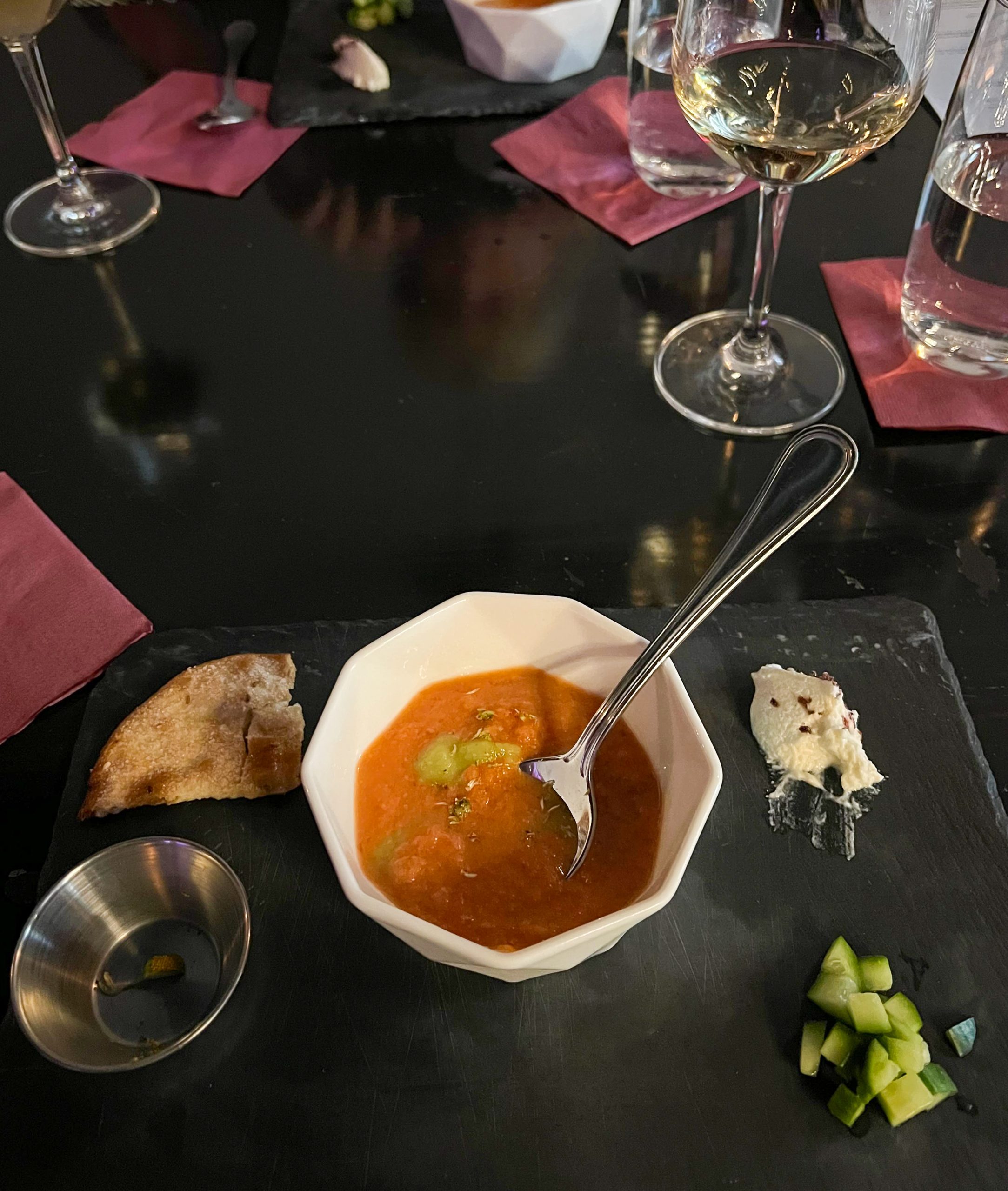 The Wine Pairings
My family and I are in awe of his wine pairing abilities. He truly cares and takes the time and effort to PERFECTLY pair each dish and every dish with a great wine, often from the same region of the ingredients he imports. It stands out to you while you're eating it, and he'll describe how and why he chose that wine specifically. Not only did we really enjoy trying new-to-us wines, but it complemented the dishes so well that it made the food taste even better.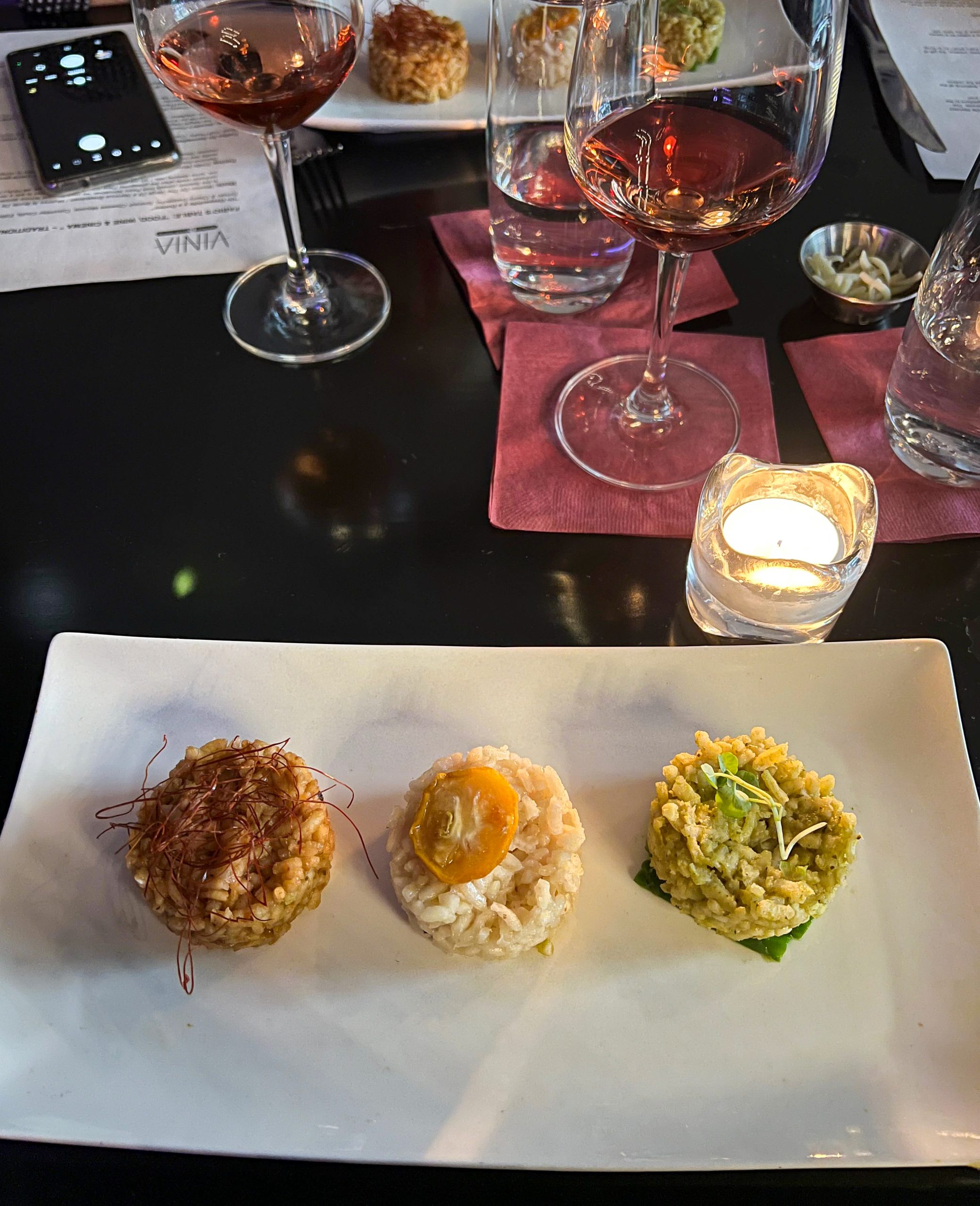 The Service
Fabio's service and personalized attention makes the experience so special. He's warm, friendly, genuine, welcoming, thoughtful, passionate, smart, cultured, creative, talented…I could go on. In other words, he'll hug you at the end before you leave!
A Review of My Previous Fabio's Table Spring Menu Experience
Thank you Fabio, Paula, and the Vinia team for making every dining experience equally memorable!